Fight to Win 149
F2W 149: Luiza Monteiro & Junny Ocasio Win Titles, Almeida Beats Riba
F2W 149: Luiza Monteiro & Junny Ocasio Win Titles, Almeida Beats Riba
Results and recap from Fight to Win 149, featuring Gabriel Almeida vs Manuel Ribamar, Luiza Monteiro vs Jena Bishop, and more.
Aug 15, 2020
by Hywel Teague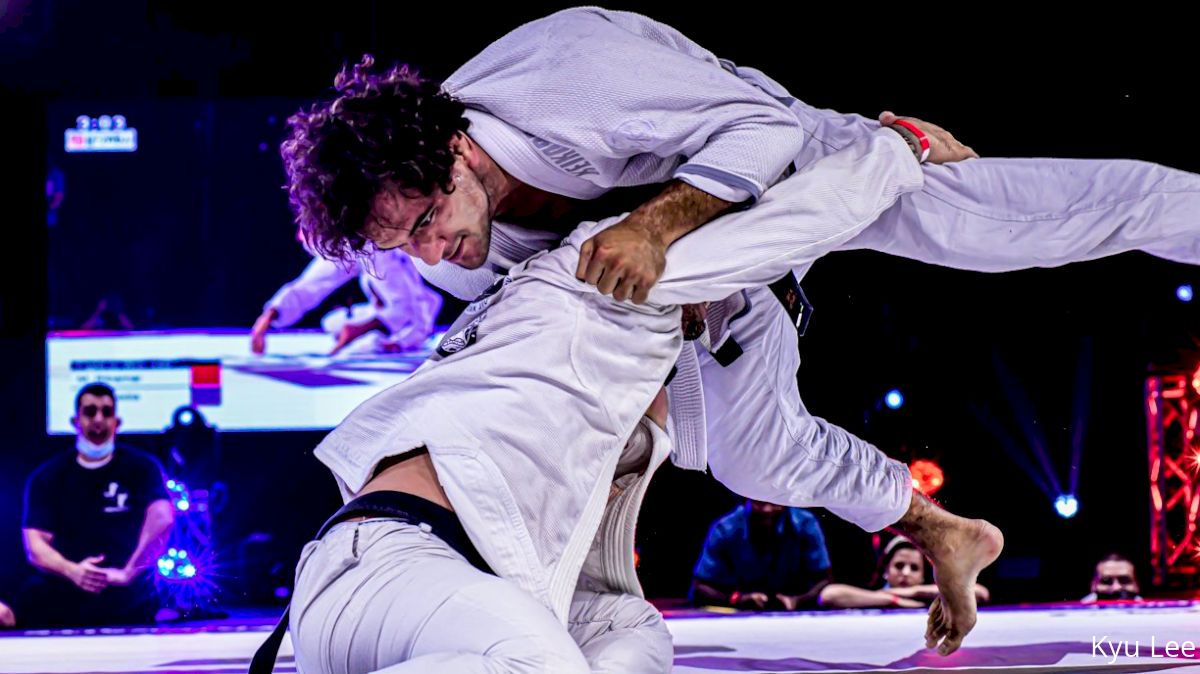 Unlock this article, live events, and more with a subscription!
Get Started
Already a subscriber? Log In
Fight to Win 149 in Dallas saw Gabriel Almeida deal with a last-minute change in opponents by earning a decision win over Manuel Ribamar. Almeida was scheduled to fight Keenan Cornelius in the main event but the American pulled out with a back injury. Riba stepped up on a couple of days' notice, presenting Almeida a different challenge.
F2W 149 | Full Event Replay | Post Match Interviews
Almeida had faced Ribamar three times in the past, and had never beaten him. He had twice lost to him via points in open tournaments, and once via decision at Fight to Win 115 in 2019. Though faced with an opponent with better credentials and three prior wins over him, Almeida played an aggressive game that saw him earn a decision win. The Checkmat black belt had to deal with Ribamar's lapel tie-ups and reversals but did enough for a unanimous decision.
Luiza Monteiro came out guns blazing against Jena Bishop in a battle for the black belt featherweight title belt. She applied a strong passing game to force Bishop into giving up the back, where she was able to secure a match-ending collar choke. The Atos black belt looked unstoppable in the match, needing only two and a half minutes to finish it.
Edwin "Junny" Ocasio had a tough time against Lucas Pinheiro in the men's black belt bantamweight no-gi title match, struggling to grab hold of the elusive Brazilian. The Atos black belt employed aggressive passing in the opening half of the match, chaining together guard passes and employing fast footwork to try and find his way around Ocasio's guard. Junny calmly dealt with the early aggression and was forced to chase after Pinheiro for the latter part of the match, with the Brazilian backing up and disengaging more than he entered. Ocasio earned a split decision in a match that lacked any significant moments and left the winner frustrated with how things played out.
The fastest submission of the night went to Max Danrely, who tapped Mauricio Fernandes in only 11 seconds with a spectacular armbar. This is the fastest submission ever seen in a black belt Fight to Win match.
---
In other matches, Keenan Cornelius's Legion American Jiu-Jitsu team took home eight wins and only dropped one split decision.
Jacob Kassama – win via armbar
Kyle Hodgdon – win by decision
Juno Lucero – win by decision
Zach Wolivar – win by decision
Breylor Grout – loss via split decision
Michael Egley – win by kneebar
Austin Fraley – win by decision
Conner DeAngelis – win by choke from mount, wins Brown Belt Middleweight Gi Title
Sloan Clymer – wins by decision, wins Brown Belt Light Heavyweight No-Gi Title