Unlock this article, live events, and more with a subscription!
Get Started
Already a subscriber? Log In
Usually a once-annual show, Subversiv is back for the second time in 2020, and this time, it's on the East Coast.
Subversiv 4 will feature 16 teams of three competitors each: one heavyweight, one lightweight and one female. This no-gi iteration of the team vs team, best of three eliminator comes on the heels of the exciting Subversiv 3 gi competition in August, where Fellipe Trovo, Kendall Reusing and CJ Souza won gold for Gracie Barra.
The Gracie Barra squad will be back to defend their title at Subversiv 4, but they're up against a deep pool of talented teams. Here are some of the favorites.
---
Gracie Barra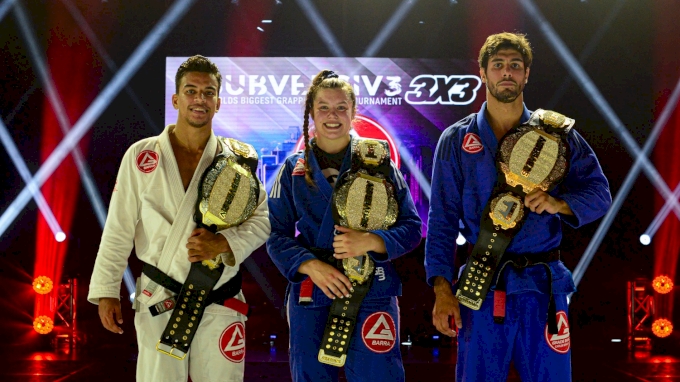 Two-thirds of the Gracie Barra ensemble is scheduled to return at Subversiv 4. In August, at Subversiv 3, these competitors had impressive wins and a few major upsets on their way to gold. CJ Souza, for example, went 2-2 on the night with two submission victories by knee bar, including one against Checkmat's Samuel Nagai.
The heavyweight on the squad, Fellipe Trovo was dominant, winning three of his four matches, each by submission. In the final, he triangled Unity's Devhonte Johnson.
Kendall Reusing was the anchor of this team last time, winning three by submission and earning a split decision win over Nathalie Ribeiro. She won't be back for this one, however. Caitlin Cardenas will be filling that role.
Atos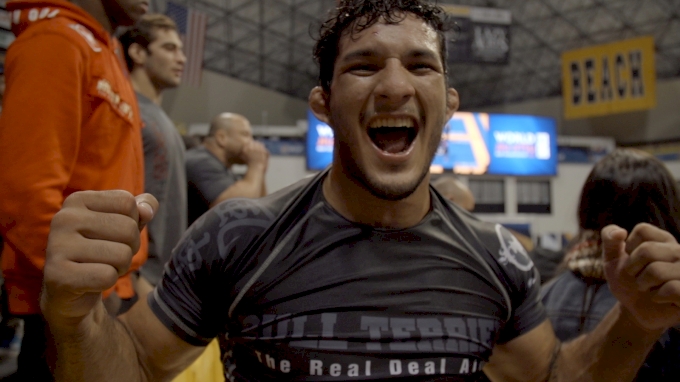 Lucas Barbosa
Andre Galvao is sending some of his top talent to fly the Atos banner, but perhaps none are more exciting than Lucas "Hulk" Barbosa. Hulk is a four-time no-gi world champ and will be a significant threat to any of the heavyweights in this bracket. But he won't be able to carry the Atos team to the top by himself. He'll rely on two of his up-and-coming teammates: Andy Murasaki and Rafaela Guedes.
Murasaki has earned his way to the top of the pound-for-pound brown belt rankings. He won double-gold at Pans earlier this month, submitting six of his seven opponents. In the final, he racked up points against Mason Folwer, a super heavyweight. Still, much of Murasaki's success has been in the gi. Some of the no-gi specialists in this tournament may test him.
Rafaela Guedes, on the other hand, has demonstrated a well-rounded game throughout her climb through the colored belts. In her debut black belt performance at Pans, she had another successful outing, achieving double-gold. Several teams are fielding female world champs, so it won't be an easy day for Guedes. But this is a chance for her to prove she belongs among the top of the heap.
Level Black
Kody Steele and William Tackett are teaming with Lis Clay to represent the apparel brand, Level Black. Among all of the competitors on the Subversiv roster, these three may be the most familiar with the Fight to Win ruleset utilized in this tournament. They're are each submission hunters who often take risks to push the action.
Though Tackett and Clay are still brown belts, they have never shied away from top-level competition, and have toppled several highly-ranked competitors. Most notably, Clay has a submission victory over Luiza Montiero, who had previously beaten Guedes and Reusing.
William Tackett will be undersized as a heavyweight in this tournament, but he'll likely make up for the weight deficit with his high pace. He'll face a series of challenges in this tournament, but if there's any team that can put together a string of upset victories, it's Level Black.
Watch: William Tackett & Kody Steele Go All Out In The Most Intense Drills You've Ever Seen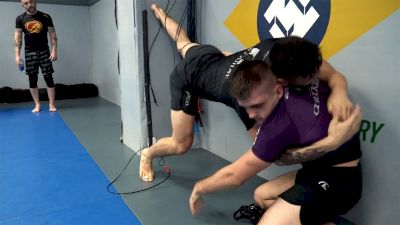 Unlock this video, live events, and more with a subscription!
Get Started
Already a subscriber? Log In
Checkmat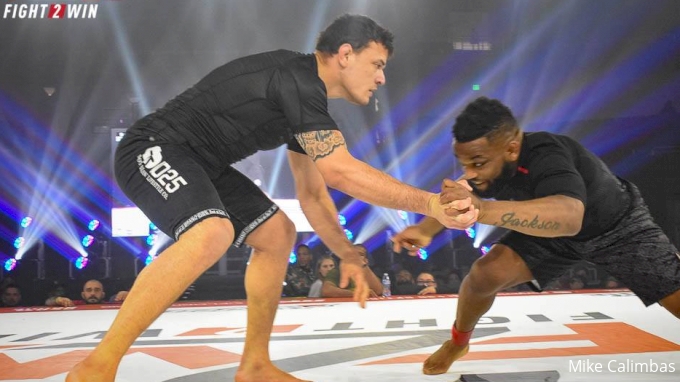 Arnaldo Madidana
Checkmat will return to Subversiv with a different team composition this time around. The Checkmat team took third last time, but only Gabriel Almeida is back on the roster. He's at a lighter weight category to make room for the ultra heavyweight Arnaldo Maidana.
Almeida won two of his three matches last time, including a victory over Fellipe Trovo. He could be imposing at the lighter weight category. He's been one of the most active competitors throughout the COVID season, recording 19 matches since May.
Like Almeida, Maidana will be one of the largest men in his division. Thamires Monteiro, a purple belt who won her division at Pans earlier this month, will join them as the third member of this squad.