Unlock this article, live events, and more with a subscription!
Get Started
Already a subscriber? Log In
Gabi Garcia is one of the most dominant jiu-jitsu competitors of all time. She's a four-time ADCC champion and a multiple-time IBJJF world champion. She had a five-year undefeated streak from 2010 to 2015, and she has only three losses on her record in the five years since.
The most recent of those losses was to Nathiely De Jesus.
De Jesus faced Garcia in a 10-minute gi match at Fight To Win in August 2019, and executed a strategic game to beat Garcia via referee decision.
De Jesus is well-versed in spider and lasso guards. She used those positions to play a controlling gripping game, redirecting most of Garcia's renowned passing pressure and creating angles to initiate offense.
Garcia sat back twice for footlocks, and De Jesus countered each time with her own. In the final moment of the match, De Jesus attacked with an armbar from closed guard. This final attack was likely the factor which put her ahead in the otherwise even match.
While the armbar was enough to put De Jesus ahead on the scorecards, it was not close to being finished. That shouldn't come as a surprise; Gabi Garcia has never lost by submission in her 12-year black belt career.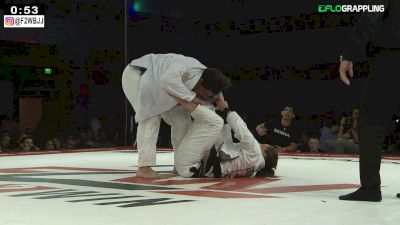 Unlock this video, live events, and more with a subscription!
Get Started
Already a subscriber? Log In
Garcia had beaten De Jesus by an advantage at Pans a few months prior to their Fight To Win match. That makes their upcoming meeting at WNO: Craig Jones vs Ronaldo Junior a rubber match.
Nathiely kept the score close in her first encounter with Garcia, and edged out a victory in their rematch. But those were gi matches, an attire in which De Jesus has thrived. For years, she has used her long legs and her deep knowledge of spider, lasso, and closed guards to dictate the pace of her matches, as she did against Garcia at Fight To Win.
She will likely find it more challenging to execute that strategy without a gi to anchor her spider and lasso. And if De Jesus elects to utilize her closed guard, she could run into Garcia's São Paulo pass.
Garcia demonstrated her affinity for this pass against Elizabeth Clay at WNO in October. When Clay elected to work from closed guard, Garcia locked her arms around Clay's body and sprawled her weight back, slowly smashing the guard open.
While we can look at that matchup as an example of Gabi's ability to crush a closed guard, we can also look at it as a potential roadmap for how a competitor might generate offense against Garcia in a no-gi match.
In the closing seconds of that match, Clay had her only substantial attack of the match, an omoplata which she set up from closed guard. She had to withstand Garcia's passing pressure for most of the match before she found that opportunity, and didn't have much time in that position before the final seconds ticked off the clock.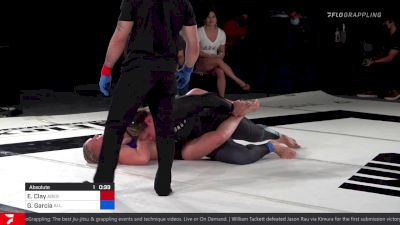 Unlock this video, live events, and more with a subscription!
Get Started
Already a subscriber? Log In
But like Clay, De Jesus is a talented closed guard player. She has dexterous legs with which she has built her world class lasso guard. Her mobility will help her in her efforts to retain her guard against Garcia's punishing pressure. De Jesus is taller than Clay, which may give her the extra advantage of leverage. If De Jesus gets to an omoplata, for example, she may have ample leverage to sweep Garcia.
Even if De Jesus fails with an omoplata, the attempt may give her the space she needs to set up a follow-up attack. De Jesus trusts her leg lock entries. She had her most offensive moments while attacking leg locks against Carina Santi at ADCC 2019. She got into those positions with inversions from closed guard. And she's racked up several victories via knee bar and toe hold.
A leg attack against Gabi Garcia could miss the mark, of course. De Jesus attacked Garcia with a toe hold at Fight To Win. But that attack did not count for much. De Jesus could not apply much torque into Garcia's foot, and she relinquished the attack before long.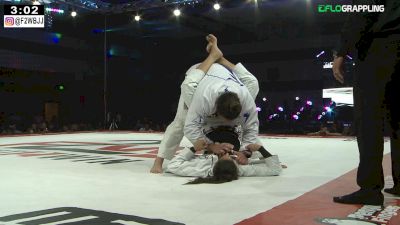 Unlock this video, live events, and more with a subscription!
Get Started
Already a subscriber? Log In
Still, very few people have been capable of mustering any offense whatsoever against Gabi Garcia in the last five years. And her attacks paid off. She has the attributes which could make her a threat to Garcia again, and she has a blueprint for success.
Another win against Garcia would make Nathiely De Jesus the only person to defeat Garcia in both gi and no-gi formats.
Though plausible, it's not statistically likely. Garcia has only lost five times in more than 12 years. She hasn't been submitted in that span. Moreover, nobody has ever beaten her twice.
Nathiely could make history at WNO: Craig Jones vs Ronaldo Junior.
Or, Gabi Garcia could remind grappling fans, once again, that she's the greatest female competitor of all time.