Division Previews: The Biggest Stories At The IBJJF 2021 No-Gi Pans
The Featherweight Division At No-Gi Pans Is Full Of Wild Cards
The Featherweight Division At No-Gi Pans Is Full Of Wild Cards
The No-Gi Pans featherweight division will feature no-gi newcomers like Diego "Pato" Oliveira and IBJJF newcomers like Frank Rosenthal and Marvin Castelle.
May 12, 2021
by Corey Stockton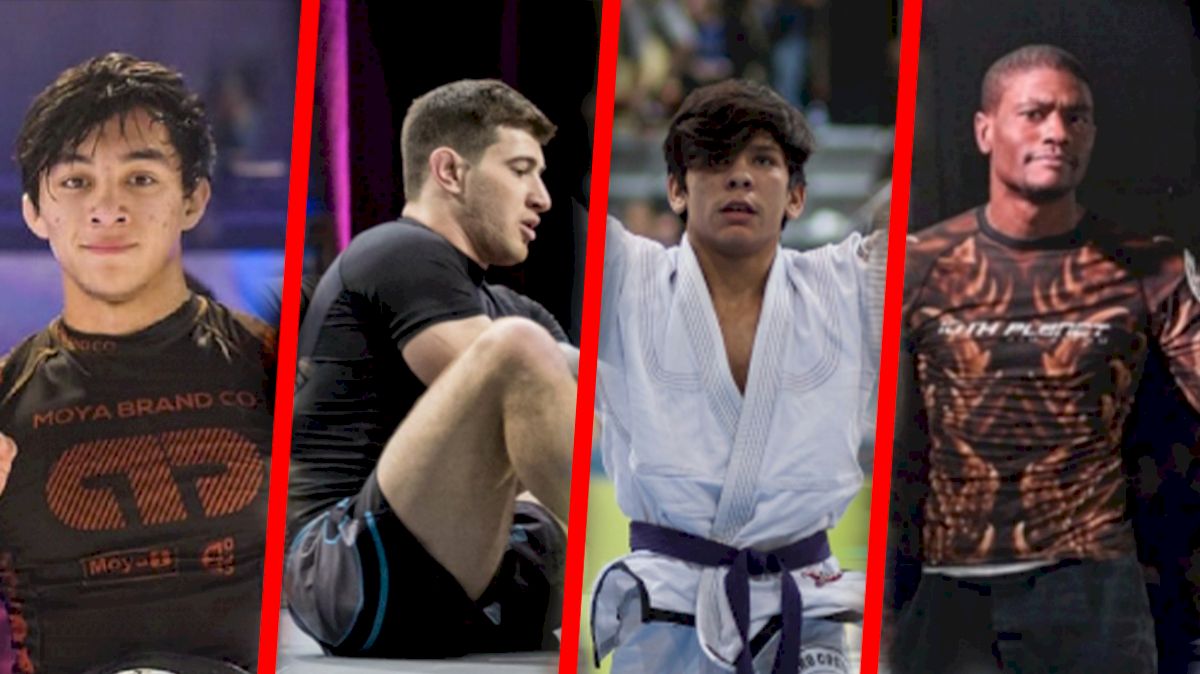 The 19-man featherweight division at the 2021 No-Gi Pan Championships has more wildcards than outright favorites, as leg lock specialists have flocked to the tournament in droves following the new IBJJF rules sanctioning heel hooks and reaping attacks.
Joshua Cinseros has to feel confident in this division after his potential match of the year against the no.1-ranked lightweight, Kennedy Maciel. Although Cisneros lost that match, he had Maciel on the run for most of the bout. Cisneros is scrappy and well-rounded, and will want to collect a No-Gi Pans title in his rookie year to sit beside the Pans gold he earned in 2020.
Diego "Pato" Oliviera hasn't competed much without the gi in his two-year black belt career. But he rarely loses, regardless of the ruleset. He's a tricky guard player with heavy passing pressure and an uncanny ability to win scrambles. But he'll have to prove that he's adapted his game for no-gi in this bracket.
Two relative newcomers to the IBJJF scene could cause problems for featherweight regulars. 10th Planet's Marvin Castelle will make his No-Gi Pans debut after a gold medal run at the New Orleans open, winning two matches with two submissions. He has a deep understanding of the leg lock game, and a plethora of tricks rooted in the 10th Planet game. Those qualities will make him a darkhorse in this division, and could put him on the podium.
Danaher Death Squad's Frank Rosenthal could have a similar impact on this division. He has only had one prior match on the IBJJF mats, a loss at No-Gi Worlds in 2018. But with heel hooks now sanctioned, he has access to more of his best weapons. IBJJF rules are new territory for Rosenthal, but if he gets to his favorite positions, he could cause some trouble for his opponents.
---
Adult / Male / Feather
TOTAL: 19
| TEAM | NAME |
| --- | --- |
| 10th Planet Jiu Jitsu | Marvin Castell |
| Alliance | Damion Shaun Oranday |
| Ares BJJ | Danilo Soares Moreira |
| Ares BJJ | Joshua Anthony Cisneros |
| BJJ Revolution Team | Scott Dance |
| CheckMat | Cameron Wayne Adair |
| Fifty/50 Jiu-Jitsu | Adam Benayoun |
| Fight Sports | Orlando Fernando Castillo Andaviza |
| Gracie Allegiance | Brandon Woodly Walensky |
| Gracie Barra | Johnathan Frank Rodrigues |
| Jiu-Jitsu For The People - Sheridan BJJ | Kyvann J Gonzalez Jimenez |
| Ohana Jiu-Jitsu Academy | Fernando de Jesus Soares |
| PSLPB Cicero Costha USA | Diego Oliveira Batista |
| Renzo Gracie Academy | Frank Rosenthal |
| Rodrigo Pinheiro BJJ | Richar Emiliano Nogueira |
| Soul Fighters BJJ | Viki Viktor Dabush |
| Unity Jiu-jitsu | Thiago Aguiar Abud |
| Zenith BJJ | Emilio Alejandro Hernandez Rodriguez |
| ZR Team Association | Yaroslav Blazhko |