2021 Pan IBJJF Jiu-Jitsu No-Gi Championship
Paulo Miyao & Junny Ocasio Are The Light Feather Frontrunners At No-Gi Pans
Paulo Miyao & Junny Ocasio Are The Light Feather Frontrunners At No-Gi Pans
Paulo Miyao and Junny Ocasio are the top dogs in the No-Gi Pans light featherweight division. But several wildcards could make this bracket unpredictable.
May 13, 2021
by Corey Stockton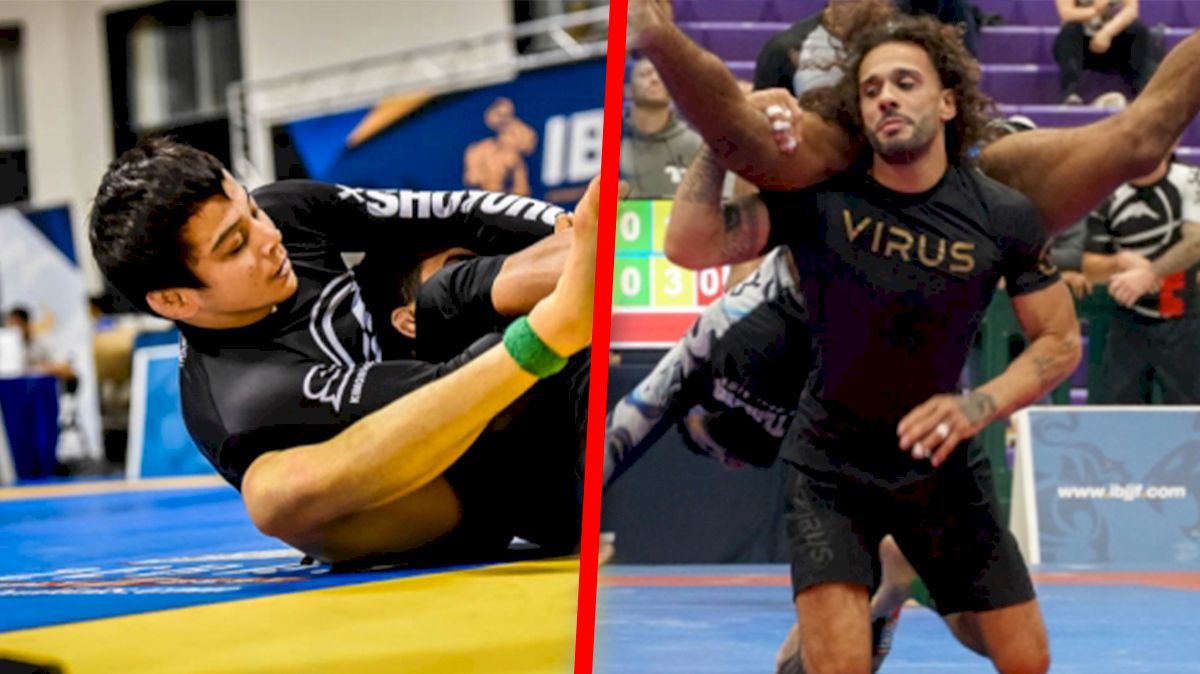 The light featherweight division at the 2021 No-Gi Pan Championships will feature some of the best 135 pound-ers, and several more looking to break into the top-10. Paulo Miyao will be the likely favorite here. He hasn't won a no-gi title since winning Pan No-Gi in 2015, and he had a rough go in 2020, losing each of his only two matches. Still, he's one of the hardest to beat on the IBJJF platform.
The division is something of a toss-up between the next three in the bracket, and the outcome could depend on seeding. Edwin "Junny" Ocasio may have his best chance to win his first major IBJJF title this weekend, even if he has to take it from his former Unity teammate, Miyao. Ocasio is 9-2 since 2020, and is undefeated in his nine matches against athletes in his true weight class. He has a solid leg lock game, and will be able to capitalize on that with the IBJJF's new leg lock rules.
While Miyao and Ocasio are the likely favorites here, there are a few wildcards in this division who could create problems for these two trying to climb through the 13-man bracket.
Richard Alarcon could do some damage in this division. He has a wrestling-oriented game which can exhaust his opponents and drag them deep into the round. Although his last win was in the first round of ADCC 2019, that was a victory against Gianni Grippo, and he relied on his wrestling to secure it. He's a sure disruptor in this division.
Carlos Alberto Oliveira, "Bebeto," and Rey De Leon could create additional problems in this division. GF Team's Bebeto has a crazy pace, and is likely to clear out the division of all but the top-ranked threats. 10th Planet's de Leon is the darkhorse here. He's got a scrappy, complete game, and could easily sneak onto the podium.
---
Adult / Male / Light-Feather
TOTAL: 13
| TEAM | NAME |
| --- | --- |
| Alliance | Vagner Reis da Silveira |
| Carlson Gracie Team | Huthayfah Penney |
| GF Team | Carlos Alberto Oliveira da Silva |
| GF Team | Eduardo Barboza da Silva |
| GF Team Massachusetts | John Eugene Stapleton |
| Gracie Barra | Filipe Matos Rodrigues Pereira |
| Gracie Barra | João P R M S Figueredo |
| Jean Jacques Machado BJJ | Reynaldo De Leon |
| One Jiu-Jitsu USA | Richard Alarcon |
| Pedro Sauer Team | Marcus Beddor |
| PSLPB Cicero Costha USA | Kalel Nascimento dos Santos |
| PSLPB Cicero Costha USA | Paulo Henrique Bordignon Miyao |
| Unity Jiu-jitsu | Edwin Ocasio |