2021 Pan IBJJF Jiu-Jitsu No-Gi Championship
Grappling Bulletin: IBJJF No-Gi Pans Big Winners & Taza's Disappointing DQ
Grappling Bulletin: IBJJF No-Gi Pans Big Winners & Taza's Disappointing DQ
Elisabeth Clay and Diego Pato were the most impressive finishers at the 2021 IBJJF Pan No-Gi, but it was also memorable for less exciting reasons.
May 17, 2021
by Hywel Teague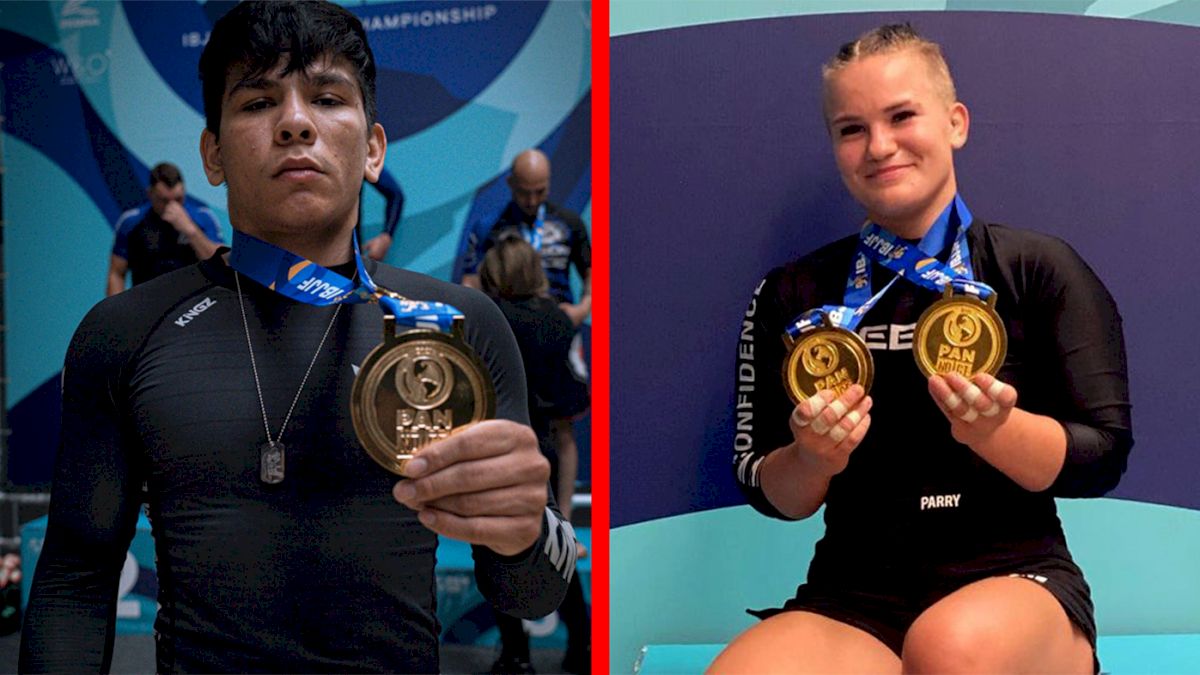 Some champions were ruthless in their pursuit of victory, catching nothing but submission at the 2021 IBJJF No-Gi Pans. Others were more content with barely doing enough to win gold. In this edition of the Grappling Bulletin we discuss the biggest winners from the 2021 IBJJF Pan No-Gi Championship, and we highlight a destructive and disappointing trend that is starting to affect the no-gi competition scene.
All this and more in this week's Grappling Bulletin.
---
Don't forget to watch the Grappling Bulletin podcast, every Monday at 3:30pm ET. Watch it on FloGrappling.com or the app, or catch it LIVE on YouTube or Facebook.
Missed the live show? Catch up on the replays here.
---
Performance Of The Week: Diego Oliveira
One of the biggest shock results of the weekend was Diego "Pato" Oliveira's vicious 44-second kneebar in the featherweight final versus Josh Cisneros.
It capped off a big day for Pato, won caught four submissions in four matches. The Cicero Costa black belt has always been best known for his success in the gi, but this big win over Cisneros marks him as a major force in the division.
The kneebar set-up was a thing of a beauty and caught Cisneros completely by surprise. Not only did Pato trick Cisneros into thinking he was inverting into 50-50, but he used his own arm as both a point of leverage and an extra point of control to keep Cisneros's leg stuck in the attack. It was a crafty technique and one we'll be studying further. The leg lock game in IBJJF continues to evolve.
Diego Oliveira vs Joshua Cisneros, Featherweight final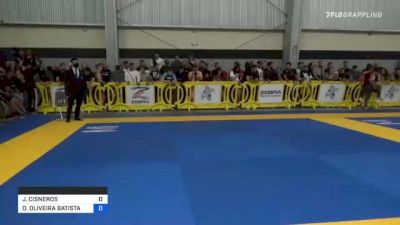 Unlock this video, live events, and more with a subscription!
Get Started
Already a subscriber? Log In
Early in the day Pato showed great versatility by submitting Danilo Moreira with a RNC, Kyvann Jimenez with a triangle choke and Orlando Castillo with a darce. Oliveira is 42-4 as a black belt, and his only losses have come to Mikey Musumeci, Isaac Doederlein, Kennedy Maciel and Gabriel Sousa. Undoubtedly one of the top featherweights in the world, Pato has proved himself a threat either gi or no-gi.
---
Elisabeth Clay Is A Submission Machine
This isn't really news, is it? More a reminder that Elisabeth Clay is a bad woman and an absolutely ruthless finisher. Six matches, six submissions, and double gold for the marauder that is Elisabeth Clay of Ares BJJ. This was her first major IBJJF black belt title, and likely the first of many.
Elisabeth Clay Submits Kendal Reusing With Armlock at 2021 IBJJF No-Gi Pans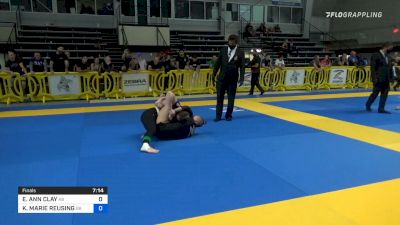 Elisabeth Clay Reflects On Six Submission Double Gold Performance At No-Gi Pans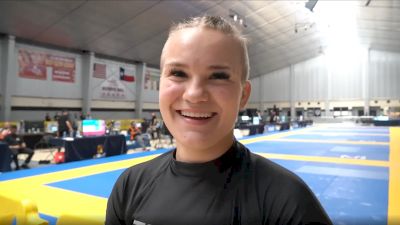 Unlock this video, live events, and more with a subscription!
Get Started
Already a subscriber? Log In
---
Notable Results from No-Gi Pans
Mayssa Bastos of GF Team asserted her position as possibly the top pound-for-pound no-gi grappler with an incredible comeback in the light-featherweight semifinal, submitting Jessa Kahn with an armbar in the final 10 seconds of the match. Bastos was down on points and came back from a deep triangle to submit the AOJ black belt. She can be a slow starter, but once she is a roll Bastos is nearly unstoppable. She out-pointed Sofia Amarante of Fight Sports in the final for gold.
Lucas "Hulk" Barbosa of Atos was aiming for double gold and claimed the top spot of the absolute podium after closing out with the teammate Michael Perez. Barbosa was upset by Giancarlo Bodoni of Alliance in the final of the heavyweight division, losing a split decision to the rookie black belt. Barbosa rebounded and beat Bodoni in the semifinal of the absolute on points, going home with gold and silver.
Matheus Gabriel (Checkmat) won IBJJF Worlds in 2019 as a featherweight but he moved up two weight divisions to middleweight at No-Gi Pans and beat 2019 IBJJF World No-Gi champ Hugo Marques (Ares BJJ) to claim gold. The division suffered from a few no-shows, most notably Ronaldo Junior and Renato Canuto, but was competive with recognizable names such as Felipe Silva, PJ Barch, Michael Trasso and more.
Maria Malyjasiak scored two submissions to take gold in the heavyweight division, submitting Emily Alves of Atos with a RNC and No-Gi World Champ Maggie Grindatti of Fight Sports with a kneebar.
---
Anti Jiu-Jitsu Is Not Jiu-Jitsu
As exciting as the Pan No-Gi Championship was, some matches and divisions were marred by the ugliness of what we call anti jiu-jitsu.
This is not just stalling by another name. It goes much, much deeper than that.
Basic anti jiu-jitsu has all the hall marks of stalling; interlacing of the fingers, keeping the hips back and refusing to engage; burying the head in the chest and not attempting to pass the guard, or constantly kicking out of guards and running away (aka, "resetting").
Anti jiu-jitsu is stalling combined with a destructive mentality that needs to disappear from the sport. It is a mentality where athletes think they can win without doing jiu-jitsu. What does a match with no jiu-jitsu look like? It may be slow and boring or it could be chippy and mean-spirited – anti jiu-jitsu is when no techniques are effectively applied. They dance around the mat or push their opponents out of bounds. They will jump on head or body locks and think it is just as valid a control position as passing the guard. They will trip their opponent to the mat but not complete a takedown and hold them there.
And competitors have become so used to this that they think tactics like these are now enough to earn a decision in terrible 0-0 matches where no effective jiu-jitsu is displayed.
It's not a problem of the rules – sure, lots of changes could be made to address stalling or fleeing the mat. It's a cultural problem.
A culture where winning by DQ is celebrated. A culture where a 0-0 win is considered just as valid as submitting your opponent. A culture where coaches cheer an athlete through a series of half-completed, non-scoring attacks in an attempt to influence the judges. A culture where athletes feel entitled to media coverage, but did nothing to earn it.
No rule change can address this. The problem needs to be addressed by coaches, who should train their competitors to fight forward and seek to decisively win by submission. It needs to be addressed by the competitors themselves, who should never be satisfied with a lackluster win and always seek to finish their matches with a submission or a dominant lead on the scoreboard.
We saw it happen in almost every division, but particularly in the black and brown belt divisions. There were many competitors who fought forward and looked to either score or submit their opponents. Unfortunately, there were many who did not.
There is no future for this ugly version of grappling. As quickly as jiu-jitsu is evolving, certain athletes are devolving their competition strategies and undoing the hard work of many who aim to grow and refine this beautiful art. Gold medals won with anti jiu-jitsu are worthless. Gold medals won through effective application of real grappling skill are what counts, and what people should aspire to.
---
Oliver Taza's DQ sucked, but it was legit
If you're going to competition in IBJJF events, then you need to know the rules. Oliver Taza found this out the hard way when he got disqualified in his opening match at the 2021 IBJJF Pan No-Gi Championships. People were up in arms about his loss, especially as Taza was leading the match, but rules are rules and ignorance is no excuse for applying an illegal technique.
Here's what happened: Taza was up against Rodrigo Gortari of Fight Sports when he used the infamous python choke, which you will instantly recognize as the hand over the mouth as popularized by Vagner Rocha. It's a simple smother, and permitted in most events that Taza is accustomed to competing on. He didn't realize that the move is illegal under IBJJF rules, which prevent you from placing hands on your opponent's face. You're allowed to put hands on the chin, jawline and forehead but anything from the eyebrows down to the mouth is off limits.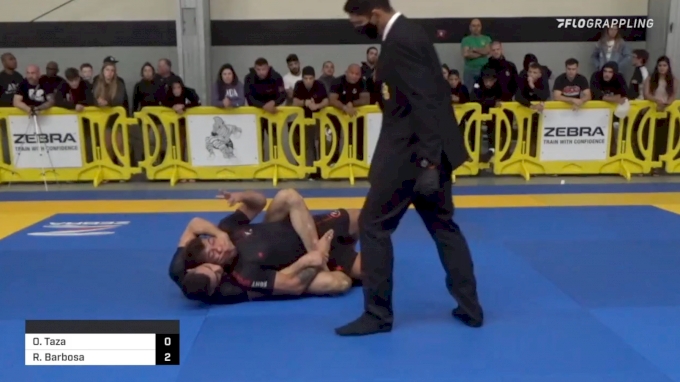 If you're wondering where in the IBJJF rule book you can find clarification about the legality of Taza's move, go to section 6.2.2 "Serious Fouls"
O) When an athlete places a hand or foot on his/her opponent's face.
And also section 6.2.3 "Severe Fouls"
J) When an athlete blocks the passage of air to his/her opponent's nose or mouth using his/her hands.
WATCH: Taza gets DQ'd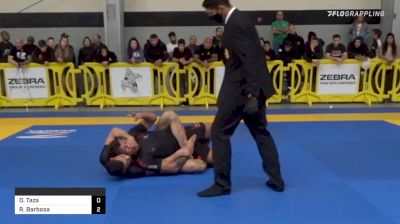 ---
Victor Hugo Wins Gold, But Ends Up In The Hospital
It was a rough day for Victor Hugo at the IBJJF No-Gi Pans. For anybody who is accustomed to seeing him compete, he looked… off. During the commentary, Viktor Doria and myself noticed that he was breathing hard during his final with Aaron "Tex" Johnson. Sure, it was hot in the venue but conditioning has never been an issue for Hugo.
It turned out that he was batting a fever and general sickness that was later discovered to be a staph infection in his leg. A large blister appeared on his thigh during the afternoon and some doctor friends whisked Victor to hospital immediately after he got his gold medal so he could receive treatment. He was administered antibiotics via an IV drip but fortunately didn't need to stay overnight.
It wasn't quite the top performance that we usually see from Victor. The adversity didn't stop him from becoming champion, although it did prevent him from competing in the absolute division and any chance of taking double gold. We wish him a speedy recovery.
Victor Hugo Went To The Hospital After No-Gi Pans Gold Medal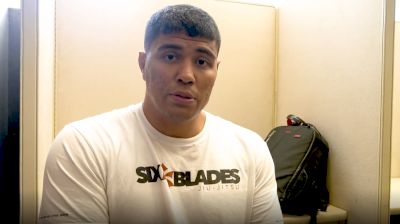 ---
Mica Galvao Is The Real Deal
Four matches, three submissions for Micael Galvao. Last week we asked if he was the next big thing, and judging by his explosive performance at the IBJJF Pan No-Gi, he's definitely on the right path.
Galvao destroyed his first three opponents in less than four minutes combined, scoring a heel hook versus Austin Oranday, a RNC against Clay Mayfield and then submitting Shawn Melanson with an armbar. Igor Feliz took Galvao the distance and the match ended 0-0 with one advantage in Galvao's favor.
If you're impressed then be sure to watch him at WNO on May 28 as he goes up against Andrew Tackett in a 15-min superfight.
---
Upcoming Events On FloGrappling
WNO: Gordon Ryan vs Luiz Panza – May 28 | more info
Spyder Invitational BJJ Championship Purple/Brown Preliminary – May 28 | more info
EUG Promotions 170lb Tournament – June 12 | more info