2021 Emerald City Invitational Event #2
Grappling Bulletin: Gianni Grippo Grips and Rips Heel Hook But Was It Cool?
Grappling Bulletin: Gianni Grippo Grips and Rips Heel Hook But Was It Cool?
Gianni Grippo caused quite the stir with a particularly nasty heel hook. Was it sportsmanlike or did he take it too far?
Aug 9, 2021
by Hywel Teague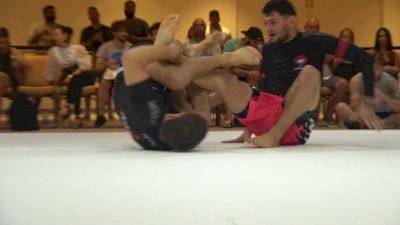 Unlock this video, live events, and more with a subscription!
Get Started
Already a subscriber? Log In
Welcome to FloGrappling's Grappling Bulletin. We'll cover the biggest moments from a week of jiu-jitsu that saw Gianni Grippo win the Emerald City Invitational 16-man 145lb no-gi tournament (and create a sizable controversy in the process), Team USA shut out Team UK/Ireland at Polaris Squads, gi tournaments by AJP Tour and IBJJF took place in Miami and Kansas, and Baret Yoshida hit a possible submission of the year at Fight to Win 180.
Don't forget to watch the Grappling Bulletin podcast, every Monday at 3:30pm ET. Watch it on FloGrappling.com or the app, or catch it LIVE on YouTube or Facebook.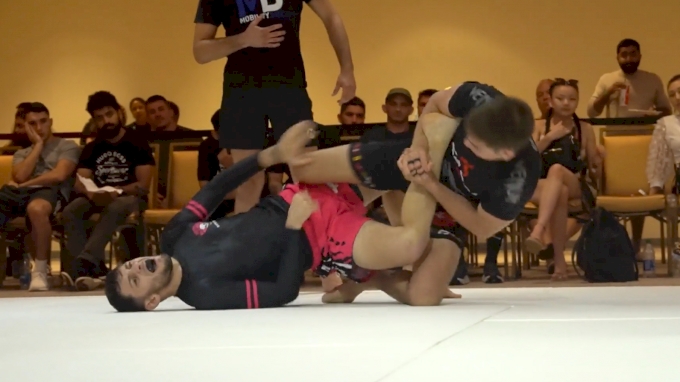 Too fast to tap? Grippo rips on a heel hook at Emerald City Invitational.
Gianni Grippo was far from the underdog at the Emerald city invitational 145lb tournament. Of the 16 competitors, Grippo was the number two seed after Kennedy Maciel. It was no surprise to see them face off in the final, which was about as close as you could expect from two world-class competitors.
Kennedy was able to score a dominant position in the regulation period but it went to overtime and Grippo hit a last-second escape that earned him the win. It was a dramatic end to an evening of shocks and surprises. Both Grippo and Kennedy had tough paths to the final, and some of the opening elimination rounds were pure carnage (in a good way).
There were a number of noteworthy submissions, but the one that got people talking the most was Gianni's heel hook in the opening round. Just like the title says, he gripped it and ripped it and left his opponent Ellis Karadag nursing a sore, but hopefully not seriously injured, knee.
A clip of the submission got posted online and – of course – a lively debate followed about whether Grippo's application of the technique was sportsmanlike. Many commenters seem to think that he unnecessarily and violently smashed on a notoriously submission hold known for its devastating power to cause serious injury (although be honest, all submissions are capable of this). Some questioned whether he did so with bad intent, so vicious did it appear on video. Others, including some of Grippo's fellow competitors in the tournament, pointed out that this was a professional event with a $10,000 cash prize, and therefore aggressive use of submission attacks wasn't just acceptable, it was to be expected.
Grippo was aware of the criticism just minutes after the event was over, and this is what he told me when I interviewed him immediately after the final.
"I really wasn't [trying to hurt him], when I fell back I didn't mean for it to be as fast as it was. I would never want to hurt him. I never have any ill will toward opponents and I never want to hurt anybody, but the heel was there."
This is the only the second time that Gianni has ever hit a heel hook in competition, his first coming way back at Polaris in 2015 versus Tom Barlow. Although Gianni has long been known as one of the best leg fighters in modern jiu-jitsu, he rarely competes in events where heel hooks are permitted. This is a wake-up call to any future opponents – don't sleep on Gianni's leg attacks. If you leave your feet dangling, he may just take them home with him.
Was the submission in the realm of fair play, or did Grippo take it too far? This writer's opinion is that while it was certainly an aggressive method of submitting an opponent, we saw many other submissions applied with equal ferocity in this event. Just look at Damien Anderson's standing kimura against Richard Alarcon, Kennedy's crushing face crank of Frank Rosenthal, or the fact Estevan Martinez briefly put his opponent Cameron Mellot to sleep with a RNC in OT.
All of the 16 competitors signed up for this professional tournament knew the risks going in and I have little doubt that Gianni's opponent would have done the same thing to him given the opportunity. It was certainly a notable example of the tremendous power of the inside heel hook, but nothing out of the ordinary in an event featuring world-class black belts. Viewers would do well to remember that different standards exist for hobbyists and professionals and this example is a perfect reminder of that.
Grippo's opponents Ellis Karadag posted an update after the event:
"Well, me losing is viral if you haven't seen it yet. Not upset about losing, but what sucks to lose on what I could call white belt mistake leaving my feet unlocked in a bad position. Gianni Grippo won the entire thing so congrats to him. As a competitor ... we sign up to be warriors that day/time so we must accept anything and everything that happens. Took a bad pop in my knee so won't be training for a while. My leg can bend about 90 degrees with pain. It sucks but hopefully I'll be back training in about a month with people I can trust."
---
Damien Anderson had the performance of a lifetime at Emerald City Invitational, tapping both Richard Alarcon (ranked #6 135lb) and Gabriel Sousa (ranked #4 145lb). He used a dynamic standing kimura to submit Alarcon and a tight inside heel hook to finish Sousa.
Damien Anderson Taps Two Top-10 Black Belts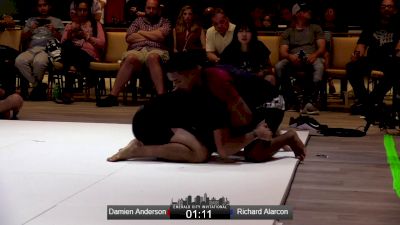 Anderson was ranked #7 at 145lb going into Emerald City. He's a purple belt under Garry Tonon and is the co-owner of All In BJJ, a gym in Middlesex, New Jersey.
A WNO veteran, Anderson spent a period of time training under Garry Tonon and John Danaher in Puerto Rico and was known as one of the up-and-coming members of the team. With two big submission wins in regulation over world-class black belts, Anderson's stock has higher than ever, and he's asking for a match against 10th Planet veteran Geo Martinez next.
Damien Anderson Wants A Shot At Geo Martinez After Stellar Performance At Emerald City Invitational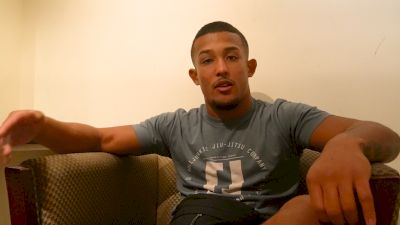 ---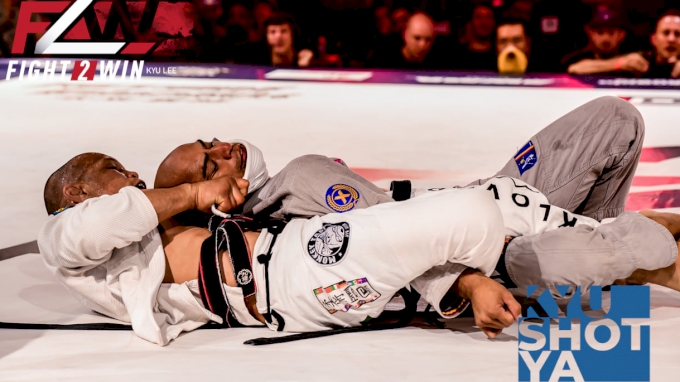 The assassin choke in action
Baret Yoshida is one of the craftiest veterans in the game. At 46 years of age, the respected grappler and former MMA fighter competed in every ADCC event from 1999 to 2017. Still very active teaching at his gym in San Diego, Yoshida competes regularly in both gi and no-gi matches.
Yoshida's trademark is his highly-distinctive crucifix, a position he has truly mastered. Anybody who follows him on Instagram will be familiar with a technique he calls the assassin choke, as he posts videos almost daily of him hitting it against his students.
Baret Yoshida Submits With Assassin Choke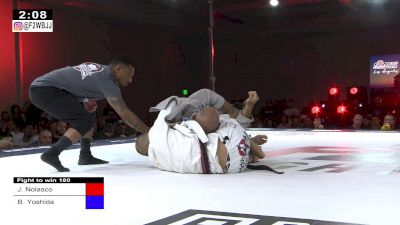 He immobilizes his opponent with the crucifix and then loops the skirt of his own gi jacket around their neck. It looks complicated but is highly effective and he performed a textbook example at Fight to Win 180 versus Jeff Nolasco.
It's one of the most creative submissions we've ever seen and the fact Yoshida has refined it to such a degree is mind-blowing. In my opinion it could easily join the shortlist of contenders for Submission of the Year, something which will be decided during the FloGrappling end of year Awards. Make sure to remember this come voting time.
---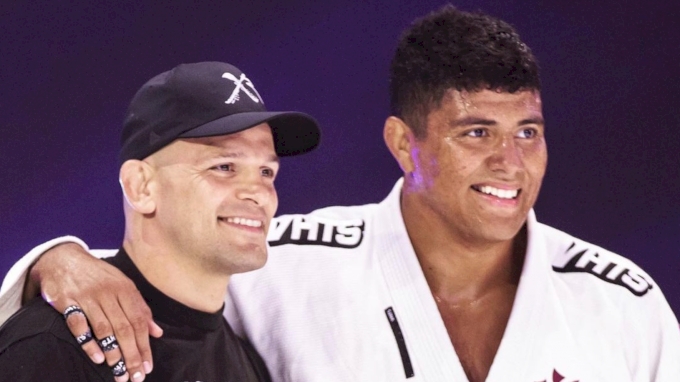 Six Blades founder Xande Ribeiro with Victor Hugo
The IBJJF have announced Victor Hugo as the latest name to join the upcoming Heavyweight Grand Prix, which takes place at Jiu-Jitsu Con 2021 on November 10-13 in Las Vegas, NV.
Hugo, 24, is an ultra-heavyweight competitor walking around at 6'4" and 280lb. Aptly nicknamed the "man mountain", he represents Six Blades Jiu-Jitsu and is an IBJJF World No-Gi and Pan No-Gi champion.
The IBJJF will run two four-man Grand Prix brackets in November, featuring middleweight and heavyweight competitors. So far, confirmed names in the middleweight division include Tainan Dalpra and Isaque Bahiense. Victor Hugo joins Felipe Pena in the heavyweight bracket.
---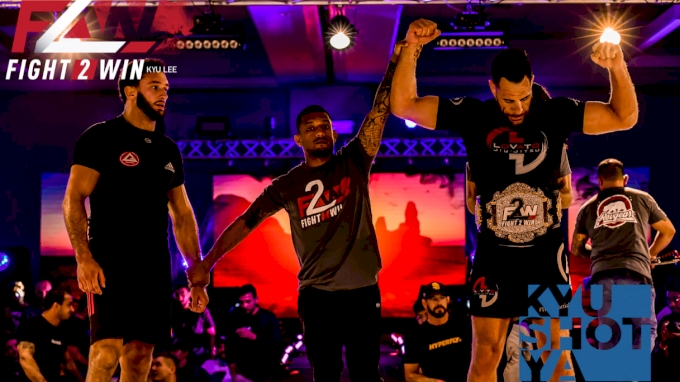 Results & Recap:
IBJJF World No-Gi champ Johnny Tama tapped Edwin Naimi with a tight inside heel hook at F2W 180. Tama's increasing prowess with the leg game was on full display as he chased after Najmi's lower limbs. The loss has prompted Najmi to invest in studying leg attacks. He posted: "I want to learn the dark side. Time to get serious."
Johnny Tama Submits Edwin Najmi With Inside Heel Hook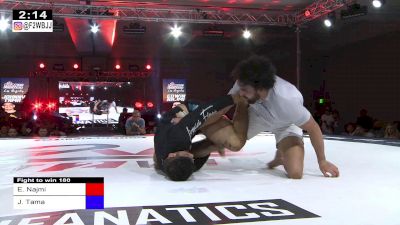 Rafael Lovato Jr. earned a decision win vs Gabriel Arges of Gracie Barra in the main event title match. Lovato Jr. comfortably won a unanimous decision to defend the 205lb F2W no-gi title he first captured back at Fight to Win 3 in March of 2016. Amazing.
Catch up on all of the action from Fight to Win 180 here
Team USA easily won the Polaris Squads showdown with Team UK/Ireland. The team consisted of Roberto Jimenez, Geo and Richie Martinez, Jon "Thor" Blank, Nathan Orchard, Hunter Colvin, Adam Benayoun and Nick Ronan. The sub-only format of the event meant the majority of the matches end in draws but only Team USA were able to score submissions, with Roberto Jimenez and Nathan Orchard tapping Bradley Hill and Kieran Davern and Geo Martinez winning via injury versus Dan Strauss. Team USA won 7-0.
Dante Leon beat Adam Bradley 9-0 in the open weight final of the IBJJF Kansas City No-Gi open.
The AJP Tour 2021-22 season begun with a Grand Slam event in Miami. Many notable names from the world of gi competition turned out to participate, including many Brazilians not seen on the USA circuit since before the global pandemic.
Stansout results from AJP Tour Grand Slam Miami included:
Mayssa Bastos had a clean sweep in the -49kg division, submitting Jessa Khan and Abbi Pontes to win gold.
Jaime Canuto beat Andrew Porfirio 3-2 for middleweight gold.
Fabricio Andrey outscored Thiago Macedo 3-2 in the -69kg final.
Mahamed Aly took ultra-heavyweight gold with 2-0 win against Max Gimenis.
Alanis Santiago of Unity won the brown-black 62kg division. She was only promoted to brown belt a few days prior to the tournament.
Ana Rodrigues and Yara Soares are two of the best Brazilians to reappear on the US scene. They won the 55kg and heavyweight divisions.
ICYMI
Upcoming Events