2021 FloGrappling WNO Championship
Gabi Garcia May Be A Clear Favorite, The Title Is Anything But A Guarantee
Gabi Garcia May Be A Clear Favorite, The Title Is Anything But A Guarantee
Gabi Garcia is at the top of the game for a plethora of reasons- but all of those attributes will be tested at the WNO Championships Sept 25-26.
Sep 13, 2021
by Chase Smith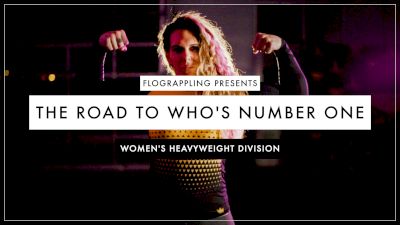 It's not up for debate: Gabi Garcia is the overwhelming favorite for the women's heavyweight division at the WNO Championships September 25-26. She's a 4x ADCC Champion, IBJJF World Champion, and veteran of the WNO Stage - and over the course of her 12-year black belt career, she's established herself as THE woman to beat.
While it's true that the 4x ADCC champion and WNO veteran has distinct physical advantages in her favor, but her technique and strategic acumen also rank among the best in the world. Gabi herself has made it plain - she has a strategy that has won her four ADCC titles - she's not changing anything up.
The question then becomes - who can upset the queen?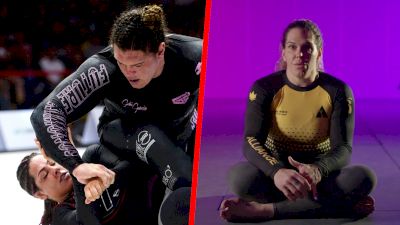 A Tale of Two Dark Dark Horse: Ana Carolina Vieira & Erin Harpe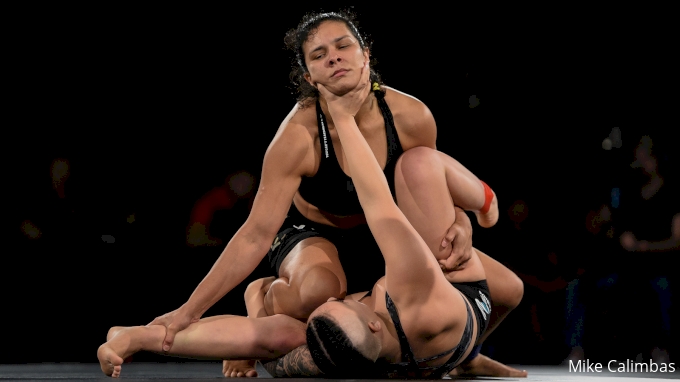 Ana Carolina Vieira puts on the pressure at WNO.
Ana Carolina Vieira is one of jiu-jitsu's greatest athletes. A 3x IBJJF World Champion and ADCC veteran, Vieira's game is as well-rounded as it is brutal. The Aviv jiu-jitsu leader's passing is one of her best weapons - a skill she used to dominate her match against fellow WNO heavyweight competitor Elisabeth Clay at the Road To ADCC earlier this summer.
Vieira could said to be a strong favorite against any other athlete in the bracket - but can she finally defeat Gabi?
The pair have tangled twice so far, once at the IBJJF 2019 Pan Championships, and again at the ADCC 2019 World Championships. Gabi won both matches, but on very slim margins - by advantage at Pans and via decision at ADCC.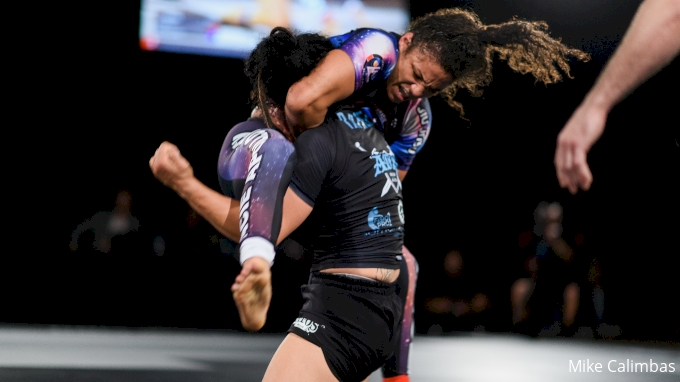 Erin Harpe in action at WNO.
Erin Harpe shocked the world when she came from relative obscurity to earn a decision victory of Atos star Rafaela Guedes at WNO in June this year. Despite beginning her jiu-jitsu career when she was five years olds, Harpe only received her black belt in 2019 as she had been focusing on her MMA career.
her aggressive guard game and submission-first approach wowed all those in attendance. Harpe's physicality could go a long way to notching a few wins at the WNO Championships.
The Disruptors: Clay & Guedes Can Submit In An instant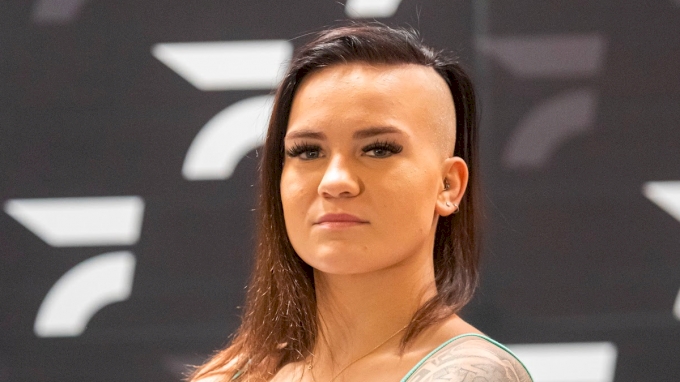 Two strong disrupters emerge in the women's heavyweight division in Lis Clay and Rafaela Guedes. Clay, well known these days on the no-gi circuit has the submission skillset to ruin anyone in the heavyweight divisions day should she get the right look, but as see at the Road To ADCC, and her previous match with Gabi Garcia it's also possible to shut down her game with an impeccable pressure-passing game.
With that said, Clay is one of the most lethal finishers in the division, and given the slightest opportunity, the Ares competitor will no doubt collect yet another submission (or two, or three) to her name at the WNO Championships.
Rafaela Guedes is as well-rounded as they come - but as a recent black belt (ablate a highly successful one) she has shown a knack for getting the finish is all manners of way. It should also be noted that Guedes' wrestling is among the best in the wrong, and she uses strong collar ties and shot entries to set up back attacks, guillotines, and of course, securing the takedown.