2021 FloGrappling WNO Championship
The Case For Betting Against The Favorite | WNO Championship Betting Lines
The Case For Betting Against The Favorite | WNO Championship Betting Lines
The betting lines for the female heavyweight division at the WNO Championship have been released. See the division favorite, and the best value picks below.
Sep 15, 2021
by Corey Stockton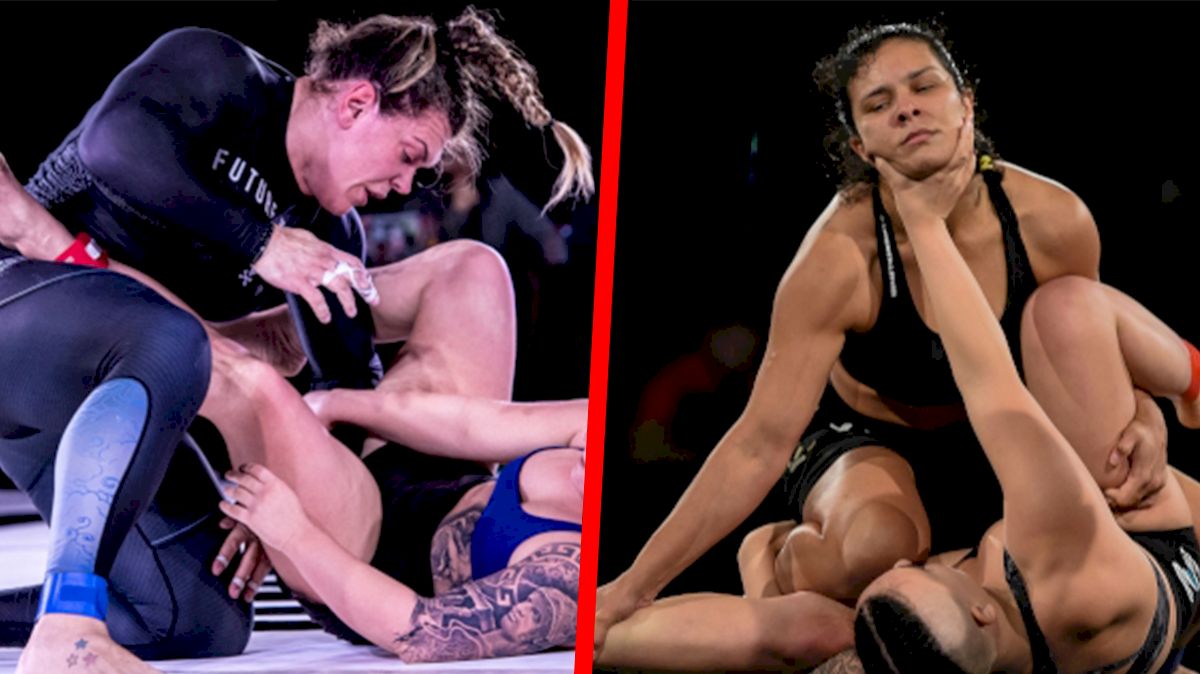 The online betting site BetOnline has released money lines for FloGrappling's WNO Championship.
These odds are constantly fluctuating. The odds below were reported as of August 25. Find the most up to date betting lines on BetOnline.
(Note: We do not encourage illegal gambling, please check the laws in your jurisdiction. Go here to learn about responsible gambling.)
---
Odds to win the 115 lb tournament:
Gabi Garcia +150
Ana Carolina Vieira +225
Elisabeth Clay +350
Kendall Reusing +600
Rafaela Guedes +900
Erin Harpe +1500
Amanda Loewen +2000
Amanda Leve +4000
---
There may be no better bet in this division than Gabi Garcia. The four time ADCC champ has only lost one no-gi match since 2015; that was a tough fought battle against Nathieley de Jesus in which Garcia appeared more aggressive than in several years past. As a +150 favorite, the odds are worthwhile, betters could double their money and then some with a bet on Garcia if she's successful in this eight woman division.
Her biggest could be Ana Carolina Vieira if the two cross paths. There's a growing personal rivalry atop this division between these two world champions, and that could compel Vieira to rise to the occasion, and take Gabi out. If Garcia falls in an early matchup, Vieira becomes the clear favorite, and betters would be wise to consider the durability of Gabi Garcia over a three-fight road to gold. It's not unreasonable to suggest that Ana Carolina's recent presence in tournaments would make her a smarter bet than Garcia, given that Garcia has shown to fade in 15-minute rounds, and hasn't competed in a tournament since ADCC in 2019. For those willing to place money on that belief, Vieira would be a strong bet, offering a $225 prize on a successful $100 bet.
There are two higher risk bets that stand out in the pack of eight. The first is Rafaela Guedes, a +900 underdog. Guedes bullied Vieira in their last encounter at Fight to Win, and has shown a physical style throughout her career which could break many of her potential opponents. She may struggle to get through Garcia, which could cause some hesitation for betters. But she's by no means a longshot, and the upside is obvious: $900 in rewards on a successful $100 bet.
How about Erin Harpe? The Invicta FC veteran won a close decision against Guedes in her WNO debut. She's something of a wild card in this division. She has only had two grappling matches in recent memory. She won both of them, but there's little evidence to support that she could win three in a row against the best in the world. She may struggle, particularly, to get through Garcia and Vieira. Consider this bet a dart throw at best. The potential payout matches that categorization: $1500 on a successful $100 bet.