2021 World IBJJF Jiu-Jitsu No-Gi Championship
Keep Your Eyes On Levi & The Middleweight Division At No-Gi Worlds
Keep Your Eyes On Levi & The Middleweight Division At No-Gi Worlds
The IBJJF No-Gi Worlds middleweight division encompasses ADCC vets and no-gi world champs. But perhaps the most exciting entrant is making his no-gi debut.
Oct 1, 2021
by Corey Stockton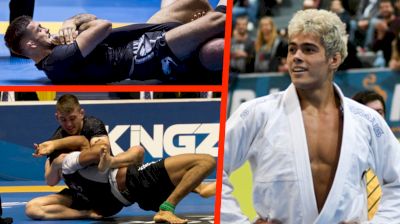 Forty athletes are registered for the male black belt middleweight division at No-Gi Worlds, making it the deepest of the tournament. That roster includes six ADCC veterans, three returning IBJJF no-gi world champs, and one Levi Jones-Leary looking to make his no-gi debut as a black belt.
The middleweight division is composed of some of the most electric competitors in grappling: guys like Dante Leon, Renato Canuto, PJ Barch. Leon and Canuto are both looking to capture their second no-gi world titles, as is 2019 champ Hugo Marques; but they'll face a new challenge this year.
For the first time ever, heel hooks will be allowed for adult black belts at the no-gi world championships, making competitors like Oliver Taza more dangerous than ever. This could be Taza's best opportunity to collect a major IBJJF title; he fell out of No-Gi Pans early, disqualified for breaking a rule unrelated to leg locks.
The IBJJF allowing heel hooks has brought out a lot of new faces, such as Bellator MMA fighter Jay Jay Wilson, 8-0 in MMA with four submissions, 10th Planet figures including the up-and-coming Alan Sanchez.
But the real story of this division is the presence of the Australian rising star, Levi Jones-Leary. Levi had a sensational run in the gi in his rookie season in 2019, capturing European and Pans titles and winning the $100,000 prize at the Spyder Invitational. The berimbolo player teased his transition to no-gi earlier this year, training with Lachlan Giles while living in Australia, and adding new wrinkles to his already precise style.
This will be Levi's first foray into the no-gi scene as a black belt, and he could walk away as a world champion. If he's successful, this could be a harbinger of superstardom for Levi in the no-gi sphere, as — win or lose — he'll face Oliver Taza a few weeks later at WNO: The Return of Gordon Ryan on October 20.
See the full athlete list for the IBJJF World No-Gi black belt middleweight division here:
Adult / Male / Middle
TOTAL: 40
| TEAM | NAME |
| --- | --- |
| 10th Planet Jiu Jitsu | Alan Sanchez Perez |
| 10th Planet Jiu Jitsu | Paul Barch |
| Alliance | Jay Jay Thomas Wilson |
| Alliance | Jonathan T. Satava |
| Alliance | Vinicius Lino Wong |
| Alliance International | José Andrés Balda Cedeno |
| Alliance International | Rehan Muttalib |
| Ares BJJ | Hugo Doerzapff Marques |
| Ares BJJ | Michael Patrick Esquivel II |
| Atos Jiu-Jitsu | Alexandre Joaquim de Jesus |
| Atos JJ International | Brian J. Beaury II |
| Atos JJ International | Paulo Gabriel Martins da Costa |
| Breathe Jiu-Jitsu | Daniel-Shea Garcia Stolfi |
| Carlson Gracie Team | Celso Ricardo dos Reis Filho |
| CheckMat | Jose Mathias Macedo de Lira Luna |
| CheckMat | Renato Forasieppi Alves Canuto |
| CheckMat | Tyler James Scalisi |
| Detroit Jiu-Jitsu Academy | Khalil Fadi Fadlallah |
| Fight Sports | Gesias Cavalcante Souza |
| Fight Sports | Rodrigo Gortari Barbosa |
| GD Jiu-Jitsu Association | Issa Able |
| GF Team | Dante Scott Leon |
| GF Team | Jaime Soares Canuto |
| GF Team International | Gialysson Adão Silva Freitas |
| Gracie Barra | Edwin Najmi |
| Gracie Barra Corona | Saul Viayra |
| Gracie Barra Nottingham | Oliver Johnathon Lovell |
| LEAD BJJ | Rennick Keolani Kama Jr. |
| Legion American Jiu-Jitsu | Michael Andrew Salazar |
| Nova Uniao Canada | Stephen Ralph Simms |
| Open Mat Mixed Martial Arts | Daniel Seth Davis |
| Pedro Sauer Team | Brandon Scott Bergeron |
| Progress Brazilian Jiu Jitsu | João Lucas Ferreira Braz da Silva |
| Renato Tavares Association | Todd Andrew Walling |
| Renzo Gracie International | Oliver Taza |
| Unity Jiu-jitsu | Italo Moura de Azevedo |
| Unity Jiu-jitsu | Levi Jones-Leary |
| Zenith BJJ - Las Vegas | Joseph Mckay |
| ZR Team Association | Mateusz Miroslaw Flaga |