FloGrappling WNO: The Return of Gordon Ryan
Live Updates, Results & Analysis | WNO: The Return Of Gordon Ryan
Live Updates, Results & Analysis | WNO: The Return Of Gordon Ryan
WNO: The Return of Gordon Ryan will feature three title fights, & much more. Check this page throughout the event for real time updates, results & analysis.
Oct 20, 2021
by Corey Stockton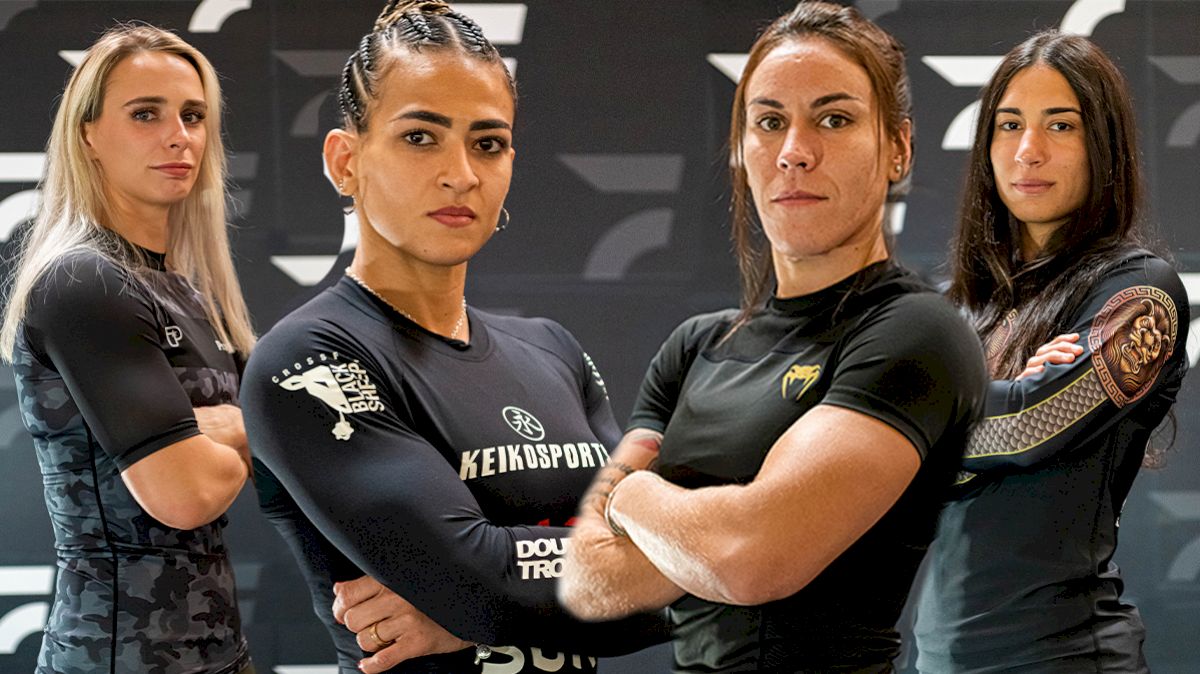 Tonight, Gordon Ryan returns from his seven month hiatus to the WNO mats, taking on the UFC veteran Philly Fresh, Philip Rowe. in a special exhibition match. Gordon has promised to experiment during the match, and to show the newest components of his game, as the match will not end — but instead reset from a neutral standing position — in the event of a submission.
Earlier on the card, three new WNO champions will be crowned. Atos' Luiza Monteiro will take on ADCC champion Beatriz Mesquita for the women's bantamweight title. In the co-main event, 2021 No-Gi World Champ Ffion Davies will try to become the first ever WNO flyweight champion against Checkmat's Nathalie Ribeiro. And in the first match of the main card, Mikey Musumeci will try to capture the Men's bantamweight title against Richard Alarcon.
Follow this article regularly throughout the night for match-by-match updates, results and real time analysis.
The action starts at 8 p..m. ET.
---
Estevan Martinez controlled the wrestling action early, finishing two singles, but not maintaining top position. On Martinez' third takedown, Anderson tried to roll through for a back take, and finished the long scramble in top position.
The match returned to the feet, and Martinez took a labored shot, giving up a counter ankle pick to Anderson, who used position to backstep into a leg entanglement then into an attack series. But Martinez escaped, scrambling toward Anderson's back.
The match returned once again to the feet, and Martinez completed a slick fireman's carry, but could not hold.
Anderson and Martinez exchanged sweeps and takedowns in an open throttle battle of positions, but Anderson established Control of Martinez' back and began punching his arm in for choke attempts.
Martinez escaped with 70 seconds left on the clock, and turned up the attack, but Anderson had the cardio edge, and stayed positionally ahead for the closing seconds.
Damien Anderson def Estevan Martinez via unanimous decision
---
Bri Robertson took bottom position and started fishing for inside position. Ste-Marie looked to attack over the top, catching an arm on the way in. In her first attempt, she landed in the bottom position. But on the second try, she established mount.
Robertson escaped, but Ste-Marie got a second try, clinching an armbar and transitioning to a triangle. Robertson fought it off for a while, but Ste-Marie eventually got the triangle finish while on her back.
Brianna Ste-Marie def Bri Robertson via triangle (7:14)
---
Couch jumped to closed guard and climbed slowly for an armbar. As Colvin defended, Couch worked into a 50-50 leg attack. Colvin escaped, but Couch worked to rebuild the attack, trying a few different entries before coming up to the top position.
Colvin started a series of off-balances, taking a look at Couch's back before the men returned to their feet.
Couch jumped to guard again and immediately climbed for a triangle, then finished the submission on the arm.
Jacob Couch def Hunter Colvin via arm lock (6:30)
---
Main Card
---
WNO Bamtamweight Title Match
Mikey sat directly to guard and inverted to 50-50, collecting an unusual leg trap. He used his neck to trap Alarcon's foot, mimicking a reverse toe-hold and tapping Alarcon.
Mikey Musumeci def Richard Alarcon via leg lock (0:57) to become the WNO Bantamweight Champion
---
Taza attempted a backstep into a leg entanglement, and Levi countered with a berimbolo, climbing slowly and steadily to Taza's back. He held there for a while, but soon transitioned to mount, then lost the position.
Taza started pressuring Levi's guard from the outside, picking up the pace but not finding an advantageous position.
Taza tried to pass from closer range, and used the proximity to attempt a tighter leg attack, but Levi cleared the kneeline.
Under pressure from the clock, Taza looked to force through his opponent's guard, but continued to struggle with Levi's flexible inverted guard.
Taza's desperation gave Levi a slick backtake attempt. He failed to get the back but caught mount on the way up, sealing the deal on his lead.
Levi Jones-Leary def Oliver Taza via unanimous decision
---
WNO Women's Flyweight Title Match
Nathalie Ribeiro sat guard early, and momentarily swept to top position. But when Ffion Davies escaped to her feet, the match became a scrappy, head to head wrestling battle. Davies led the pace, but Ribeiro countered effectively for the early phase.
Halfway through the match, Davies solidified a takedown off a knee-pick. She held top position for a brief moment, but Ribeiro climbed back to her feet.
After earning a significant edge on the feet, Ffion sat to guard with short time left on the clock, and started looking for arm and foot locks. She couldn't find the submission, but earned the WNO Flyweight title all the same.
Ffion Davies def Nathalie Ribeiro via unanimous decision (15:00)
---
WNO Women's Bantamweight Title Match
Beatriz Mesquita had an early passing flurry, but soon fell behind to Monteiro's positive grip fighting. Mesquita hig a rapid guard pass but soon lost the position. Mesquita settled a bit, and got flagged for stalling, but soon opened her attack again and nearly split through Monteiro's guard again.
Mesqita began to pick up the pace, pressuring in against Monteiro's guard . Mesquita took a brief pause and directly onto Monteiro's back, but lost the position quickly.
Monteiro continued trying to drag Mesquita into her guard, but Mesquita remained settled back, and Monteiro appeared unwilling to try to sit or wrestle up.
In the closing seconds, Mesquita sat back on a leglock. Monteitro counted with her own heel hook, a significant attack, but not enough to overcome Mesquita's positional lead.
Beatriz Mesquita def Luiza Monteiro via unanimous decision (15:00)