2021 IBJJF Jiu Jitsu Grand Prix
Victor Hugo & Tainan Dalpra Submit Opponents in IBJJF Grand Prix Finals
Victor Hugo & Tainan Dalpra Submit Opponents in IBJJF Grand Prix Finals
Victor Hugo and Tainan Dalpra emerged the winners at the IBJJF's middleweight and heavyweight Grand Prix events in Las Vegas on November 13, 2021.
Nov 14, 2021
by Hywel Teague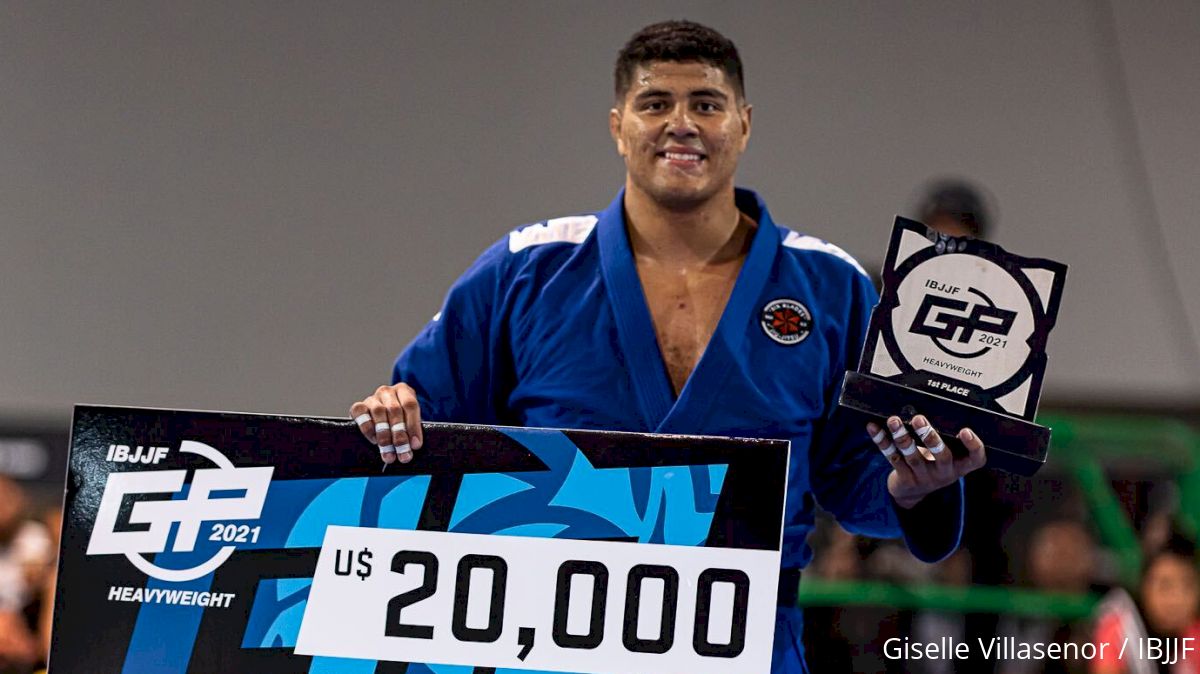 Less than one month out from the first IBJJF World Championship since 2019, eight invited athletes had an opportunity to compete in a high-stakes event in Las Vegas. The winner would take home $20,000 and no doubt enjoy a huge confidence boost going into Worlds.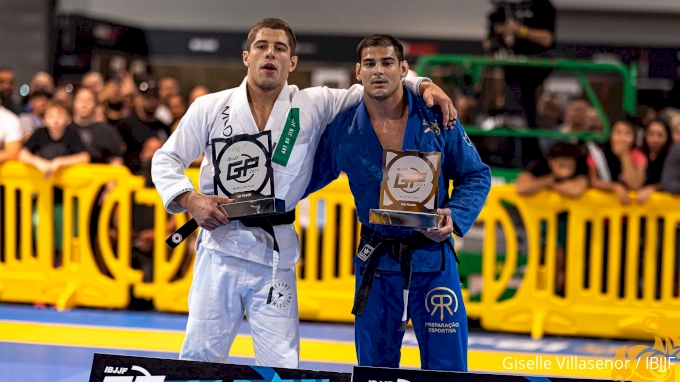 Dalpra submits Jonnatas to win Middleweight Grand Prix
The middleweight bracket featured athletes ranging from rookie black belts to multiple-time world champs. It was 21-year-old Tainan Dalpra of Art Of Jiu-Jitsu, the youngest grappler in the division, who took the top prize with wins over World Championship silver medalist Renato Canuto of Checkmat in the opening round, and a submission win versus Jonnatas Gracie of Atos in the final.
Dalpra defeated Canuto 9-2, and tapped Gracie in less 3:41 with a collar choke from the back.
---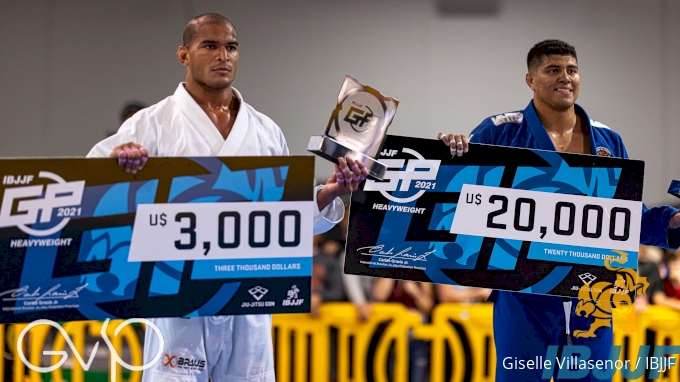 Victor Hugo taps Mahamed Aly in Heavyweight GP Final
Six Blades's Victor Hugo scored wins over Gustavo Batista of Atos and Mahamed Aly of Team Lloyd Irvin to take the grand prize in the heavyweight bracket.
The match with Batista was a stategic affair that ended 0-0 and decided by advantages. Hugo used his distinct size advantage against Batista and imposed himself from top. The match with Aly ended after exactly 2:30– Hugo used an ankle lock he says he learned from Isaac Doederlein to force the submission and win $20,000.
By far the most exciting match of the event was the opening round encounter between Mahamed Aly and Fellipe Andrew. There was a lengthy delay due to Aly's gi getting torn in the opening minutes of the match but the action that followed was fierce. Aly was able to withstand Andrew's attacks and counter with well-timed guard passes and sweeps of his own to win 10-4.
IBJJF Middleweight Grand Prix results
Jonnatas Gracie def Otavio Sousa via decision – 4-4, 1-1 adv
Tainan Dalpra def Renato Canuto 9-2
Tainan Dalpra def Jonnatas Gracie via submission (choke)
IBJJF Heavyweight Grand Prix results
Victor Hugo def Gustavo Batista 0-0, 2-0 adv, 0-1 penalties
Mahamed Aly def Fellipe Andrew 10-4
Victor Hugo def Mahamed Aly via submission (ankle lock)