2021 World Jiu-Jitsu IBJJF Championship
5 Iconic Breakthrough Moments From IBJJF Worlds History
5 Iconic Breakthrough Moments From IBJJF Worlds History
These are some of the most career-defining moments in the 25 years of IBJJF World Championships history.
Nov 23, 2021
by Corey Stockton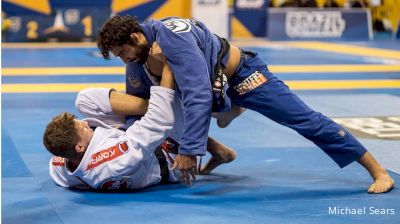 The 25th edition of the IBJJF World Championships is just around the corner. The most exciting gi event every year, Worlds is an opportunity for athletes to establish their dominance and build on their legacies. But it's also a chance for the new guard to ascend to the top of the sport, and to etch their names in the history books.
In the 25 years past, here are some of the biggest breakthrough moments in IBJJF World Championships history.
---
Matheus Gabriel Armbars Marcio Andre In Featherweight Final (2019)
Matheus Gabriel seemed destined for greatness even in his colored belt days, winning Worlds at 2018 as a brown belt. He showed the capacities of a future world champ at Pans in 2019, narrowly defeating the reigning featherweight king, Shane Jamil Hill-Taylor. But Mathues truly defined himself as a star in his 2019 Worlds final against Marcio Andre.
Matheus built a small but tactical lead halfway through his first-ever black belt Worlds final, but Andre was working hard to keep himself in the game.
As Marcio spun underneath to try to take Matheus' back, Matheus stepped over into his now famous black hole position, where he finished an armbar with less than two minutes on the clock.
Watch the match here.
Tammi Musumeci Takes Michelle Nicolini's Back (2014)
Tammi Musumeci had her work cut out for her in her first ever black belt final, taking on seven-time world champ Michelle Nicolini. But Musumeci earned an early advantage, taking Nicolini's back and building a two-point lead. Musumeci stayed ahead until she got caught in a deep omoplata. Nicolini broke Musumeci's arm, but Tammi stayed in the match. With less than 30 seconds remaining in the match, Nicolini capitalized on her injured opponent and scored eight points. Tammi lost the match, but proved that she deserved her spot at the top.
Gabriel Arges Kneebars Claudio Calasans (2016)
Claudio Calasans was the reigning World Champion, the reigning ADCC champion, and the reigning World Pro silver medalist. He was the clear cut favorite to take middleweight gold in 2016. In comes rookie black belt Gabriel Arges to spoil things for the champ. Arges took out Manuel Ribamar and Celso Vinicius before catching Calasans and then Marcos Tinoco with a kneebar. Arges closed out with his Gracie Barra teammate Otavio Sousa in the final, but would go on to win titles in 2017 and 2019.
Watch the match here.
Nicholas Meregali Bounces Back To Take Out Leandro Lo (2017)
Leandro Lo seemed to have Nicholas Meregali's number in 2017, defeating the Alliance rookie in back to back matches at Pans. But Meregali was driven to prove himself a world champion, and who better to take it from than Leandro Lo? Meregali was down on advantages until three minutes remained in the match, when he landed a deep de la riva sweep, and protected his lead from closed guard. With the win, Meregali snapped Lo's five year world title streak and captured his first of two worlds crowns.
Watch the match here.
Buchecha Takes Absolute Reign From Rodolfo (2012)
Still considered one of the best matches in Worlds history, Marcus 'Buchecha' Almeida vs Rodolfo Vieira was an instant classic which started the biggest World title haul in history. In 2011, Rodolfo seemed to be picking up where Roger Gracie left off, taking double gold after Roger stepped aside. But when Buchecha met and overthrew Rodolfo in the early rounds of the 2012 absolute division, he put his stamp of dominance on the absolute division, as well as the ultra heavyweight division, for the next seven years. Buchecha would go on to collect thirteen world titles between 2012 and 2019, with seemingly less difficulty in each passing year.