2021 World Jiu-Jitsu IBJJF Championship
Live Updates & Results | 2021 IBJJF Worlds Day 3
Live Updates & Results | 2021 IBJJF Worlds Day 3
Follow along here throughout to find out which black belts will move onto the final day of Worlds, and which teams emerge toward the coveted team trophy.
Dec 11, 2021
by Corey Stockton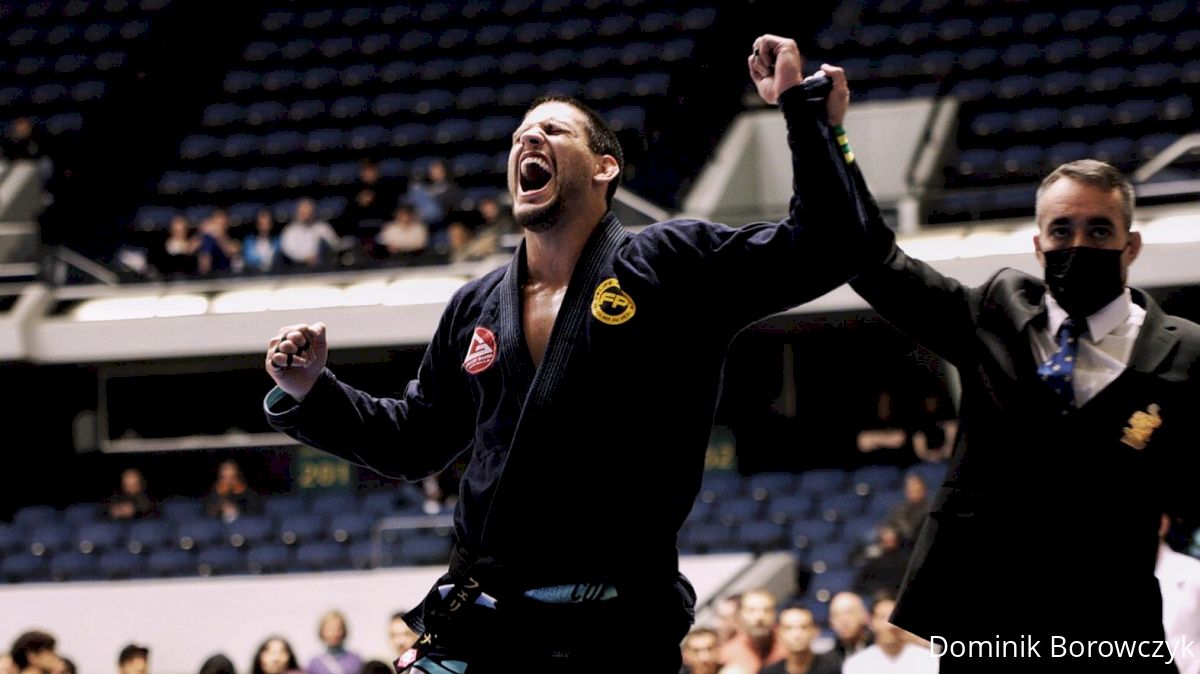 After two days of colored belts vying for World titles, the black belts take the stage. Day three of the IBJJF World Championships will kick off with the men's and women's black belt absolute divisions, which will carry on until the finalists in both divisions are decided. Today, we will also find out which eight men will face off in each weight category, and which women will face off in the finals in the black belt weight divisions.
CLICK HERE TO WATCH THE BEST BLACK BELT MATCHES | 2021 IBJJF WORLDS
Day three is guaranteed to be loaded with action, especially if it follows the trend of the previous two days. This, the first World Championships in thirty months, there's a lot on the line for the veterans who have lost a season, and the newcomers who have been waiting to announce their place in these highly competitive divisions.
Follow along here throughout the day to find out which athletes will move onto the final day of Worlds, and which teams are emerging toward the coveted team title.
Here are the current team standings.
Male
CheckMat - 50 points
Alliance - 42 points
R1NG BJJ - 32 points
Unity - 25 points
Gracie Barra - 24 points
Atos Jiu-Jitsu - 24 points
Female
Dream Art - 30 points
CheckMat - 29 points
GF Team - 23 points
Zenith BJJ - Las Vegas - 18 points
Unity Jiu-jitsu - 15 points
---
12:30 a.m. ET
Beatriz Mesquita earned the very first win of the day, an armbar in just 34 seconds in the first round of the women's absolute. She'll face the winner of Elisabeth Clay and Izadora Cristina next.
Estevan Martinez went on the attack for the first two minutes of his opening match, but gave his back to a much larger opponent, and lost via submission. Joshua Guerra, who beat Martinez, has Max Gimenis next.
1:00 p.m. ET
Gabi Garcia won her first match by armlock in 2:00.
Isadora Cristina won a unanimous decision against Elisabeth clay in a technical battle.
Victor Hugo put up 10 points before submitting Jake Watson with a choke from the back.
Three advantages was enough to put Patrick Gáudio over Rafael Vasconcelos.
Felipe Pena defeated Arnaldo Maidana 5-0 in the opening round.
It took less than two minutes for Nicholas Meregali to secure his first win of the day with a triangle over Marlon Tanaka.
Gabi Pessanha racked up 14 points against Bridget McEliece in her opening match of the absolute division.
1:10 p.m. ET
Ana Carolina edged out a decision vs Mayara custodio. She'll face Gabi Garcia next.
Nicholas Meregali will take on Victor Hugo in the next round.
Fellipe Andrew won 5-0 in his division opener, and will face Patrick Gáudio next.
Kaynan Duarte won his opening round against Marcelo Gomide with a choke from the back in less than six minutes.
Yara Soares submitted Maria Malyjasiak with a toe hold and will move in to face the winner of Garcia and Vieira.
Bia Basilio walked through her scheduled first round match, as Talita Nogueira did not show up for the division.
1:30 p.m. ET
Nicholas Meregali defeated Victor Hugo by a two point margin, scoring early, then being slowed by Hugo's 50-50 play.
He'll face Kaynan Duarte, who submitted Wallace Costa with an arm in guillotine halfway through the quarterfinal.
Fellipe Andrew caught Patrick Gáudio with a toe hold in just 72 seconds, earning his spot in the semifinal.
Andrew will face Pena, who submitted Max Gimenis from the back after scoring 12 points in just more than6 minutes.
Here are the black belt male absolute semifinal start times:
Felipe Pena vs Fellipe Andrew | Mat 1 | 1:50 p.m. ET
Nicholas Meregali vs Kaynan Duarte | Mat 8 | 1:54 p.m. ET
1:35 p.m. ET
Gabi Garcia edged out Ana Carolina Vieira in a slow match. Vieira received a passivity penalty, the only factor on the scoreboard. She'll face Yara Soares in the semifinal.
Izadora Cristina allowed Bia Mesquita to pass. She'll face Gabi Pessanha in the semifinals. Pessanha defeated Bia Basilio 2-0.
Here are the black belt female absolute semifinal start times:
Bia Mesquita vs Gabi Pessanha | Mat 3 | 1:54 p.m. ET
Gabi Garcia vs Yara Soares | Mat 6 | 1:55 p.m. ET
2:00 p.m. ET
Felipe Pena won a combative match against Fellipe Andrew, winning 4-2 with a lead on advantages. He's earned a spot in the black felt absolute final. It will be Pena's first time in an IBJJF Worlds open weight final.
2:30 p.m. ET
Gabi Pessanha slowed down the explosive Bia Mesquita with lasso guard, earning a narrow advantage and a berth in tomorrow's black belt absolute final.
Nicholas Meregali earned a split decision victory over Kaynan Duarte, and will find his long awaited rematch with Felipe Pena in tomorrow's absolute final. This will also be Meregali's first opportunity in the Worlds absolute final.
Yara Soares became the first person ever to submit Gabi Garcia, scoring a collar choke in the semifinal. She'll face long time division rival Gabi Pessanha in the absolute final tomorrow.
The absolute finals are set, and the black belt weight class elimination rounds have started. Find those results below.
---
4:15 p.m. ET
Pablo Lavaselli lost a referee decision to Francisco Barbarotti in the opening round at lightweight.
Murilo Santana defeated Alex Munis, scoring a pass in the final minute after both athletes were towing the line to be double DQ'd.
Leon Taffa defeated AJ Agazarm, and will take on Levi Jones-Leary next.
Jeferson out pointed Thiago Asa in a strategic match.
Johnny Tama won his first match by footlock.
Jackson Nagai finished an armbar after amassing 48 points to 2 in his first round.
An important match in the team race, Mathias Luna defeated Rafael Dos Anjos, giving Checkmat a potential edge over alliance.
Barboritti won his second decision of the day, defeating Espen Matiesen.
Italo Moura beat Magid Hage 2-0 in the middleweight division.
Nathan Mendelsohn went 7-0 before submitting Diego Gamonal and will face Leandro Lo in the next round.
Guthierry Barbosa beat Lucas Gualberto 2-0.
Murilo Santana beat Manuel Ribamar 4-0 with a late standing backtake.
Malachi Edmond defeated Jordan Vaisman in the first light featherweight match of the day via decision.
---
7:30p.m. ET
Liera Jr tapped Johnny Tama with a choke from the back
Hulk beat Lucas Lisboa 0-0 decision in a very underwhelming match
Alexandre de Jesus (Robinho) submitted Sérvio Túlio from the back
Lucas Valente poured it on against Jonas Bruno Martins Campos and won 12-0
Andre Porfirio defeated Matheus Spirandelli by a narrow 3 adv lead after coming close with a number of tight ankle lock attacks
Tainan Dalpra submitted Jeferson Guaresi with a toehold
Murilo Amaral of Alliance was able to score two late advantages to beat veteran Rodrigo Freitas 0-0, 3-1 adv
Ronaldo Junior beat Guthierry Barbosa 7-2, securing a guard pass in the last minutes of the match.
Márcio André beat Hugo Marques 2-2 decision
Jonas Andrade beat Juan Lopes 4-2
Renato Canuto def Fabrício Barbarotti 7-2
Tomoyuki Hashimoto beat Igor Gabriel via choke from the back
Marlon Tanaka submitted Victor Cesar with an armlock
Leandro Lo def Nathan Mendelsohn 2-0 with one sweep
Isaac Doederlein submitted Brian Mahecha with a choke from the back after going 7-0
Luan Azevedo defeated Adam Wardzinski in the opening round 0-0, 2-0 adv
After a blistering start, Fabricio Andrey beat Danny Maira by one guard pass 3-0
Otavio Sousa came close to sweeping Matheus Diniz with an omoplata sweep in the last five seconds of the match, which got him the judge's decision after a close 0-0 match. He'll face Leandro Lo tomorrow in the quarterfinal.
Ana Rodrigues went 10-0 and submitted Rita Gribben with a choke in less than two minutesThamara Ferreira needed only 5:07 to submit Elizabeth Excel with an armbar.
Thalison Soares submitted Estevan Martinez in the opening round of the roosterweight division and will face Bruno Malfacine tomorrow
Devhonte Johnson went 16-0 to beat Lucas Norat
Dimitrius Souza hit a beautiful step-over triangle armbar against Gustavo Oliveira in the heavyweight division
13-seed Matheus Godoy submitted 3-seed Patrick Gáudio with a quick triangle in a big upset.
Gabi Fechter of Checkmat managed to hold on to a 2-0 lead against Amal Amjahid in the featherweight division.
Tammi Musumeci needed less than two minutes to tap Andreza Moura with a choke from the back
Queixinho beat Damien Oranday by choke from the back
Kaynan Duarte tapped Marlon Tanaka with what looked like an wristlock
Fellipe Andrew ran through Richard Turner, going 9-0 before submitting him from the back
Gabi Pessanha ends Gabi Garcia's dreams of another gold medal going 16-0 and securing a choke from the back. Pessanha becomes the second person to submit Garcia this weekend after Yara Soares. Garcia retired on the mat following the match.
In his new weight class of super-heavy, Felipe Pena needed just over 60 seconds to submit Guilherme Wilson with an armbar from the back.