2022 ADCC World Championships
Grappling Bulletin: Gi and No-Gi Is Colliding, And It's A Good Thing
Grappling Bulletin: Gi and No-Gi Is Colliding, And It's A Good Thing
It's not an exaggeration to say that the sports of gi and no-gi are on a collision course. This could, however, be a good thing for the future of grappling.
Jan 31, 2022
by Hywel Teague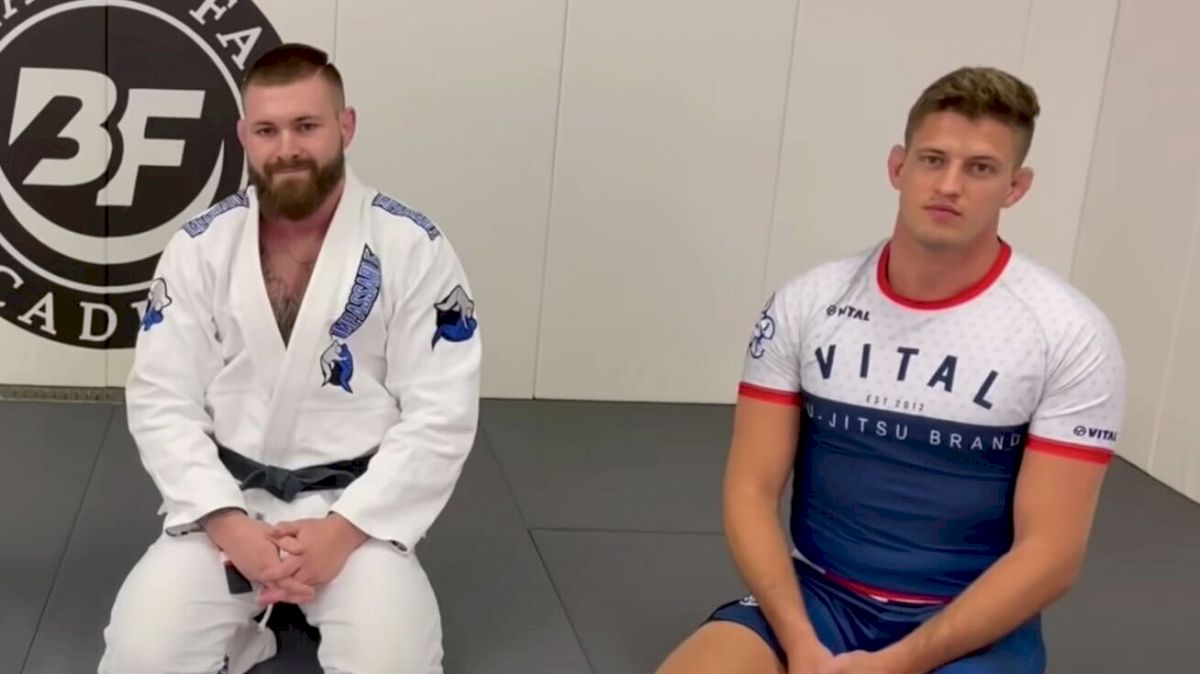 The future of grappling has never looked brighter. The frenzy of excitement for the ADCC 2022 World Championships shows no sign of abating, and it's still eight months away. The continued growth of WNO and other professional no-gi events means athletes have more opportunities to showcase their skills and earn money than ever before.
---
Don't forget to watch the Grappling Bulletin podcast, every Monday at 3:30pm ET. Watch it on FloGrappling.com or the app, or catch it LIVE on YouTube or Facebook.
---
Gi jiu-jitsu has experienced tremendous growth over the last five-plus years, with near-weekly tournaments all over the world, record-breaking registration numbers for events big and small, and more people walking into jiu-jitsu gyms than ever before.
Contrary to some vocal members of the grappling community, gi jiu-jitsu is still bigger in many ways than no-gi. More people practice jiu-jitsu in the gi and more people enter gi tournaments. The overwhelming majority of people involved in jiu-jitsu are strongly connected to the gi.
No-gi's popularity shows no sign of slowing down. For the athletes, there are more pro events offering substantial cash prizes for no-gi matches than gi. And fans are paying to watch these, as evidenced by ADCC already selling nearly 12,000 tickets for the World Championships in Las Vegas.
While the art of jiu-jitsu remains a broad spectrum of styles, techniques and more, the sports of gi and no-gi jiu-jitsu are– without doubt– diverging. No-gi is still jiu-jitsu, but with a very different appeal, and a very different business model. That's not to say that gi jiu-jitsu can't continue to grow, quite the opposite in fact. People who watch and follow no-gi still mostly train in the gi, and most people who start jiu-jitsu take their first steps onto the mat in a brand new gi with a white belt tied around their waist.
Changes are on the horizon, and it would be unwise to think that the popularity of no-gi won't affect either the sport or business of gi jiu-jitsu. With that in mind, here are three trends we'll be following closely as we move deeper into 2022.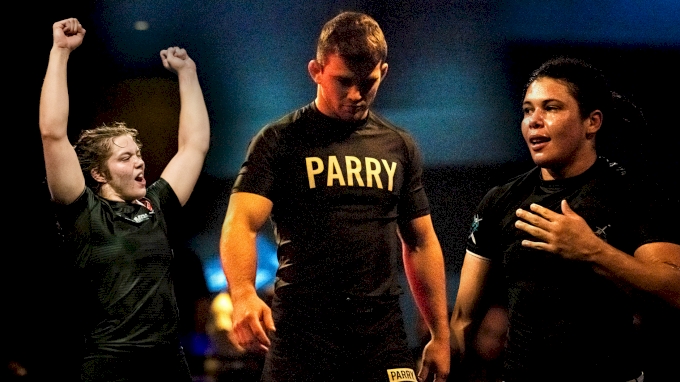 1. Will athletes permanently switch from gi to no-gi?
Historically, the best competitors have nearly always done both gi and no-gi, and only in recent years have athletes chosen one of the other. Everybody knows about Gordon Ryan or Craig Jones, who haven't competed in the gi in years. Well-known competitors such as Dante Leon, Rafaela Guedes and Kendall Reusing are following in their footsteps.
They've all informed us that their days of competing in the gi are, for now at least, on hold. The greater opportunities offered to them by professional events means that they're focusing their efforts on the activity that yields the highest return. For them, that means well-paying no-gi events.
2. How many high profile gi stylists will test themselves no-gi in 2022?
Hands up if you've ever seen Nicholas Meregali in a rashguard and boardshorts? Nobody at FloGrappling had, and we've been following his career very closely for a very long time. In fact, the only time we've seen him in a rash guard was when he's been surfing. Meregali says he just started training no-gi in January, and the intent is obvious– it's ADCC year, after all.
As you can see in the image at top he's been sharing the mats with Gordon Ryan, possibly in preparation for a run at no-gi competition. It's rare to find pure gi players these days but they definitely exist, although if they follow Meregali's example they might not stay that way for much longer.
3. Could gi events learn from no-gi?
Technically speaking, for many years no-gi grappling was mostly every day jiu-jitsu techniques done without the gi. The no-gi champions primarily came from the world of the gi, and often prepared for major events like ADCC with just two or three weeks of no-gi training. Eddie Bravo was one of the first to kickstart the no-gi revolution when he formed the 10th Planet team in the early 2000s, and it paved the way for others to follow.
Since 2015 the no-gi movement has kicked into overdrive, and an area where no-gi grappling differs from gi is that the grappling techniques has influenced competitions, and not the other way around. It's true that no-gi grapplers have to adapt their skillsets to compete in specific events such as the wrestling-heavy ADCC or EBI overtime rules, but no-gi rules are generally easier to understand (and enforce) than the complicated and often opaque rules used by gi events.
As such, hyper-specific strategies dominate gi events, which some argue stifles rather than showcases the art of jiu-jitsu. Maybe we'll see the introduction of a gi event that puts the art first, much like many no-gi events do.
---
Grappling Results Round-Up
Read on for a quick breakdown of the major results from around the world of jiu-jitsu and grappling.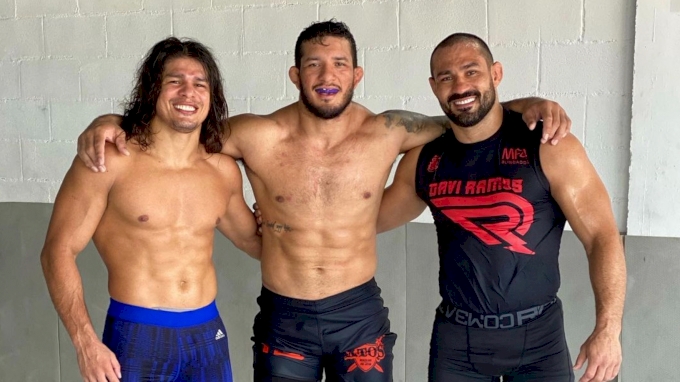 Hulk (center) with Atos teammates and black belt MMA fighters Ary Farias (left) and Davi Ramos (right).
Lucas "Hulk" Barbosa Is Going Pro in MMA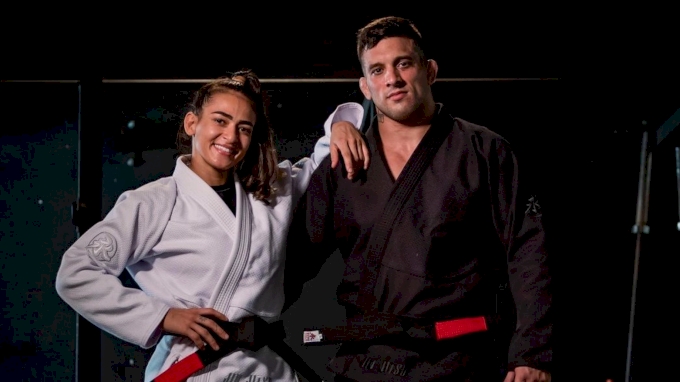 Mesquita and Gaudio Start Their Own Team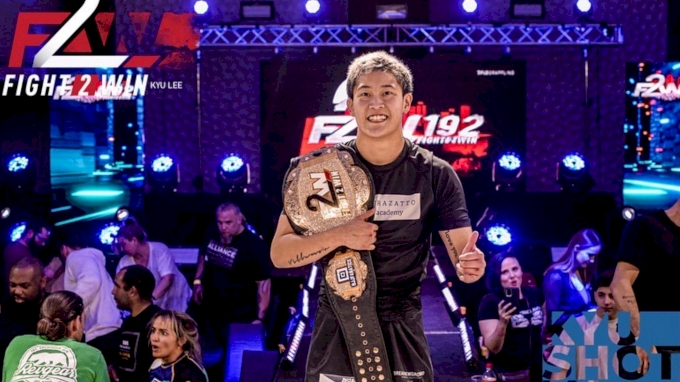 F2W Results: Enriquez beats Alencar in Black Belt Debut
2022 IBJJF Season Kicks Off With Opens In US and Brazil
The IBJJF officially opened its 2022 season with gi and no-gi events this weekend. In Austin, TX, the Sunday gi and no-gi winter opens brought the debut of new black belts and the return of many established names. Meanwhile, in Rio de Janeiro, the two-day gi and no-gi tournament brought big results. Here are the most notable winners: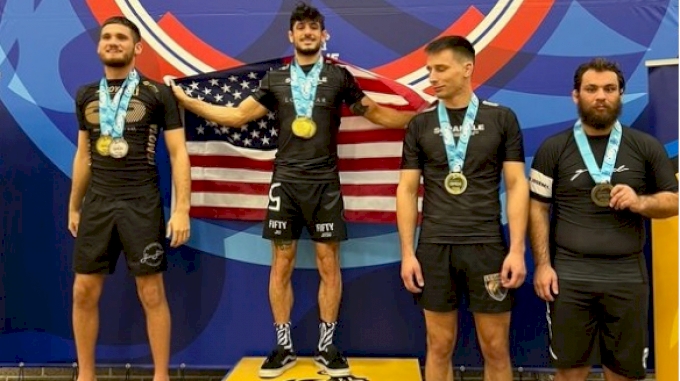 IBJJF Austin Open Results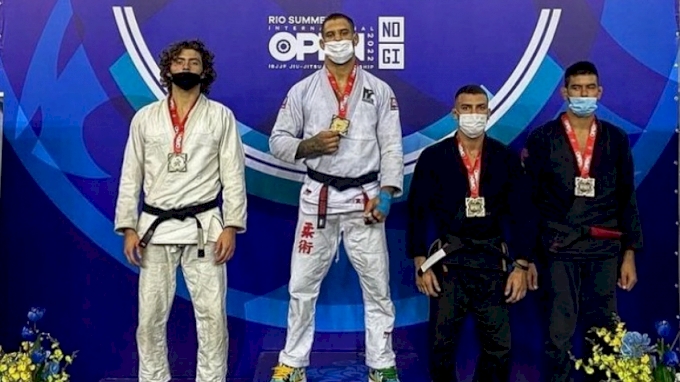 IBJJF Rio Summer Open Results
---
What we're watching
Bernardo Faria hosted a meeting of the minds between Nicholas Meregali and Gordon Ryan and the resulting technical discussion is worth paying attention to, as was Meregali's revelation about the difficulties he has faced now he's training no-gi. He said the hardest thing is getting his opponent to engage with him.
"I feel like the hardest thing is engagement. When you are on the bottom the guy likes to break grips and stay far from you, get some weird movement to get a control. And when you are on the bottom, you are just pushing your opponent forward or using the frames and not engaged in the fight. In the gi I can hold my opponent with just a collar or sleeve."
Watch the full video here:
Everybody loves Tye Ruotolo and Kade Ruotolo, and there are few things better than watching them train. We took a trip down to Mexico to catch them training at La Colonia with Magid Hage and Pete The Greek. Check out the videos here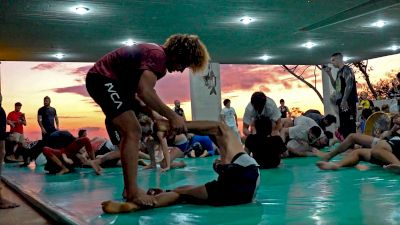 Unlock this video, live events, and more with a subscription!
Get Started
Already a subscriber? Log In
---
Upcoming Events on FloGrappling