2022 Emerald City Invitational
Emerald City Lightweight Tournament Loaded With ADCC Trials Contenders
Emerald City Lightweight Tournament Loaded With ADCC Trials Contenders
$10k is on the line at the Emerald City Invitational 155 lb bracket, featuring several ADCC hopefuls who are registered for the 2nd North American Trials.
Mar 7, 2022
by Corey Stockton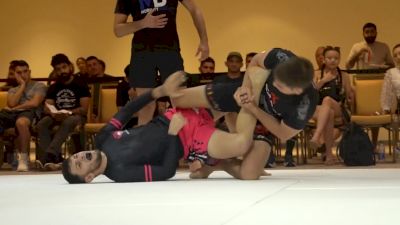 The fourth edition of the Emerald City Invitational is ready to launch on Saturday, March 12, in Atlantic City, NJ.
The main event, an eight-man 155 lb bracket with a $10,000 grand prize, will feature EBI-rules veterans, ADCC West Coast Trials favorites, and the reigning Emerald City Invitational 145 lb champion.
Gianni Grippo will be looking for his second ten stack weekend in Atlantic City as the likely no.1 seed in the lightweight bracket. In July 2021, he won the 145 lb bracket, with notable victories over Damien Anderson and Kennedy Maciel. Grippo had a career-best year in no-gi competition in 2021, finishing with a 36-3 record, No-Gi Pans and No-Gi World titles, and a bronze medal at the 1st ADCC North American Trials.
Grippo has made a hard shift to no-gi recently, and the ADCC veteran will be one of the favorites to win gold in the 66 kg division of the 2nd North American Trials in Las Vegas in April.
This lightweight bracket at Emerald City Invitational will feature several of Grippo's potential opponents for trials. Although the rulesets are dramatically different, Emerald City could be an effective litmus test for these potential trials standouts.
Jon Calestine will be one of the most experienced competitors in the EBI-ruleset at the Emerald City Invitational. He broke out on the EBI stage in 2018, and has excelled in the ruleset on smaller stages. Calestine, a natural bantamweight, will be the smallest man in the lightweight bracket, but that may not significantly hinder him. Calestine had three submissions at the 1st ADCC Trials last year, and the leg lock specialist is always dangerous.
Joshua Cisneros could be something of a wild card in this division, and in the 66 kg division at the North American Trials. He's a crack wrestler with sharp submission instincts and an affinity for scrambles. But he spent much of 2021 nursing knee injuries. He hasn't been tested in the EBI format as a black belt, but will surely be itching to test his mettle against this stacked division.
Adam Benayoun, Pedro Serrano, and Jordan Holy have all registered for the 66 kg division of the 2nd North American Trials, and will be tested by the division favorites in the 155 lb Emerald City Invitational bracket. Benayoun made it far in the 1st trials, fighting his way into the fourth round before losing to Junny Ocasio.
Gabriel Sousa will not be competing in the ADCC trials, but he could be a favorite to win the Emerald City Invitational bracket, and he's already received an invitation to ADCC. Seeding could make or break Sousa's chances in this tournament: he has recent wins over both Grippo and Cisneros, but has shown a weakness to leg locks, and could struggle with opponents such as Calestine or Kieran Kichuck.
Kieran Kichuk earned his way into the Emerald City bracket via the Finishers qualifier, where he submitted several opponents, and snagged a 30-second submission win over Jordan Holly in the final.
Kichuk could be the largest athlete in the division, and his sharp submission skills make him one of the most dangerous. He's a savvy guard player with a complex leg lock game and crafty back attacks. He flexed those assets in the 1st North American Trials, where he won each of his first four matches via stoppage before losing to Kade Ruotolo in the fifth. He's registered to take another run at the 77 kg division in the 2nd North American Trials in Vegas, and will want to head out west with $10,000 lining his pockets.