Who's Next: Submission Fighter Challenge presented by Tezos
Adam Bradleys' Bulldog Choke Wins Longest Match In FloGrappling History
Adam Bradleys' Bulldog Choke Wins Longest Match In FloGrappling History
Blood, sweat, and cheers: Adam Bradley guts out the victory in his Who's Next Debut match against Tristan Overvig.
May 20, 2022
by Chase Smith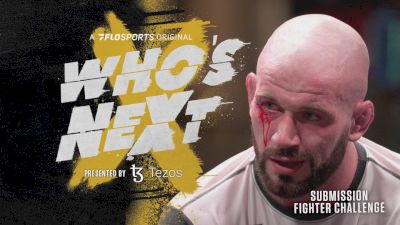 Adam Bradley and Tristan Overvig made history in their qualifying match at Who's Next: Submission Fighter Challenge presented by Tezo's when they racked up a total fight time of two hours and fifty-four minutes before finding the submission - the longest individual contest to ever take place on FloGrappling and easily among the longest in recorded jiu-jitsu history.
The series hopefuls knew a victory was the key to securing their spot in the house for the rest of the WNX season; a loss meant they were packing their bags and watching the experience from the comfort of their homes. Understanding that the opportunity of a lifetime awaited them should they get their arm raised, Bradley and Overvig pushed themselves beyond their known physical limits.
It's a visceral experience to watch the marathon in its entirety, and the full spectrum of emotion can be seen from our competitors.
WATCH: Adam Bradley vs Tristan Overvig - WNX Full Match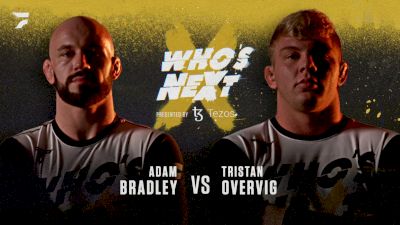 The real takeaway from this physical contest is the grit and perseverance from Adam Bradley:
At one point the Atos representative spent nearly 45 minutes under the mount of Overvig - always doing just enough to avoid the finish from an arm triangle or choke and eventually finding his way out of danger. The ability to escape from the brink is a nod to Bradley's abilities and experience, as many lesser competitors would have failed to find the will or technique to carry on.
After making his way through the gauntlet, Bradley secured the 'bulldog choke' - a rear-naked choke without back control or 'hooks' - to finally put down the beast that was Tristan Overvig and punch his own ticket into the fighter house at Who's Next: Submission Fighter Challenge.
Catch Adam Bradley's Next Challenge On WNX: Never Give Up (Episode 2)