2022 World Jiu-Jitsu IBJJF Championship
7 Non-Brazilians Black Belts Who Could Win IBJJF Worlds In 2022
7 Non-Brazilians Black Belts Who Could Win IBJJF Worlds In 2022
31 of the 399 Worlds gold medals have gone to athletes representing countries other than Brazil. Several non-Brazilians may adjust those margins in 2022.
May 23, 2022
by Liam Stein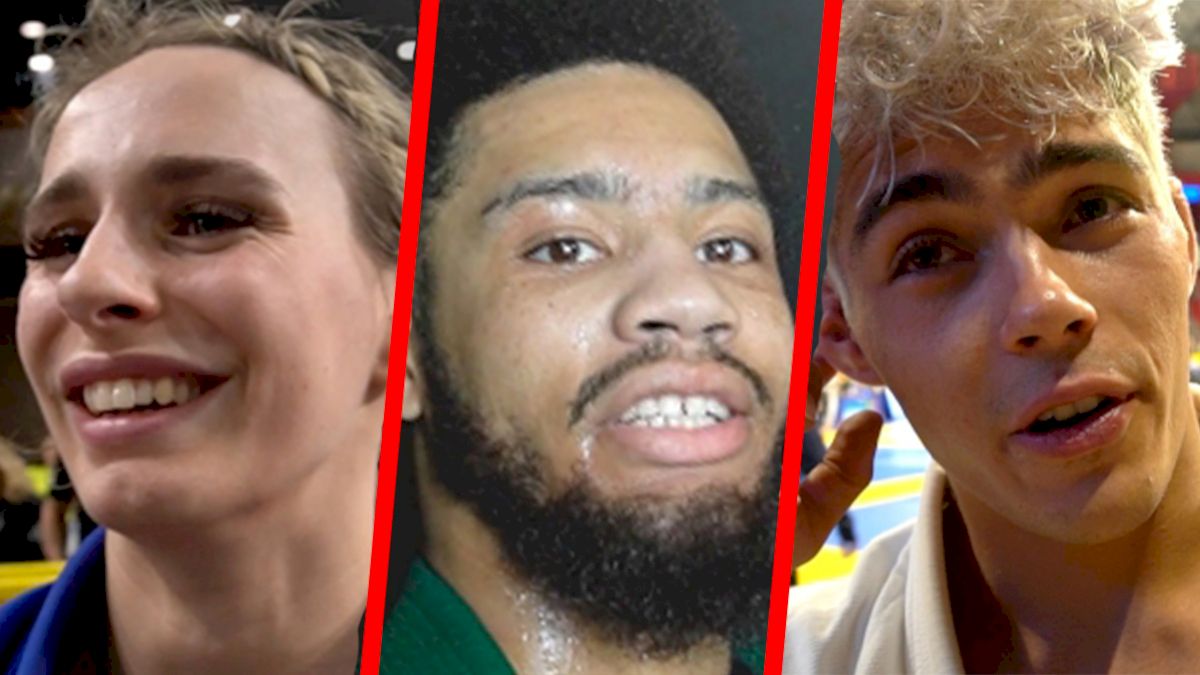 Only one of the ten men's black belt champions at 2021 Worlds represented a country other than Brazil. The lone non-Brazilian champion was 4x black belt gi world champion Mikey Musumeci (USA), who won his fourth title defeating Bruno Malfacine 6-0 by points. This year, a slew of veterans and rookies alike are lined up for their shot at gold, and the roster of non-Brazilians is showing signs that this year's podiums could be the most nationally diverse in history.
Here are some of the black belts we're watching closely:
The Atos rookie will enter the fold in the lightweight division, and will look to capture gold on his first attempt after winning the 2021 Worlds at brown belt. Ruotolo is no stranger to the big dance, having already competed on some of the biggest stages in grappling, and he will look to use his unconventional wrestling and guard passing game to earn victory. The 18-year old superstar has a prolific scrambling ability matched by his never-empty gas tank.
The always unpredictable Roberto Jimenez will be back in action in the Pyramid, after falling early to Tainan Dalpra at Pans. Jimenez was a standout colored belt at Worlds on his come up, but not yet secured gold in the black belt division at Worlds.
"The Natural One" will be making the jump back up to the medium-heavyweight division (88kg) closer in weight to where he began his career. The Ecuadorian-American training out of Studio 76 in Las Vegas could finally add the elusive black belt world title to his already lengthy list of accolades.
One of the most legendary Americans in the sport of jiu-jitsu, Rafael Lovato Jr. became the first non-Brazilian to win the CBJJ Brazilian National Championship in 2007. The same year Lovato completed the Grand Slam, also taking home gold at the European Open, Pan Championship, and World Championship. Lovato Jr. returned to major competition earlier this year, tackling a deep Ultra heavyweight division at Euros. The 38-year-old will look to leave Anaheim with a gold medal in what could be his last major tournament in the adult divisions.
The berimbolo machine that is Pablo Lavaselli is game for the lightweight division and could be a sleeper in the deep bracket.
Now representing Nova Uniao, the Argentinian will look to keep his momentum going after blazing his way to gold at Brasilieros. The two-time World Pro champ spent his colored belt years training out of his home gym with no formal coaching supervision until receiving his black belt in 2019. He's been steadily rising, and carving through key names since then.
In 2018, Jamil Taylor-Hill made history becoming the fifth American to win an IBJJF men's black belt World Championship, adding to his collection of IBJJF World golds at the blue, purple, and brown belt levels. With a masterful lasso guard, the Team Lloyd Irvin black belt earned a gold medal at the 2021 Pan Championships and a silver medal at the 2021 IBJJF World Championships—picking up where he left off after missing the 2019 Worlds due to injury and 2020 Worlds which was canceled. Now a veteran of the featherweight division, the 27-year old Hill-Taylor seeks a second Worlds gold.
Joshua Cisneros had a groundbreaking black belt debut in 2020 when he won Pans and American National titles, earning wins over Paulo Miyao, Richar Nogueira, and Isaac Doederlein. After being sidelined by knee injures, Cisneros will look to make his first Worlds appearance at black belt, and has decided to step into a featherweight division loaded with talent.
Raquel Canuto has hit the podium twice at Worlds, The former Invicta FC MMA title contender won the full slate of IBJJF NoGi World Championship gold medals in the colored and black belt divisions, in addition to purple and brown belt World titles in the gi.
---
Others to watch:
Malachi Edmond (USA)
Levi Jones-Leary (AUS)
Ffion Davies (UK)
Tarik Hopstock (NOR)
Tommy Langaker (NOR)
Devhonte Johnson (USA)
Sebastian Rodriguez (CRC)
Vannessa Griffin (USA)
Espen Mathiesen (NOR)