2022 World Jiu-Jitsu IBJJF Championship
Live Updates & Results | 2022 IBJJF World Championships Finals
Live Updates & Results | 2022 IBJJF World Championships Finals
Follow along for live results, updates and analysis from the semifinals and finals of the 2022 IBJJF World Championships.
Jun 5, 2022
by Corey Stockton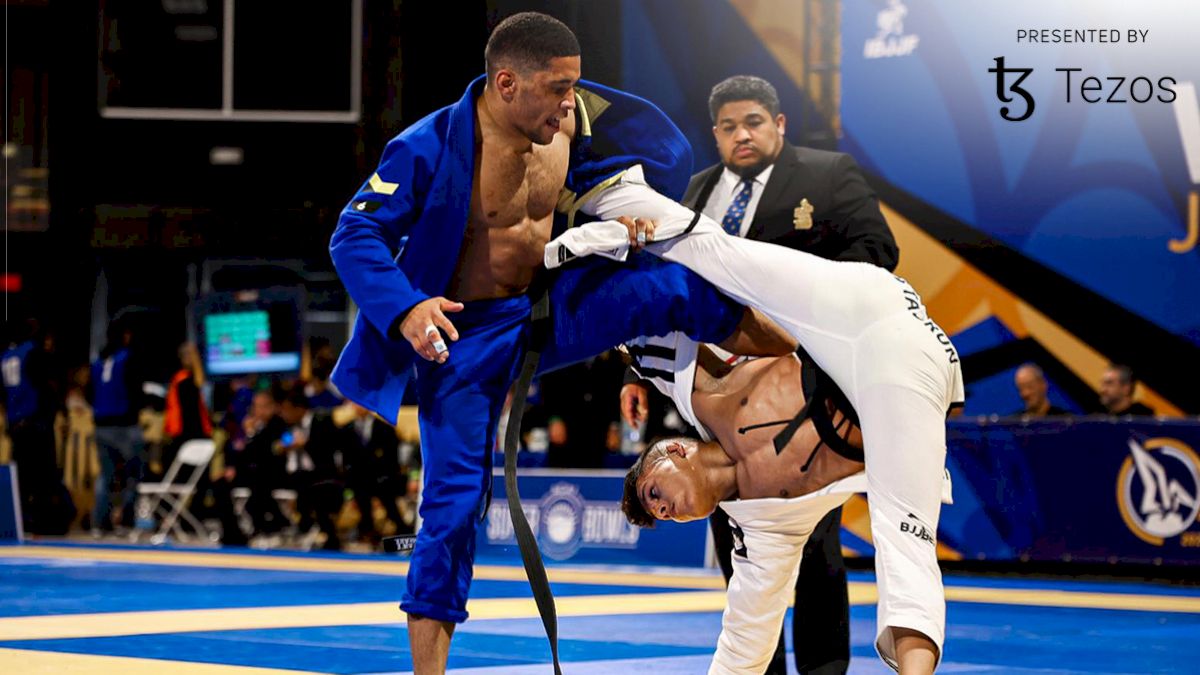 The semifinal matchups have been drawn, and the athletes are ready to take their shot for the top of the IBJJF World podium. Follow along with us here as the best gi competitors in the world try to climb to the no.1 spot.
---
Semifinals
Roosterweight
Bebeto and Thalison will rematch in the Worlds after facing off at Pans earlier this year. Bebeto got the better of that one, defeating Soares via score.
Light Featherweight
Meyram Maquine opened with rampant pace, putting an early scoring flurry on Hiago George. He put up 10 points before securing an armbar.
Diogo Reis tried to put outside pressure on the reigning light featherweight champ, but Pato tied Baby Shark up considerably. Reis' passing earned him an early advantage. In the final minute, Pato secured lapel 50-50 and used it to get on top, then held down an aggressively fighting Diogo Reis. Pato will face Dream Art teammate Meyram Maquine in his second consecutive World final.
Featherweight
Nagai struck early, earning an advantage with s tight-looking armbar, then scoring two points for coming up. But Doederlein turned the tables, collecting his renowned footlock, and shredding the ankle of his Checkmat opponent. This will be Doederlein's first Worlds final as a black belt.
Diego Sodre def Daniel Maira via advantages (2-0) | watch
Lightweight
Two takedowns and a heap of pace put Ruotolo over Valente.
Mica Galvao ran up the score on Gracie, putting up nine points before collecting a bow and arrow choke.
Middleweight
This was Tainan Dalpra's career best performance against Ronaldo Junior in four tries. He put up ten points and was never on the back foot. Dalpra will compete in his second consecutive Worlds final.
In one of the most exciting matches of the morning, Andy Murasaki scored two points from an early sweep, and traded intense movement with the Norwegian for the remainder of the match. Murasaki will be the next middleweight to try to stop Tainan Dalpra.
Medium Heavyweight
Bahiense kept steady pressure on Batista for the first half of the match, but couldn't score until the final two minutes, when he collected passing points. Bahiense is back in the final, after taking second in the middleweight division in 2021.
Leandro Lo scored and early two, then put Bruno Lima on ice. He's now on track to become the fourth male athlete to win eight world titles, but he'll have to get through Bahiense.
Heavyweight
Duarte secured back control in the first 90 seconds, and craked a lateral arm lock to no avail. With a three advantage lead, Duarte locked up lapel 50-50 and ran out the clock.
Dimitrius Sousa def Pedro Machado via points (2-0) | watch
Dimitrius Sousa scored an early lead, then fended off Pedro Machado, who fought tooth and nail in attempt to overcome the two-point deficit. Sousa will encounter Kaynan Duarte in the final in a rematch from the 2019 Worlds semis.
Super Heavyweight
Fellipe Andrew scored an early takedown, but fell to a sweep from Meregali.Meregali slowly took control, then put up seven more points before submitting Andrew with a collar choke. He maintains a perfect submission rate on the weekend.
Erich Munis def Marcus Scooby via triangle (8:47) | watch
Munis ans Scooby were slow to start, but in the final two minutes, Munis countered a shot with a guard pull and locked on a triangle in the fallout. He finished the submission with 1:13 remaining. The Dream Art representatives will face off twice, once at super heavyweight and again in the absolute final.
Ultra Heavyweight
A lapel 50-50 battle throughout went down to referee decision.
Victor Hugo def Wallace Costa via kneebar (5:27)
After duking it out in 50-50, Victor Hugo collected a kneebar, an attaack he's well-known for.
---
Finals


Male Divisions
Roosterweight
Thalison Soares defeated Bebeto Oliviera via points (2-0) to overcome his recent loss from Pans and earn his first World title. He now has won Worlds at every belt.
Super Heavyweight
Erich Munis defeated Dream Art teammate Nicholas Meregali via points (2-0) to win his second suer heavyweight title. He proposed to his fiance on his way to the podium.
Light Featherweight
Meyram Maquine def reigning champ and teammate Diego Pato to earn his first world title
Featherweight
Isaac Doederlein def Diego Sodre 2-0 to win his first world title and become the sixth American male world champion in history.
Lightweight
Mica Galvao became the youngest world champion in history, outscoring Tye Ruotolo.
Middleweight
Tainan Dalpra def Andy Murasaki Via Collar Choke To Become A Two-time World Champion.
Medium Heavyweight
Leandro Lo def Isaque Bahiense via points to become an eight-time world champion, the fourth male competitor in history to achieve that accomplishment.
Heavyweight
Kaynan Duarte def Demetrius Sousa via advantages, securing his second world title.
Ultra Heavyweight
Victor Hugo dug himself out of a two-point hole to score seven points in the final minute, earning his second world title.
Absolute
Nicholas Meregali def Erich Munis via one advantage, claiming his first open class world title and third overall world title.
Female Divisions
Roosterweight
Mayssa Bastos def Brenda Larissa via points (6-4) to earn her third world title and complete a grand slam
Light featherweight
Anna Rodrigues def Tammi Musumeci via points (4-0)
Featherweight
Bianca Basilio def Amanda Canuto via points
Lightweight
Ffion Davies def Janaina Maia via points, becomes first-ever UK-born champion
Middleweight
Andressa Cintra def Thalyta Lima via decision to earn her third consecutive world title
Medium Heavyweight
Ana Carolina Vieira def Luciana Mota via katagatame (9:11) to earn her fifth world title
Heavyweight
Larissa Dias def Rafaela Guedes via advantages to win her first world title
Super Heavyweight
Gabi Pessanha def Yara Soares via points (6-4) to become a three-time world champion and complete her 2022 grand slam.
Absolute
Gabi Pessanha won a 2-2 decision over Amy Campo, earning his fourth world title and completing a double grand slam.