Who's Next: Submission Fighter Challenge presented by Tezos
Kyle Chambers Is A Master Of Precision | Who's Next Ep. 4 Recap
Kyle Chambers Is A Master Of Precision | Who's Next Ep. 4 Recap
Kyle Chambers demonstrated precision is key at every turn in Episode 4 of Who's Next, first in the shooting challenge, then in his quarterfinal match.
Jun 9, 2022
by Corey Stockton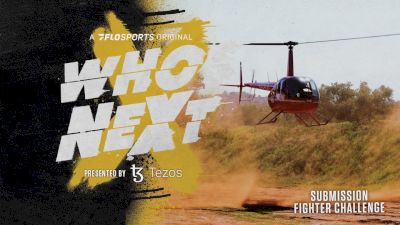 The fourth episode of Who's Next: Submission Fighter Challenge presented by Tezos started with chaos, but ended in a game of precision. That's a skill Kyle Chambers has in bushels.
After winning a kitchen scuffle against Mike Rakshan in episode 3, Andrew Tackett hatches a plan to prank the senior member of the house, and recruits members of the Red and Blue teams alike to assist. More than half of the housemates swarm the "Sultan of Strangles," waking him from his sleep with a bucket of ice, then throwing him in the pool before meeting retaliation; Rakshan proceeds to fling juice — the good juice — at his companions.
The eight contestants are carted to the location of the next mystery challenge, where they are greeted by UFC veteran and American hero Tim Kennedy, fresh off a helicopter to introduce the competitors to their next team vs team challenge.
The task: shoot accurately while fatigued. The reward: choice of matchups for the two remaining quarterfinals.
Top four performances:
Andrew Tackett: After being cooked by Tim Spriggs for 30 seconds, Tackett hit each of his targets in less than a minute
Big Dan Manasoiu: Not a single miss on target, and a quick escape from beneath Craig Jones
Kyle Chambers vs Jansen Gomes