Tezos WNO: Who's Next Finale
Betting Lines Released | Tezos WNO: Who's Next Finale Presented By Fat Tire
Betting Lines Released | Tezos WNO: Who's Next Finale Presented By Fat Tire
Check out the most intriguing favorites, underdogs and prop bets available for Tezos WNO: Who's Next Finale presented by Fat Tire on Thursday, July 14!
Jul 8, 2022
by Corey Stockton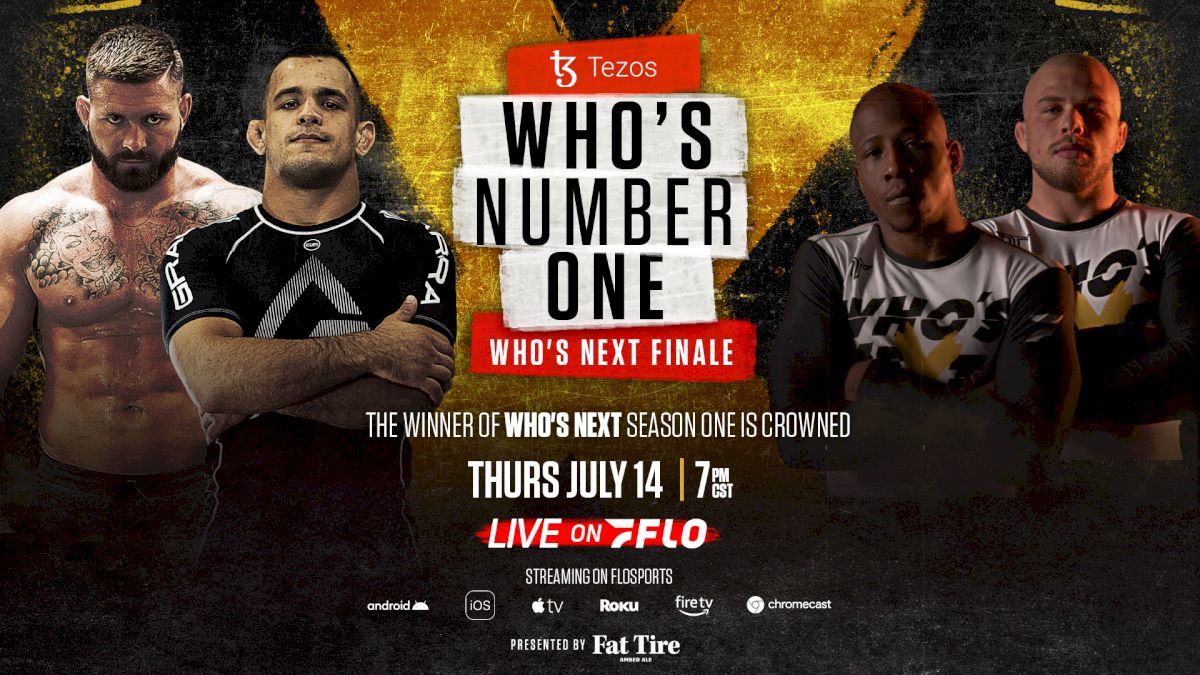 Online betting sites have released money lines for Tezos WNO: Who's Next Finale presented by Fat Tire. The July 14 card is scheduled to feature five main card bouts as well as three undercard matchups. There are money lines for each, including straight up bets and juicy props. Check out the favorites, underdogs, over/unders, and more below.
(Note: We do not encourage illegal gambling, please check the laws in your jurisdiction. Go here to learn about responsible gambling.)
---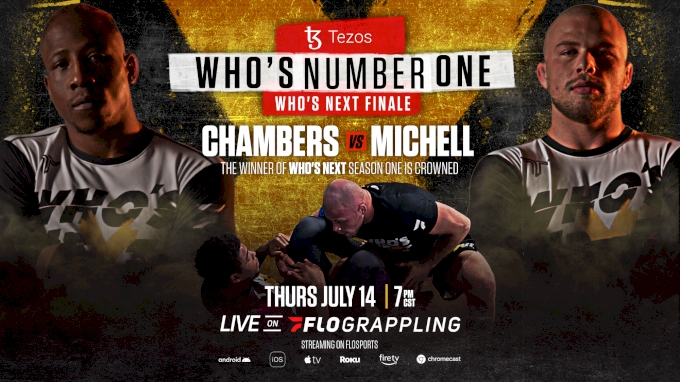 Kyle Chambers +200 +350 vs Izaak Michell -260 -450 | No time limit submission-only
Over 30min +120 +205
Under 30min -155 -265
July 14 update:
Izaak Michell has shifted from a marginal favorite to a heavy one. He's certainly been more active over the last six months, but he may be suffering from jet lag, as he only arrived back in Texas from Australia two days ago. If this is a factor, it could mean a huge profit for those putting their money behind Chambers.
July 8:
Izaak Michell's recent activity — a dominant run at the ADCC Oceania & Asia Trials — likely bolstered his favor in this matchup, in which his opening line is -260. Kyle Chambers has been sidelined for most of the year with a hand injury. But this matchup largely comes down to how deep the athletes are willing to take the match. Michell has excelled in early phase submissions, while Chambers has proven to be durable, and a great late-match finisher.
In either case, a parlay may be in order. Pair Michell with the under 30 minute line for a possible $127 payout on a $100 bet, or take Chambers and the over 30 minute line for a possible $560 profit on the same bet.
---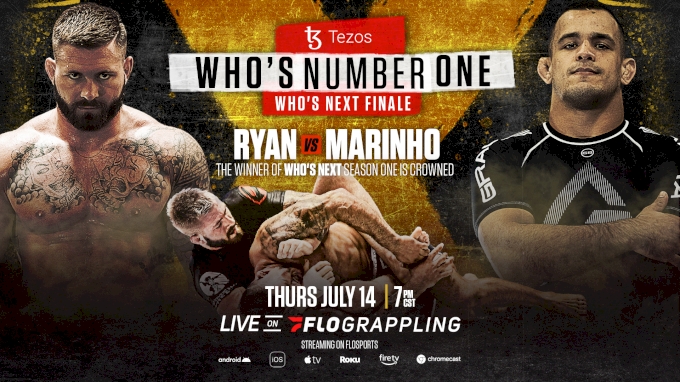 Over 15min +185 +135
Under 15min -245 -165
July 14 update:
Gordon Ryan has become an even heavier favorite over Marinho, now at -2000. The most surprising change, though, is the over line. It opened at +185, and is now down to +135. Marinho would benefit most from a long match, but Ryan is likely to drag the 30-minute match to the depths as well. He often likes to work through positions before trying for a finish.
July 8:
Gordon Ryan is known for drawing out his matches. Those who believe Ryan will continue on this trend, and those who believe Pedro Marinho's most likely path to victory is via decision will agree that the over 15 minute line, at +185, is the safe pick here. Ryan hasn't been defeated in nearly 50 matches, and he hasn't been submitted in many more, but Marinho could outwork Ryan and earn a referee decision. But if Ryan has his way, he'll likely experiment with positions and look to dismantle Marinho for at least half of the 30-minute match. There's no guarantee that this match will surpass the halfway mark; but it's as close to a lock underdog bet as you can make in this match.
---
Over 10min -245 -240
Under 10min +185 +190
July 14 update:
An influx of bets turned Andrew Tackett from a moderate to a heavy favorite vs Rene Sousa. The lines still predict that this matchup, a potential fight of the night, will surpass the 10-minute mark.
July 8:
Both Andrew Tackett and Rene Sousa demonstrated incredible work rate and inventive attacks during their time on the Who's Next reality show. But that work rate did not amount to early finishes. Other than Sousa's buggy choke on Jay Rodriguez and Tackett's submission on Big Dan Manosoiu, each match involving either of these athletes stretched beyond 30 minutes. That makes the over a reasonable pick in this matchup. If it's a successful bet, $100 would return a $40 gain.
---
Over 10min -140
Under 10min +110
Despite his lack of no-gi experience in comparison to that of Breylor Grout, Nicholas Meregali is a heavy favorite. The oddsmakers have this match dragging out.
---
Giancarlo Bodoni stepped in as a late replacement for Andy Varela vs Jay Rodriguez. Lines for this match have not yet been released.
Over 10min -155
Under 10 min +125
Jay Rod went from the favorite to the underdog with a change of opponents. Much of that may have to do with his recent decision loss to Bodoni in a 6-minute match at Subversiv. Still, this is a different ruleset, a different environment. This could be an entirely different match. Still, it makes sense that Bodoni is the favorite. He has far more experience in competition at the highest level, and is a three-fight WNO veteran.
Over 10min -300
Under 10min +245
Jacob Rodriguez vs Andy Varela is shaping up to be the battle of the event. The ADCC West Coast Trials 88 kg winner, Jay Rod will take on the 77 kg runner up from the same event. Both athletes have sharp wrestling and an aggressive attacking style; and with that in mind, this match is likely to end in explosive submission.
This matchup appears a coin toss, meaning it may be favorable to side with the underdog at +100. And there's a major win opportunity if Varela wins in under 10 minutes. Parlaying both those lines together offers +590 odds.
---
Free Prelim Betting Lines
Over 10min -275 -215
Under 10min +220 +175
---
Tristan Overvig +290 +400 vs Daniel Manasoiu -410 -600
Over 10min +245 +275
Under 10min -300 -350
July 14 update:
This match has been moved to the prelims since the lines were released. In that time, Manasoiu has managed to become an even bigger favorite, and betters seem to expect it will end via early submission.
July 8:
Big Dan Manasoiu has proven himself more often on the largest stages of grappling than his upcoming opponent, Tristan Overvig. He submitted his way up the ladder at both the ADCC West Coast and European Trials, and has earned a reputation for his ferocious leg locks. Overvig had an impressive three-hour match, which he ultimately lost to Adam Bradley. Those anticipating a repeat showing from Overvig could benefit in taking the over 10 minute line at +245.
Still, safe money is on Manasoiu straight up at -410, offering a $24 profit on a successful $100 bet.
---
Over 10min +100
Under 10min -135 -130