2022 Sub Only Series VII: The Welterweight Pros
PJ Barch Submits 4 Opponents To Collect $5k Prize At Sub Only Series VII
PJ Barch Submits 4 Opponents To Collect $5k Prize At Sub Only Series VII
The 10th Planet ADCC invitee snagged two rear naked chokes and two heel hooks, gaining much needed momentum headed into September.
Jul 25, 2022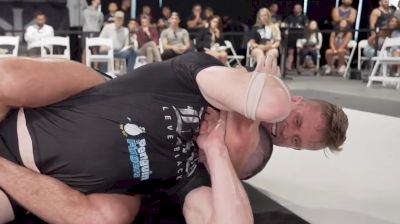 On Saturday in Hollywood, CA, the seventh edition of Submission-Only Series featured a 16-man EBI-rules welterweight bracket for a $5,000 cash prize. PJ Barch won the bracket with four consecutive submissions, including victories over division favorites John Combs and Chris Wojcik.
In total, Barch secured two rear naked chokes and two inside heel hooks to collect the $5,000 purse.
Barch's most exciting match was his scrap against Combs, but his most impressive win was his final match vs Wojcik. After struggling for most of the match to solve Wojcik's puzzling guard, Barch countered Wojcik's false reap attempt, and found his own inside heel hook with seven seconds left on the timer.
His success this weekend will build his momentum going into the stacked 77kg division in ADCC in September.
Another interesting performance was that of Pablo Perez from Alliance against betting favorite Dory Aoun. Early in the match, Pablo back stepped into the saddle and finished an inside heel hook before the two-minute mark.