2022 The Summer Bash
Pun vs Enriquez To Headline Finishers Summer Bash In Battle Of Rising Stars
Pun vs Enriquez To Headline Finishers Summer Bash In Battle Of Rising Stars
Pun vs Enriquez is posed to be one of the best women's no gi super fight matchups of the year, featuring two up-and-comers with a future in ADCC.
Aug 22, 2022
by Erica Zendell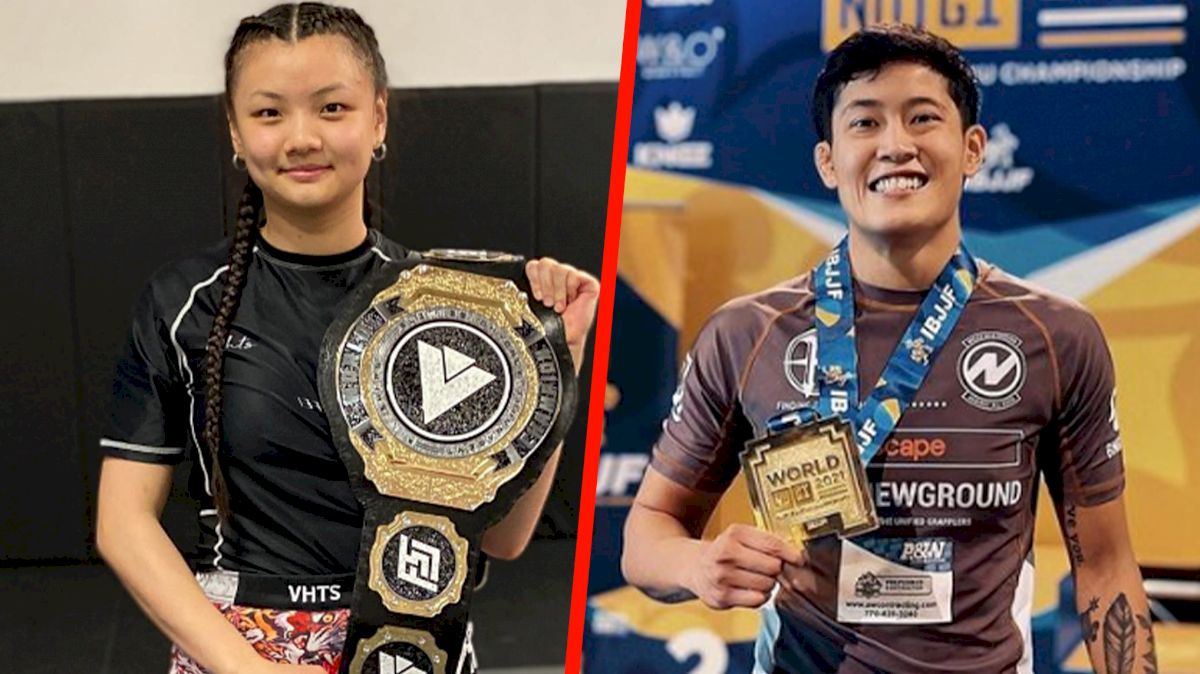 The summer may be winding down and the weather cooling off, but there's heat coming to the mats in Finishers Sub-Only's Great American Summer Bash, where two of the East Coast's fastest rising no gi athletes — Trinity Pun and Alex Enriquez — are set to match up.
Over the last few years, Trinity "The Punisher" Pun has been one of the brightest young stars in the NY/NJ/PA jiu-jitsu scene, joined by names like Sophia Casella, Fatima Kline, and Danielle Kelly. Only seventeen years old, the precocious Pun has quickly become a force in the no-gi game, holding her own, challenging, and sometimes dominating seasoned veterans, especially in the submission-only rule set, with previous matchups against the similarly-prodigious Grace Gundrum and Jessa Khan.
Trinity has had a busy 2021-2022 year on the no-gi circuit, including invitations and wins at Medusa, Submissions on the Shore, and FURY Grappling, among others. Most recently, she came in second in the Midwest Finishers Sub Only Women's 125-lb tournament in June, falling only in her final round to Alex Nguyen after winning her three previous matches by submission. In the August edition of the Midwest Finishers Sub Only 145-lb tournament, Trinity took 2021 ADCC European Trials winner Peyton Letcher to multiple overtimes; Letcher won a narrow victory by ride time.
Trinity performed formidably in her most prestigious competition to date: the ADCC North American Trials. In the East Coast Trials in November 2021, she made it to the third round, landing a dead orchard from guard in her first round and a sharp kneebar in her second round against 2021 Purple Belt No Gi World Champion, Lauren Sears. In the West Coast Trials in April 2022, she successfully fought her way into the second day of the -60kg bracket of the largest trials in history, but her flexible guard did not hold up to the pressure of three-time No Gi World Champion, Raquel Canuto, who outpointed Trinity 10-0.
Trinity's toughest test since ADCC West Coast Trials may lay ahead of her in Atos Atlanta's Alex Enriquez—currently ranked no.6 in the 125lb and 135-lbs rankings—who will challenge Trinity for her 135-lb belt at Finishers Sub Only.
Though Alex has been less busy than Trinity on this year, she's had a tremendous two years of no-gi competition at the highest level. In IBJJF competition, Enriquez took double gold at No-Gi Pans in 2020, and culminated her brown belt career with back to back gold medals at No-Gi Pans and No-Gi Worlds in 2021. Promoted to black belt by Bruno Frazzato in December 2021, Alex broke in her new rank against a World Champion, Talica Alencar, earning a win by decision at F2W 192.
Moreover, Alex's performances at ADCC trials were among the standouts of the -60kg division in the last year; she came away as runner-up in the East Coast Trials last September, losing 0-3 in the finals to the dominant East Coast and eventual West Coast Trials winner, Brianna Ste-Marie. In the West Coast trials in April, Enriquez came out blazing with two dominant submission victories and a 6-0 win on points, before losing on a close decision against Jasmine Rocha in the quarterfinals.
Enriquez comes into this matchup with roughly a decade of competitive BJJ experience—not to mention a collegiate wrestling career. Her wrestling and passing style match up neatly against holes that competitors such as Nguyen and Canuto have exposed in Pun's game. Though Alex's top game and back attacks stand to challenge the Trinity's flexible and offensive guard, Alex will have to watch out for Trinity's triangle arnbars and her growing confidence in leg attacks. Trinity's newfound affinity for buggy chokes could also play a factor as a counter to Enriquez' close passing game.
Will Trinity Pun be able to defend her 135-lb title against Alex Enriquez? Tune in on August 28 for this title match and the rest of the Finishers Sub-Only action on FloGrappling.