2022 Pan IBJJF Jiu-Jitsu No-Gi Championship
Lightweight Among The Most Decorated Divisions At No-Gi Pans
Lightweight Among The Most Decorated Divisions At No-Gi Pans
Three No-Gi World Champion and several other top performers are set to compete in the lightweight division during this year's No-Gi Pan Championships.
Oct 6, 2022
by Mariana Viana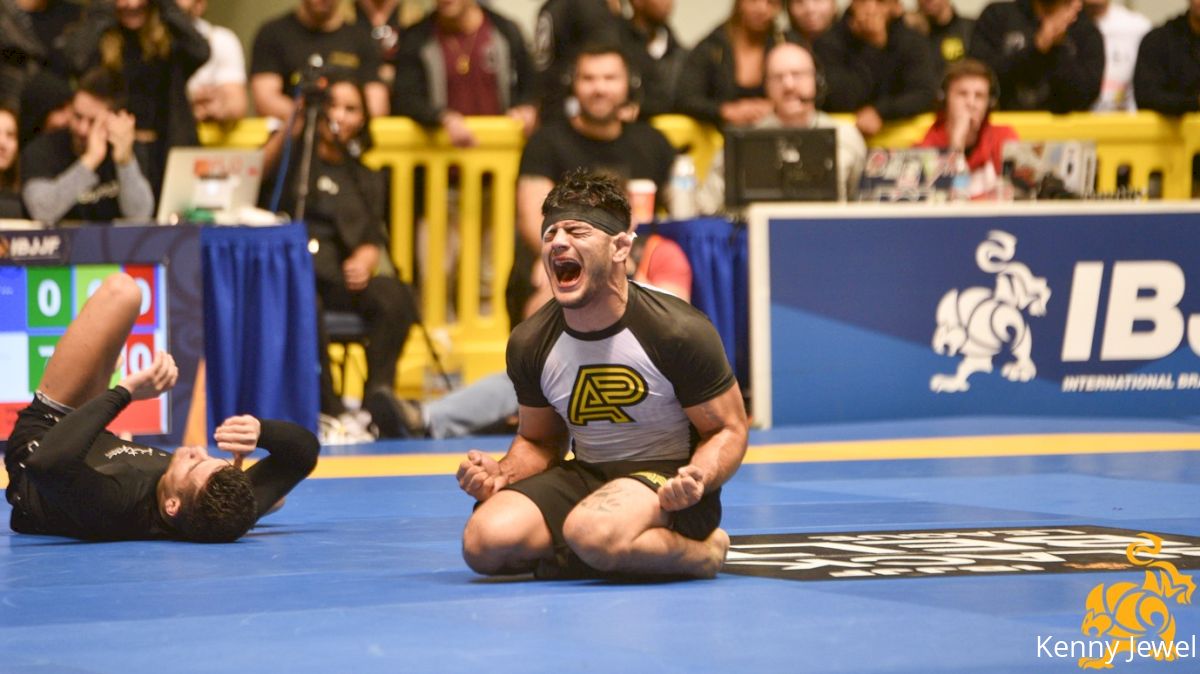 On Friday, October 14, the IBJJF No-Gi Pan American Championship is set to return to Garland, TX. The men's lightweight division, the largest of any black belt category with 31 athletes, is composed of some of the most exciting competitors in grappling, including the returning IBJJF No-Gi World Champions: AJ Agazarm, Johnny Tama, and Marcio Andre.
Gracie Barra's, AJ Agazarm, won No-Gi Worlds in 2014 and took a silver at the ADCC World Championships in 2017. He has also won several other IBJJF No-Gi major titles, such as the Brazilian National in 2013 as well as the European in 2013, 2014, and 2017. This year, the American will be chasing his second IBJJF No-Gi Pan American title as a black belt. He won his first in 2013.
Johnny Tama is an Ecuadorian jiu-jitsu black belt and No-Gi World Champion who has represented the Alliance team for over 10 years, since he was a white belt. However, in an exclusive interview with Flograppling, Tama revealed a team switch.
"I'm no longer under Alliance San Diego and I have not decided on the team that I will be joining," Tama said. "But this big move didn't affect my preparation for No-Gi Pans. I have still put the work in, kept training, and this past week I went to Hawaii to make the last adjustments at Foundation BJJ academy".
Tama is a No-Gi World Champion — the first ever from Ecuador—but he has never earned a black belt title at No-Gi Pans. He had silver medal efforts in 2019 and 2021. Tama detailed changes since his last outings and why he believes that he has everything necessary to reach the top of the podium at No-Gi Pans this year.
"I have been focusing more on training my wrestling than I did in the previous years," Tama said. "Before, I didn't have any experience with it and now I am seeing a lot of improvement in this area."
Nova Uniao's Marcio Andre won No-Gi Worlds in 2016 and collected a silver the following year. He has never competed at No-Gi Pans as a black belt. His last no-gi match was in 2019, but he's looking to strike gold on his return in his first try at this tournament.
Fight Sports Rodrigo Francioni has found much of his competitive success in jiu-jitsu's No-Gi scene where he captured a No-Gi Pans title in 2020 and earned bronze at the World No-Gi Championships in 2021.
According to Francioni, the 2020 and 2021 titles are significant achievements, but he's looking to his 2022 season to build on his accomplishments. Since moving to the U.S. eight months ago, he has put gi competition aside, and has focused on training no-gi.
"Here at Fight Sports, all professional athletes train no-gi twice a day, and we train all year for all events," said Francioni. "I'm prepared for anything, just like my team. My main goal is to be on top of the podium in all main jiu-jitsu events, for as long as possible. I'm currently 28 years old, and I would like to follow the steps of my leaders Cyborg and Vagner Rocha, who are in their forties but are still winning major tournaments in the adult divisions."
Rodrigo Freitas is a two-time No-Gi Worlds runner-up in 2014 and 2016. He placed third in 2017, 2018, and 2019. Freitas has accumulated a hardware collection at major IBJJF No-Gi competitions. He was the 2014 No-Gi Pan champion, beating Garry Tonon in the final, and won silver at the No-Gi Pans in 2010 and 2015.
Freitas said he aims to tackle the absolute division at No-Gi Pans this year, looking for double gold. He plans on using No-Gi Pans as practice for No-Gi Worlds, which he almost won in 2016 after competing in the finals against Marcio Andre.
Alexandre Molinaro won No-Gi Pans in 2020 and will try for his second in 2022. This time around, he's altered his preparation.
"I have been training jiu-jitsu and doing physical preparation as before, but this time I've been focusing a lot on improving my wrestling and standing game," Molinaro said. "I'm also trying to perfect the heel hook technique, because after the rules changed, jiu-jitsu has also changed a lot."