Two Women's Title Fights & A Lightweight Bracket Headline Finishers 17
Two Women's Title Fights & A Lightweight Bracket Headline Finishers 17
Deandre Corbe, Gavin Corbe, Alex Enriquez and more return to Bethlehem, PA for Finishers 17: November to Remember on Saturday.
Nov 18, 2022
by Liam Stein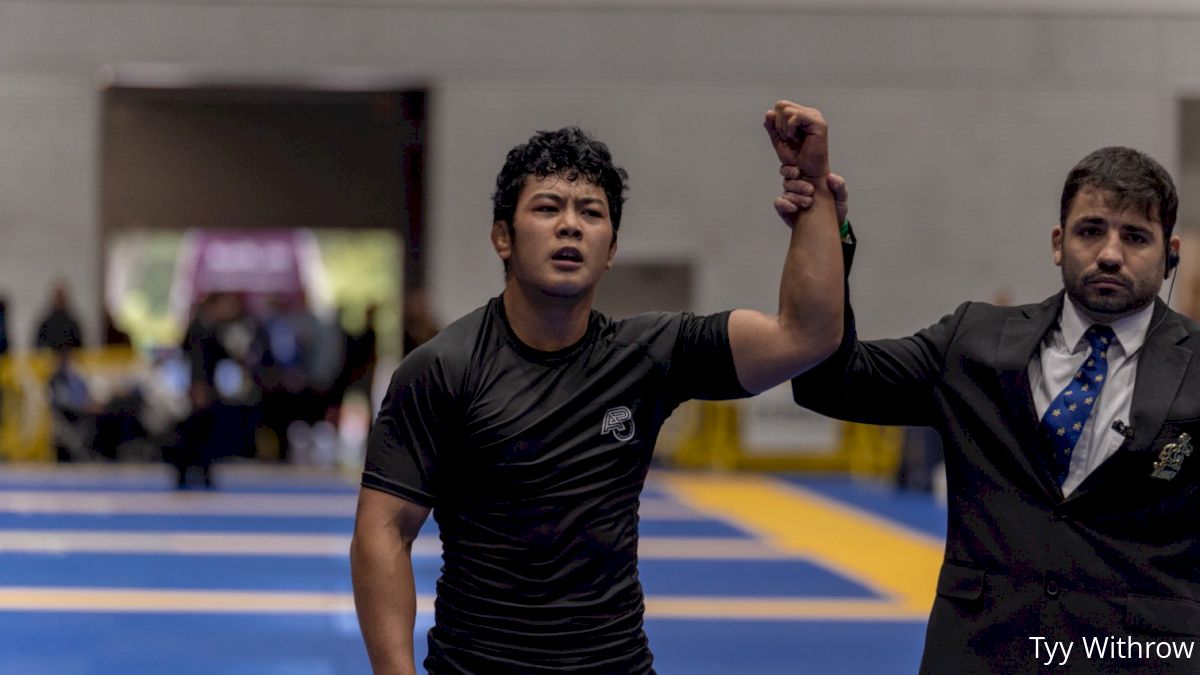 Tomorrow, sixteen lightweight pros will be in action at 10th Planet Finishers HQ in Bethlehem, PA, battling for their shot at the Finisher's 155lb. title belt and a $2,000 cash prize including headlining names like the No-Gi Pan Champion Corbe brothers, Deandre and Gavin, and 15-year-old purple pelt phenom Jett Thompson. As if the 16-man tournament weren't a convincing enough draw for viewers, the women of Atos ATL will be bringing the heat, represented in both the 105lb and 135lb Woman's Title Fights!
Both Corbe brothers are serious threats to come out on top of this bracket and have proven they can, having won previous Finisher's Sub-Only tournaments. In addition to their history with the Finisher's promotion, Deandre and Gavin each earned a hard-fought gold medal in the black belt division at the 2022 IBJJF No-Gi Pan Championships in their respective weight categories—bringing home the first IBJJF black belt major titles to Standard Jiu-Jitsu alongside teammate Alex Nguyen. Deandre also recently won a loaded -70kg bracket at the ADCC Las Vegas Open with four submissions in six fights in addition to garnering a 4-1 record at the loaded 2022 ADCC West Coast Trials.
If recent years have shown anything, age and belt rank are irrelevant when it comes to No-Gi grappling.
Jett Thompson exemplifies this, recently earning a submission victory in his superfight at Midwest Finisher's Only in addition to winning the B-Team's inaugural B League Championship, a 6-man, sub-only round-robin tournament. In the gi, Thompson is a 2x IBJJF Pan Kids champion.
The 16-man bracket also features Who's Next competitor and Who's Number One veteran Fabian Ramirez and 10th Planet's ADCC trials standout Ben Eddy.
While Eddy may be unfamiliar to some, don't blink when he hits the mats as the 10P ATX representative submitted ADCC veteran Haisam Rida via inside heel hook at Twisted Church back in May.
Highlighting the superfights on the card are two explosive women's title fights at 105 and 135lbs: Cristina Pinto vs Fey Cherrier and Alex Enriquez vs Nicole Matthew, respectively.
The first competitor battling for the 105lb. strap, Cristina Pinto, is a pediatric neurology resident by day and hardened black belt by night with wins at the Emerald City Invitational and Finisher Sub-Only 9. Training alongside Danielle Kelly and Erin Blanchfield at Silver Fox BJJ, Pinto will clash with Fey Cherrier of Atos ATL. She recently won gold in the brown belt division at No-Gi Pans. Additionally, Cherrier earned bronze medals at the IBJJF Gi World Championships and the ADCC Las Vegas Open.
Joining Cherrier on the card is teammate Alex Enriquez, the current Finisher's Submission Only Champion at 135lbs. Now a No-Gi Pans champion, Enriquez took silver at the ADCC East Coast Trials and won the Sapatiero Invitational in 2021. A credentialed wrestler also, Enriquez will look to utilize her strong takedown and guard passing game as keys to the submission when she squares off with Nicole Mathew of Method Jiu-Jitsu. An esteemed grappler herself, Mathew is a No-Gi Pans medalist at brown belt and with wins at the Toro Cup and RiSE Invitational.
---
Full Card:
Layla Watkins (Watkins Wrecking Crew) vs Lilliana Ramos (10P Newton)
Dylan Harnish (Mid World Martial Arts) vs Matt Baptiste (Ascension Athletics)
105lbs Title - Cristina Pinto (Silver Fox) vs Fey Cherrier (Atos Atlanta)
Nate Hinkson (10th Planet Masury) vs Bobby Riordon (Ocean County Jiu-Jitsu)
135lbs Title - Alex Enriquez (Atos Atlanta) vs Nicole Matthew (Method Jiu-Jitsu)
Sean Lavelle (Onyx Combat Sports) vs Jeff Book (NJ Ronin)
Evan Glasgold (10P Long Island) vs Colin Cronin (Vault BJJ)
Davi Martins (Sodel BJJ) vs CJ Toney (Standard Jiu-Jitsu)
Jonathan Patton (Team Chitwood) vs Colin Gironda (Jiu-Jitsu One)
Frankie Rodriguez (10P LongIsland) vs Sean Hughes (Webb BJJ)
Pierson White (Mid World Martial Arts) vs Ali Hammam (Bones BJJ
Kris Gratalo (Gracie NJ) vs Trent Zadarko (Mat Factory)
Nick Mancini (Riverfront Jiu-Jitsu) vs Chris Valverde (Berks BJJ)
Ansley Cox (Hart BJJ) v Maiah Yankello (True Believer/GF Team Pittsburgh)
Round of 16
Elyse Shaw (Riverfront Jiu-Jitsu) vs Tatiana Koltsova (Hart BJJ)
Round of 8
Joey Auman (Pure MMA) vs Jordan Seinz (Studio 57)
Round of 4
Ron Snee (Mat Factory) vs James VanOsdol (10P Bethlehem)
Championship
155lb. - BRACKET
Sid Tavalro (10p Bethlehem)
Josh Flores (Serra BJJ)
Jett Thompson (Watkins Wrecking Crew)
David Stoil (Vanguard/Sydney West Martial Arts)
Randy Baker (Darkside BJJ)
Deandre Corbe (Standard Jiu-Jitsu)
Gavin Corbe (Standard Jiu-Jitsu)
David Garcia (10P Lombard)
Ben Eddy (10P ATX)
Devin Vogel (10P Bethlehem)
Fabian Ramirez (Serra BJJ)
Quinn Puryear (10P Allentown)
Jonathan Lopez (302 BJJ)
Billy Tiger (Tri-State MMA - BJJ)
Travis Depriest (Coastal BJJ)
Matheus Batista (Renzo Newark)