The IBJJF Pan Jiu-jitsu Championship returns to Irvine, CA this March 8-11th only on FloGrappling.com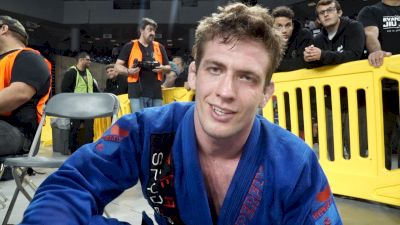 Keenan Cornelius Explains What Went Wrong Against Leandro Lo
Mar 13, 2018
Immediately after Keenan Cornelius' big win in the super heavyweight division on Sunday, we caught up with him to discuss his third Pans title and what he needed to do to beat Leandro Lo going forward in the absolute.
Cornelius, who lost to Lo in Saturday's absolute semifinals, competed as a super heavyweight for the first time this weekend in Irvine, California. While Cornelius is still growing into his new weight class, he said he is feeling more comfortable following this "trial run" but still laments not winning double gold.
Watch Keenan Cornelius vs. Leandro Lo at 2018 IBJJF Pans:
Cornelius on Leandro Lo:
"I felt, in the beginning very in control of the match when I was on top. I think he wasn't ready for my new found strength and pressure passing that I was applying. I was implementing a lot of unique grip control that I came up with specifically to shut down Leandro's guard. I felt like the match was going my way.
"At one point he stood up and I swept him with my squid guard. And I was like, OK, he doesn't know about squid guard yet. So I thought, OK, I'm gonna win with squid guard easy. And then towards the end of the match he started to adapt to it on the fly. I was like how is this happening. While I was fishing for my grip, to get it back. He just threw a good burst. Got double-unders while I was in mid grip switch. He stuck me like a pancake. It was the perfect moment to attack.
"It was the first time he ever passed my guard, even though we've fought seven times. In the other parts of the match I did feel like I made a big improvement against him, and in the future, I just need to watch out for his dangerous passing."