Completed

,

Apr 25-28, 2018
Watch Felipe Pena, the Miyao bros, Edwin Najmi, Erberth Santos, Romulo Barral, Claudio Calasans, and the best grapplers from around the globe compete for over $1 million in prize money LIVE from Abu Dhabi!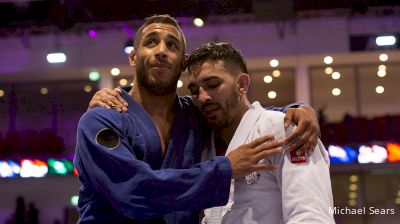 Unlock this video, live events, and more with a subscription!
Get Started
Already a subscriber? Log In
Epic Best of Three between Najmi vs Keenan at 2018 Abu Dhabi World Pro
Nov 8, 2018
Two American black belts had to face off in a "best of three" series to see who would represent the U.S. at the biggest jiu-jitsu event on earth and fight for a potential $15,000 cash prize.
In April 2018, Edwin Najmi and Thomas Keenan both wanted in to the 77kg main bracket at the 2018 Abu Dhabi World Pro.
Najmi (Gracie Barra) and Keenan (Soul Fighters) met three times in quick succession on day three of the Abu Dhabi 2018 World Pro, with Najmi advancing as the 2-1 series winner.
The event limited only two participants per country in the main bracket. Top-ranked American Jon Satava of Alliance already took the No. 1 spot in the bracket, leaving Keenan and Najmi to dispute the second.
The best of three started off with Najmi scoring a submission win in the opening match, a collar choke from the back. Keenan won the second 2-0 thanks to an early takedown.
The third and final match was a dramatic and extremely close contest that was tied 0-0 (2-2 adv.), going to a referee's decision. Najmi narrowly earned the win thanks to a late takedown attempt that sealed it.
"It was ugly, but I needed a W. The kid's in a slump," Najmi said. "The guy is a beast, man. I was coaching him last year as a brown belt, and now he's out here trying to kill me!"
Keenan said: "I felt that Edwin is one of the smartest and most dangerous competitors in the circuit right now. I wanted to come out here and execute my game plan and make sure I didn't get any thoughts in my head. This is my first year at black belt, haven't even been a black belt for a year. I'm not going anywhere. I'm going to keep getting better and keep getting stronger. I'm super focused on what's to come for the rest of the year."