Watch Grappling Bulletin every Monday on FloGrappling, where we'll cover the biggest stories and the best news and results from the world of jiu-jitsu.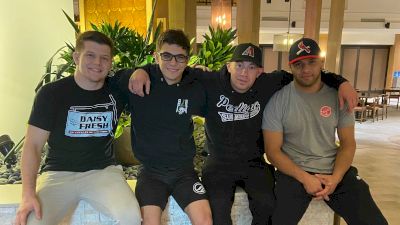 Musumeci & Dante Are Joining Daisy Fresh | Grappling Bulletin (Ep. 33)
Oct 18, 2021
Pedigo Submission Fighting (aka Daisy Fresh) has created champions at every belt color all while being based out of a run-down old laundromat in one of the most dangerous cities in Illinois.
The PSF's tight-knit bond and growing success has resulted in three well-known grapplers joining forces with Heath and his crew.
Mikey Musumeci, 3x IBJJF World champion and IBJJF World No-Gi champion, the #1-ranked 135lb no-gi grappler in the world
Dante Leon, 2019 IBJJF World No-Gi Champion, 2x Pan No-Gi champion, the #4-ranked 170lb no-gi grappler in the world
Tammi Musumeci, IBJJF gi and no-gi World champion, the #3-ranked 115lb no-gi grappler in the world
Eagle-eyed viewers may have noticed Pedigo in the corner of Dante at WNO events going back into late 2020, and in Tammi's corner at the recent WNO Championship. The announcement makes things official, but this has been in the works for a long time.
All this and more in this week's Grappling Bulletin Podcast.
1. MUSUMECIS, LEON JOIN DAISY FRESH
Pedigo Submission Fighting adds star power to their ranks
2. WNO: THE TITLES ON THE LINE
Three champs to be crowned on October 20
135lb belt: Mesquita vs Luiza for the title
Ffion vs Nathalie vie for 125lb title belt
Mikey vs Alarcon for the 135lb strap
3. GORDON RYAN'S COMEBACK
The P4P king returns to WNO after 7-month layoff
4. CHECKMAT SHINE AT SUBVERSIV
Brown belt dream team win big: Jansen, El Monstro, Monteiro
5. UPCOMING EVENTS
EUG Promotions unveil anti-guard pulling rule on Oct 23
UWW Grappling World Championships, Oct 28-31
BJJ Stars: USA vs Brazil, Nov 6
ADCC North American Trials, Nov 6-7
RAW Grappling: Wardzinski vs Lovato Jr.