Diego "Pato" Oliveira, born October 2, 1998, is a Brazilian jiu-jitsu black belt competitor from Manaus, Brazil. Representing PSLPB Cicero Costha, Pato is one of the top-ranked featherweight grapplers in the world today. A gi and no-gi competitor, his titles in 2021 include IBJJF World no-gi champion, Pan champion and Pan no-gi champion.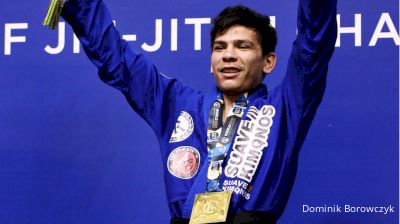 Diego "Pato" Oliveira Joins Dream Art
Jan 11, 2022
2021 Grappler of the Year nominee Diego "Pato" Oliveira is joining the powerhouse Dream Art team.
One of the most successful athletes of 2021, Pato won gold at the gi and no-gi editions of both the World and Pan Championships, and claimed many other important titles.
The light-featherweight had been one of the most prominent and successful athletes from PSLPB Cicero Costha. He had represented them since he was a 15-year-old juvenile competitor.
"I'd like to thank Cicero Costa for everything during the last six years. I arrived at Cicero's gym when I was only 15 years old and he received me very well. I made a lot of good friends there, I used to live at the gym, sleep on the mats and I'm sure this made me stronger. I have a lot of good memories, I got really great results from blue belt to black belt, including black belt world champion representing this team. Me and professor Cicero had a conversation and have no bad feelings. Now our paths are different so it's time to move on. I'm thankful to Dream Art for the opportunity. I'm sure we can achieve more and more together! I have great expectations."