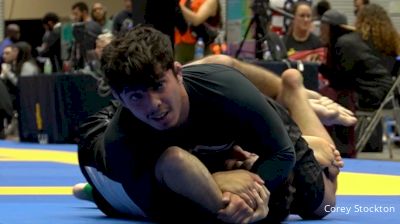 The Giant Slayer Captures Gold: Estevan Martinez No-Gi Worlds Highlight
Oct 13, 2021
Estevan Martinez earned three submission victories in three matches to earn his first No-Gi World title.
Martinez is a high-paced grappler who consistently attacks with submissions, including unorthodox attacks like the legs americana seen in this highlight. Martinez will return to competition on October 20 when he makes his WNO debut against Damien Anderson of New Wave Jiu-Jitsu. Like Martinez, Anderson is an aggressive grappler who pushes the pace, making this match — the first of the night — a clear fight of the night candidate.
Tune in to watch the giant slayer in action on Wednesday, October 20, on FloGrappling.