Tap, Snap, Or Nap: Top 22 Subs From 2022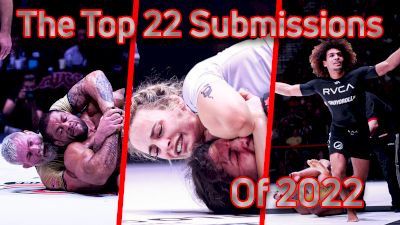 2022 was a wild year for grappling. Between ADCC, the IBJJF circuit, and WNO, we were treated to some of the greatest performances (and finishes) ever seen.
Every 'best-of' list is sure to have omissions, oversights, and various misgivings. Still, despite this, we felt we had to chronicle what we consider the best submissions from a phenomenal year. The top six submissions include the FloGrappling award winners and nominees for best submissions.
Haisam Rida Submits Cyborg - ADCC 2022 World Championships
Gordon Ryan submits Andre Galvao - ADCC 2022 World Championships
Josh Cisneros Submits Gianni Grippo- ADCC 2022 West Coast Trials
Mica Galvao Hits Coyote Armlock - ADCC 2022 South American Trials
J-Rod Submits Covin With A Buggy Choke - ADCC 2022 West Coast Trials
Diego Pato Z. Submits Kenney With Z-Lock - ADCC 2022 World Championships
Kade Ruotlo Submits Mica Galvao In the Final - ADCC 2022 World Championships
Maria Malyjasiak Captures Pans Gold With From The Crucifix - IBJJF 2022 Pans
Isaac Doederlein submits Samuel Nagai With Brutal Footlock - IBJJF 2022 World Championships
Gordon Ryan Secures 10-Second Submission over Rosevelt Sousa - ADCC 2022 World Championships
Fion Davies Finds the strangle submission -ADCC 2022 World Championships
Francisco Lo's Insane Flying Triangle - IBJJF 2022 No-Gi Worlds
Mayssa Bastos Secures Third Europeans Title With Armbar Submission - IBJJF 2022 European Championships
Tainan Dalpra finishes Roberto Jimenez With A Triangle - IBJJF 2022 Pan Championships
Nicholas Meregali finds the armbar in the absolute - IBJJF 2022 World Championships
Izaak Michell becomes the WNX champ after 2hr match against Kyle Chambers- WNX Finale
Brianna Ste-Marie secures the win with 30 seconds left - ADCC 2022 West Coast Trials
Sophia Cassella finds the heel hook submission against Jessie Crane- WNO
Samuel Nagai Hits 18-Second Submission - IBJJF 2022 World Championship
Luke Griffith Secures Fastest WNO Submission - WNO: Ryan vs Couch
Tommy Langaker finishes a Tarikoplata - IBJJF 2022 World Championships
Elisabeth Clay Earns No-Gi Worlds Gold Over Vanessa Griffith- IBJJF 2022 No-Go Worlds Gold