Dillon Danis Seeks Redemption At Copa Podio Middleweight Grand Prix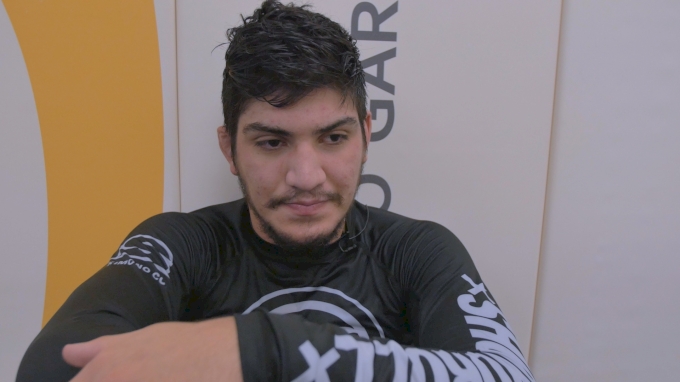 Dillon Danis proved he is one of the most exciting young black belts in the sport today when he fought at the 2016 Copa Podio Lightweight Grand Prix last month; taking home a fourth place finish after injuring his elbow, in brutal fashion, during the third place fight with Diego Borges.

After a training session at the Marcelo Garcia Academy Dillon caught us up to speed on how his rehab has been going and about his hopes to meet the Lightweight Grand Prix winner Leandro Lo again in the Middleweight Grand Prix later this summer.

"The rehab has been tough, pretty miserable. But you have to break through you got to push yourself to heal. I've been training, but training smart. That's a thing a good jiu-jitsu guy should be able to do. If you have an injury, be able to protect and train around it. I think thats a big key to being a black belt or successful jiu-jitsu competitor. Being able to train and know and control your body without further injuring your body."

"I'm happy with the way I fought, but not happy with what I accomplished. I wanted to win really bad. That tournament was kinda like a war. It was so hot in there. Quick matches. I really liked it, it felt like I was going to war for real. It was fun, I felt like I fought my heart out but I really wanted to win. I want to win all three- lightweight, middleweight, heavyweight. I gotta get better, I'm gonna try to come back and win the next one.

'In my opinion Leandro Lo is pound for pound one of the best in the world. I wanna fight him as many times as I can because I wanna be the best. I wanna fight those guys, the people who don't, don't really want to be the best. The guys in the group of death were calling it the group of death because they knew they were gonna lose. People thought it's ok they lost, they fought the tough guys. I'm not like that, I wanna fight all those guys. I don't care what you call the group. Leandro is one of the best middleweights, I'm a middleweight so I wanna fight him. I'm excited to fight him again if it comes.

"I wanna win so bad, it's gonna happen. Then I'm gonna go win the heavyweight one."