Meet Roberto Jimenez, The 16-Year-Old Phenom & Royal Invitational Winner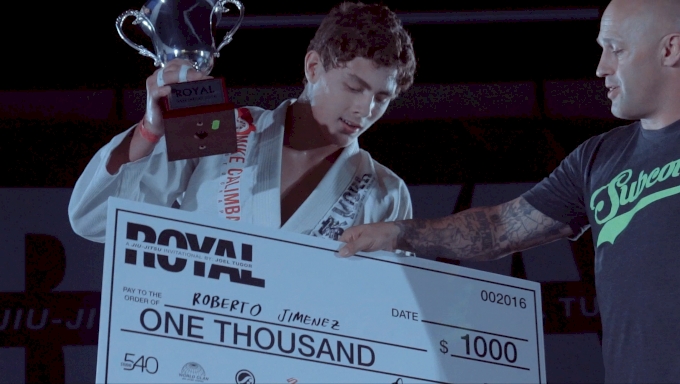 Hand-picked to compete with 15 other young jiu-jitsu talents, Roberto Jimenez was crowned the winner of the blue-purple belt bracket at the Royal Invitational – The Future of Jiu-Jitsu tournament.

The 16-year-old Ecuadorian blue belt lives in Houston, Texas where he trains with his father Raul. Representing Alliance Team Gacho, the jiu-jitsu stud has been coming up through the ranks and already earned a name for himself as an active and skilled competitor.

Remember that infamous video of a 15-year-old beating a black belt in a no-gi tournament? That was Roberto.


In fact, Roberto has beaten a number of black and brown belts in jiu-jitsu tournaments before his 16th birthday. He wrestles every morning at school, and trains jiu-jitsu in the evenings. When school is on break, he trains three times a day.

Coming to compete on Royal, Jimenez had a score to settle with fellow finalist Andrew Wiltse. They had fought twice before with Wiltse emerging victorious, but Jimenez was not to be denied this time.

His Royal performance, in which he tapped out all of his opponents, only served to further expose his amazing talent to the world.

And the youngster is stoked to be able to have won such a prestigious event.

"This was a really cool – an incredible experience, and I can't believe what just happened right now."

At around 5'10" and 170lb, Jimenez is still growing, both physically and in the competitive sense. What does the future hold?

"Winning ADCC weight and absolute, winning World Pro weight and absolute, and winning Worlds and Pans at each belt."

Lofty goals, but who's going to stop him?


About Royal Invitational – The Future of Jiu-Jitsu
Conceived by jiu-jitsu black belt and pro surfer Joel Tudor and organized with the help of Shoyoroll, Studio 540, SubCon, WorldCon and FIVE Grappling, the Royal Invitiational is an exclusive tournament unlike any other.
Two 16-man brackets showcase the best of blue/purple belts and brown belts. Winners of the tournament get $1000.
Special rules involved competitors being penalized for pulling guard in the match, and sudden death overtimes in case of a draw.
With commentary from black belts Kenny Florian and Shawn Williams and held in a closed-door setting with limited spectators, the Royal Invitational can now be seen in it's entirety exclusively on
FloGrappling
.
Links to all matches
The brackets for the tournament (with links to the full matches) can be found below:
Match 1
: Andrew Wiltse (Pedigo) vs Sean Najjar (Baret Submissions)
Match 2
: Jean Paul Lebosnoyami (Nono's MMA) vs Leonardo Lara (Ryan Gracie)
Match 3
: Matheus Luna (Checkmat) vs Jay Jay Wilson (Alliance)
Match 4
: Italo Moura (Cicero Costha) vs Moises Lopez (Zenith)
Match 5
: Cameron Florczak (Renzo Gracie) vs Gabriel Almeida (Checkmat)
Match 6
: Paulo Gabriel (Gracie Humaita) vs Pete Fabela (Paragon)
Match 7
: Thalison Soares (Cicero Costha) vs Camille Clement (Barum)
Match 8
: Gabriel Sousa (Gracie Barra) vs Roberto Jimenez (Alliance)
Quarter Final 1
Quarter Final 2
Quarter Final 3
Quarter Final 4
– Roberto Jimenez vs Thalison Soares
Semi Final 1
Semi Final 2
– Roberto Jimenez vs Gabriel Almeida
Final
– Roberto Jimenez vs Andrew Wiltse
New to FloGrappling? Watch our original documentaries on jiu-jitsu stars like Mackenzie Dern, Romulo Barral, Cyborg Abreu, Caio Terra, Andre Galvao, and more.