Project Grapple, The Jiu-Jitsu Non Profit Changing Lives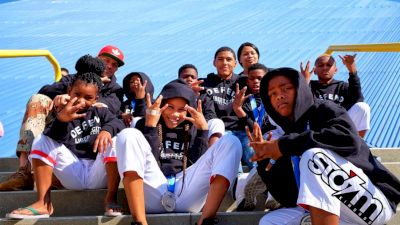 By Heather Raftery | Project Grapple, a non-profit jiu-jitsu program in Florida, took seven competitors across the country to compete in the IBJJF Kids International in Anaheim, California on Nov 5.
Based in the Miami neighborhood of Liberty City, Project Grapple was founded in August 2016 by Ryan Jardine, a Roberto 'Cyborg' Abreu black belt and a literacy coach at a local elementary school.
Like many Brazilian social projects, the program seeks to give youth – who would otherwise be unable to afford it – access to jiu jitsu training and the transformative benefits it provides.
Run by Jardine and his assistant coach, Adekola 'Al' Williams, the program currently serves 12 boys and girls between the ages of six and 12.
Despite less than a year and a half of training, several of the kids have already racked up state wrestling and jiu-jitsu championship medals. This was their first out-of-state trip, and the first time any of them had been on an airplane.
All of the young athletes medaled in their divisions at the IBJJF Kids International, putting on impressive performances with crisp takedowns, tenacious back takes, and aggressive submission attempts.
Follow their journey on Instagram.
Featured athletes:
Kendrick Hodge - 12, grey belt
Destiny Madison - 11, grey belt
John Wooden - 10, grey belt
Willie White V - 10, grey belt
Eric Hodge - 10, grey belt
Willow White - 9, grey belt
Willie-D White - 6, grey/white belt