WATCH: John Danaher & Ben Askren Extended Q&A (Part 1)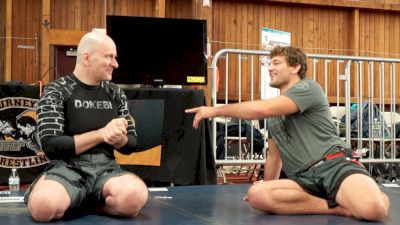 Unlock this video, live events, and more with a subscription!
Get Started
Already a subscriber? Log In
One of the foremost minds in jiu-jitsu and grappling, John Danaher has influenced the modern no-gi game in a considerable way. Between his unorthodox training methods and innovative techniques, if you haven't studied the methods of John Danaher, you're missing out on what could be the future of jiu-jitsu.
On the other hand, Ben Askren came into the NCAA wrestling world as a fairly talented wrestler and left one of the best to ever grace the mat. On route to two NCAA Division I titles and two Hodge trophies (awarded to the most outstanding college wrestler of the year) Askren redefined the meta-game in collegiate wrestling and ushered in a whole new approach to the World's oldest combat sport.
In 2018 at the Journeyman Classic in Albany, New York, both of these ingenious minds came together for an epic one night only seminar. The two exchange techniques and at the very end sat down with their students for an open-ended Q&A. The talk lasted over an hour and covered everything from sports psychology to UFC 229.
Interview Notes:
00:15 - How familiar are you with each other?
00:45 - John talks about Askren's strengths, "He's a guy you can watch on film and see the potential he has to create scrambles"
01:40 - "We saw a huge amount of leg entries from takedowns"
02:10 - Askren vs GSP?
02:50 - Ben Askren tells the story of how he developed a new style of wrestling for himself to succeed
4:00 - Identifying your strengths
5:20 - John talks about finding the way to win. "It's a journey of self-discovery as well as a journey towards excellence"
6:00 - John talks wrestlers he likes to watch, including Reza Yazdani of Iran
7:15 - Wrestling at ADCC
8:30 - Does Ben have any favorite jiu-jitsu players?
9:00 - Askren recounts his roll with Marcello Garcia "Tyron Woodley told me Marcelo was gonna kill me"
10:00 - Ben's two idols growing up, Mahamed Ali and Steve Prefontaine
11:00 - Stealing technique from everyone
Get More Ben Askren
Get More Danaher