Chasing Greatness: Forging Mental Fortitude With 2x ADCC Champ JT Torres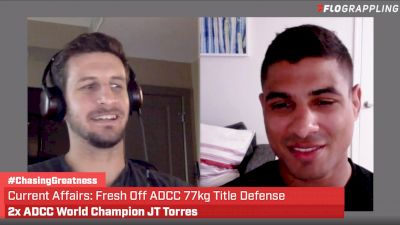 Unlock this video, live events, and more with a subscription!
Get Started
Already a subscriber? Log In
Welcome back to another edition of Chasing Greatness!
This episode features 2x ADCC Champion and American Jiu-Jitsu legend JT Torres! We take a deep dive into JT's most recent ADCC performance, his history with jiu-jitsu, wrestling, and how all of his mentors have contributed to his athletic success.
Current Affairs: ADCC
The Pressure of being the returning champ? Comforting and worse than being hungry?

fourth or fifth ADCC - How has your strategy developed over the years

Thoughts on the venue, being in the united states, ect.
Jiu-Jitsu vs Wrestling
Any interest in competing in a modified ruleset?

is it a worthwhile discussion?

does jiu-jitsu ignore the benefits?
What have the four main instructors in your life impacted you with?
Louis Vintaloro

Jared Weiner

Lloyd Irvin

Andre Galvao
The Role Of Off-The-Mat Study
Opening a School & Finding Balance Competition Training
The Highs and Lows of Being A Professional Jiu-Jitsu Player
Upcoming plans For 2020?
Four Questions
If you could change one rule in jiu-jitsu, what would it be?

Most memorable match (good or bad)

What advice would you give your first-year black belt self

Which single person has impacted your game the most