Nominations: 2019 Match of the Year | FloGrappling Awards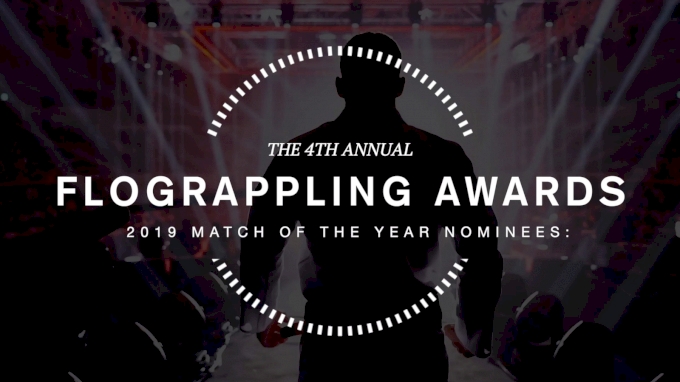 Unlock this video, live events, and more with a subscription!
Get Started
Already a subscriber? Log In
Similar to the submission of the year category, creating the various criteria to assess the best matches of the year is no simple task.
Aggression is paramount, and a decent give and take for both competitors is also an important consideration. Clearly, flawless technique is also appreciated.
After much discussion, we've selected the following six nominations, let your voice be heard and give us your pick below.
Nicholas Meregali vs Keenan Cornelius, IBJJF Worlds
The fight that we'd been waiting years to see finally transpired at the IBJJF World Championships in the absolute division, and it delivered it all ways imaginable.
Meregali had Keenan on the rocks early, his explosive passing techniques keeping Keenan entirely on the backfoot early and almost exposing a back take.
But Keenan's defenses were never completely compromised, his patented lapel techniques keeping him just out of harm's way, and the American jiu-jitsu representative began the turn the tide in his favor. Keenan was able to weather the storm and eventually sweep for two points, maintaining the slight lead to victory.
Garry Tonon vs Renato Canuto, ADCC
Anyone who thinks that jiu-jitsu competitors don't know to wrestle should take a quick look at this nail-biter from Garry Tonon and Renato Canuto.
The two competitors put on what many consider the best match of ADCC 2019, showing off their natural athletic gifts as they tussled all over the mats.
Leaping back attacks, varied leg entanglements, all-out scrambles this match clearly had it all - making it without question one of the very best fights of the year.
Lucas Lepri vs Kaynan Duarte, IBJJF Europeans
Lucas Lepri's legacy is as established and secure as one can possibly hope to achieve
He is a six-time world champ - among numerous other accomplishments, and yet, the super-star lightweight is still down to give the fans a show and enter the absolute division.
Lepri's game bred attitude gave us an early match of the year contender when he took on Atos Juggernaut Kaynan Duarte at the 2019 European Championships. The ensuing battle saw Lepri execute a flawless gameplan and hand Duarte one of his only losses of the year.
Dante Leon vs Jaime Canuto, IBJJF No-Gi Worlds
This match didn't HAVE to happen - these two competitors both represent GF Team, and a closeout was almost the expectation – but we are oh so so thankful that it did.
Leon unloaded a cacophony of violence throughout the entire match, including brutal armbar that would have finished lesser athletes; but instead of choosing to tap, Canuto bit down on his mouthpiece and pulled off a miracle escape.
The match went down to the bitter end, and Dante was able to secure the win on points, but both athletes showed the heart of a champion.
Andre Galvao vs Felipe Pena, ADCC
A grudge match more than three years in the making, Andre Galvao versus Felipe Pena III had all the ingredients for total war.
Months of preparation and media brought the anticipation for this match to a fever-pitch. but when the pair finally met on the mats it exceeded all expectations
Galvao showed that despite 'retiring' from competition in April 2018, he was every bit as game as he was before, beating Pena down with a barrage of collar ties and sheer physicality before hitting a blast double to put points on the board.
Galvao's win earned him his sixth ADCC title.
Garry Tonon vs Davi Ramos, Fight to Win
No surprise to see Garry Tonon back on the list, this time meeting none other than ADCC Champ and UFC Fighter Davi Ramos in Hawaii at F2W 132.
Davi Ramos demonstrated a diverse game and had no qualms in engaging Garry in a leglock battle, sitting back for heel hooks and toeholds.
In the end, Garry was able to secure the back position with a fully locked on RNC as time expired, doing enough to earn the judges' decision and victory.