Kaynan Duarte Submits Diniz in Record Time at Road to ADCC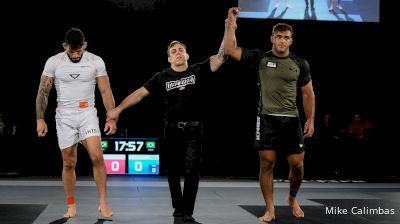 Kaynan held nothing back, taking out Diniz in only two minutes and three seconds. He came out hard, sweeping Diniz's legs out from under him and taking top position before dropping back into a leg attack and finishing with a leg lace / cloverleaf. Diniz wasn't able to execute one single offensive move in the match. It looked very similar to when Kaynan submitted Rodolfo Vieira on WNO in 2020, insofar as the way he just dominated the match and shut out his opponent without even letting them get their game going.
This marks a continued development from Kaynan. He's famously lost via heel hook in high profile encounters, notably against Lachlan Giles at ADCC 2019 and most recently to Roberto Cyborg Abreu in 2020. Kaynan said he's trained nothing but no-gi for the last five months, and said he's invested much more into lower body submissions. If that's th case and we got a glimpse of it at the Road to ADCC, then the 23-year-old Kaynan may have just become even more dangerous than he already was, and given that he is the #3-ranked P4P no-gi grappler, that's already pretty dangerous. It's unlikely he'll be able to improve that ranking in direct competition due to Gordon's medical issues and the fact Cyborg is slowing down, competing less and possibly even nearing retirement.