Jordan Holy & Alex Nguyen Win Midwest Finishers Brackets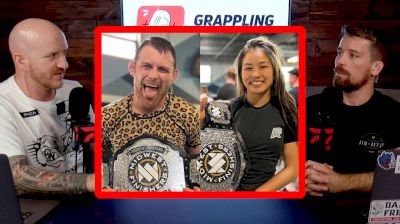 Midwest Finishers returned on June 25 with two EBI rules invitational brackets, held at 155lb for the men and 125lb for the women.
Jordan Holy beat Deandre Corbe in the final via fastest escape in overtime. A known leg lock hunter, Holy tapped Pat Cherf in less than 30 seconds in his opening match and submitted Ramses Bugarin in less than two minutes, both by heel hook. He followed those with an armbar against John Lyons in the semifinal.
Alex Nguyen beat Trinity Pun via armbar in the final of the 125lb bracket. This followed a RNC win in her opening match versus Olivia Beeskau and a 54-second straight ankle lock against Autumn Gordon in the semifinal.