The Trash Talk Is Real, Gordon vs Felipe is Personal | Grappling Bulletin (Ep. 66)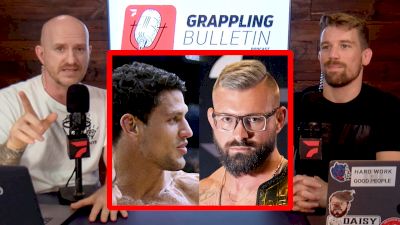 The six year rivalry between Gordon Ryan and Felipe Pena has seen more trash talk between two athletes than maybe any other rivalry in jiu-jitsu. It is 100% truly authentic, and it is no act – they genuinely don't like each other.
Felipe Pena doesn't appreciate Gordon's long history of online harassment against him, much less his behavior in his most recent match against Pedro Marinho, Felipe's friend, teammate and former student. He believes Ryan was disrespectful in his conduct during the match, and has said he hopes to teach Gordon a lesson.
It's obvious where Gordon's problem with Felipe come from. Gordon has only lost a handful of matches in his career, and Pena accounts for two of them. For somebody as hypercompetitive as Gordon, that's a red flag to a bull. Gordon won't rest until he has achieved revenge, but even then there is no guarantee his trash talk will come to an end.
1. GRAPPLING NEWS
Murasaki Out With Injury, Alves Steps Up to Face Levi
Train And Learn From The Phenom Mica Galvao
Want To Work For FloGrappling?
Buchecha Returns: Next MMA Fight on Aug 27
Hulk Finally Has a Date for His Comeback MMA Fight
2. RESULTS RECAP
Roosevelt Wins Split Decision vs Simoes
Toro Cup: Gabriel Sousa Outpoints Corbe
Giancarlo Wins Enigma Openweight Tournament
3. GORDON VS FELIPE
The Trash Talk Is Real, Gordon vs Felipe is Personal
4. PROS TRAIN FOR WNO
Inside the Gym with WNO Competitors
5. ADCC 2022
Register Now for the ADCC International Open
Marcelo Garcia's Final ADCC Gold Medal Run
ADCC Spotlight: Xande Ribeiro