2022 Toro Cup Match 23
Toro Cup 23 Tallies 73% Submission Rate, Raises $3,000 For Charity
Toro Cup 23 Tallies 73% Submission Rate, Raises $3,000 For Charity
Maia Malton's main event kimura was one of nearly two dozen finishes secured at Toro Cup 23.
Dec 5, 2022
by Liam Stein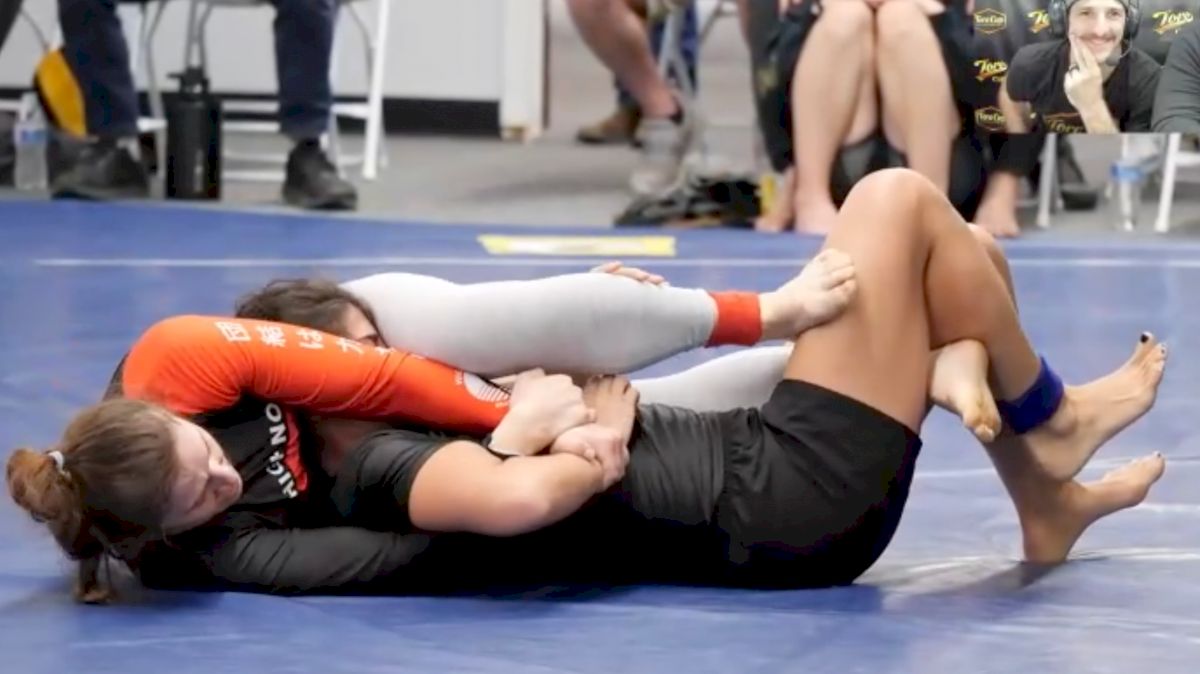 In the promotion's 23rd edition, Toro Cup returned to Durham, NC, pitting some of the Tarheel State's top talent head-to-head in a 30-bout superfight card. The event employed a ruleset similar to ADCC, where the first five minutes of each non-championship bout serve as a sub-only period, with points counting in the final five minutes of each bout. In the main event, black belts Maia Matalon and Lydia Bergamasco clashed, but Malton dominated. The event promoters donated half of the ticket sale revenue; Toro Cup 23 raised $3,110 for its charitable efforts.
Of the 30 bouts at Toro Cup 23, 22 ended via submission for a 73% finish rate across the card. The most popular submission was the inside heel hook, with seven tallied at the event's end. One of the smoothest of such submissions came from a Joshua James false reap entry; he earned the tap at the 2:32 mark. Second to heel hooks came rear naked choke finishes with three on the night; Jared Fekete captivated the crowd with his strangle skills when he landed a nasty slide-by takedown straight into a back take.
Fekete got the finish in a quick, high-paced fight.
Daniel Branch of Gracie Raleigh landed the quickest tap of the night. A multiple-time Toro Cup veteran, Branch utilized an ankle pick to find the takedown before establishing choke grips from a side turtle position in a scramble. He finished with a clock choke in just 54 seconds. Another impressive finish in the closing bouts came in a rematch between Nathan Chau and Wesley Senn. Like their previous encounter on Carolina Combat League, Chau utilized a shin-to-shin entry into a leg entanglement, landing a heel hook finish over Senn.
While submissions accounted for much of the excitement, some notable matches were decided on the scoreboard. Sarah Wills racked up a 23-0 victory over Lauren Kyle; and in the evening's co-main event, Tommy Couzzi fought back to a 7-0 victory over Christian O 'Brien. After being trapped in a guillotine, Couzzi escaped, fending off multiple submission attempts before passing to side control to score the go-ahead points.
In the main event, Maia Matalon went to work early as she fought Lydia Bergamasco in the main event. Entering a leg entanglement quickly, Matalon exchanged submission attempts with Bergamasco before catching a standing kimura to sweep to half guard and transition to mount.
Bergamasco escaped, only to find Matalon immediately back on the kimura. Transitioning between mount and side control, Matalon slowly increased pressure as she isolated Bergamasco's arm to hunt a submission finish. Matalon scored the kimura finish.
Full Results
Samantha Schell def Maggie Jones via Heel Hook (1:10)
Zachary Erb def Mike Oxendine via Americana (1:12)
Neal Ritchie def Justin Hale via Toe Hold (6:19)
Jack Cornwell def Carson Quinene via points (4-2)
Sarah Jackson def Rachel Tatem via Arm Triangle Choke (5:34)
Neal Hall def Duane Rudder via Straight Ankle Lock (8:17) (Gi)
Corbin Manley def Owen Tipton via Rear Naked Choke (8:12)
Riley Takemura def Xzavier Atkinson via Armbar (9:20)
Lexi Arnold def Rachel Walker via points (9-0)
Joey Pennypacker def Chris Law via Ezekiel Choke (6:52) (Gi)
Jose Scope def Dakota McPhatter via Toe Hold (9:30)
Lucas Laszacs def Hammoudi Musselmani via Armbar (2:45)
Mike Murray def Jesse Lang via Collar Choke (7:40) (Gi)
Philip Paynter def Dylan Martin via Heel Hook (9:48)
Morgan Robinson def Coco Wander via points (15-0)
Daniel Charles Franks def Bobby McMasters via points (15-0) (Gi)
Kegan Mulholland def Ethan Daily via Rear Naked Choke (9:49)
Greg Walker def Bryan Bartlett via Rear Naked Choke (1:57)
Julianna Aguilar def Emily Keck via Armlock (6:09)
Josh Baruch def Travis Rhue via Heel Hook (3:32)
Joshua James def Zakkary Meroth via Heel Hook (2:32)
Annika Godin-Green def Sarah Day via points (13-0) (Gi)
Dylan Hutchinson def Julian Williamson via points (10-0)
James Grimm def Marco Fuentes via Heel Hook (2:45)
Daniel Branch def Dwayne Cook via Clock Choke (0:54) (Gi)
Sarah Wills def Lauren Kyle via points (23-0)
Nathan Chau def Wesley Senn via Heel Hook (3:09)
Jared Fekete def Michael White via Rear Naked Choke (2:45)
Tommy Cuozzi def Christian O'Brien via points (7-0)
Maia Matalon def Lydia Bergamasco via Kimura (5:07)