2023 European Jiu-Jitsu IBJJF Championship
Alliance Blue Belts Clean Up | Euros Blue Belt Recap
Alliance Blue Belts Clean Up | Euros Blue Belt Recap
These are are the biggest stories from the blue belt days at the 2023 IBJJF European Championships.
Jan 24, 2023
by Corey Stockton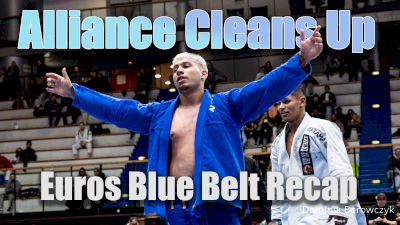 Alliance went on a tear on day two of the 2023 IBJJF European Championships. The blue belts went all out, and Alliance captured gold in four separate divisions: featherweight, lightweight, middleweight and the absolute.
In the open weight, super heayweight bronze medalists Jonathas Freitas defeated his teammate, the middleweight winner Eduardo Alves. Alliance seems committed not to close out in 2023, a sign of progress in the sport.
Marcio Landim won the lightweight division for Alliance, while Bernardo Gatti won the featherweight category.
Going into the purple belt day, Alliance currently stands with 43 points, far ahead of Checkmat, in second, with 22.