2023 European Jiu-Jitsu IBJJF Championship
Uanderson Ferreira Is Unstoppable, Captures Doubles Gold | Day 5 Recap
Uanderson Ferreira Is Unstoppable, Captures Doubles Gold | Day 5 Recap
Uanderson Ferreira from Carlson Gracie was the dominant force in the brown belt ranks at the IBJJF 2023 European Championships.
Jan 28, 2023
by Chase Smith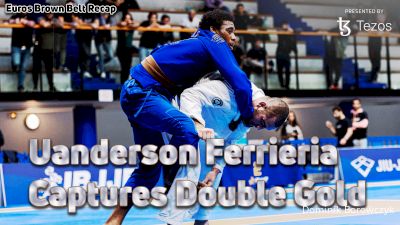 Uanderson Ferreira stole the day at Euros, taking double gold with six submissions in eight victories. The Carlson Gracie standout cleared through the medium-heavyweight division and the open class. The final of the absolute, was the match everyone was hoping for, Ferreira vs Rayron Gracie. In a closely contested bout which included a lot of stand-up exchanges, Uanderson edged out the win in a last minute flurry of back attacks.
Checkmat's Eduardo Granzotto, "Dudu," put on a clinic in Paris to secure his first Grand Slam title of 2023, while Thiago Sousa of Alliance winwonthe stacked lightweight division. He also secure third place in the absolute, before getting stopped in the semis by Uanderson Ferreira.
Team Qatar BJJ/Vision Brasil made a statement with a remarkable performance today. They had very strong showing in the brown belt divisions and managed to earn a gold medal in the light-featherweight division by Jonathan Da Silva Santos. The team secured 6 medals today across all brown belt divisions.