2023 European Jiu-Jitsu IBJJF Championship
Kaynan, Rider, Gabi & Thalyta In The Finals | Euros Day 6 Recap
Kaynan, Rider, Gabi & Thalyta In The Finals | Euros Day 6 Recap
The absolute finals are set, plus, a line by line breakdown for every opening matchup scheduled for Sunday morning in Paris, France at the Euros Finals.
Jan 29, 2023
by Corey Stockton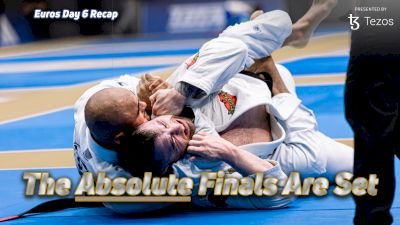 The first day of black belt competition at the 2023 IBJJF European Championships has come to a close, meaning that the absolute finals, as well as the women's finals and the men's quarterfinals are set.
Kaynan Duarte and Rider Zuchi will face off in the men's absolute final tomorrow after each securing three victories this morning.
Duarte submitted all three of his opponents — including Mason Fowler in the semifinal. A victory for Duarte would earn him his second European title and his first ever IBJJF Absolute title at a major black belt tournament. He also walked into the final eight in the super heavyweight tournament with a bye in the first round.
Zuchi, Duarte's opponent, had a challenging road to Sunday. In the quarterfinal, he faced the ultra heavyweight Seif Houmine, earning a narrow victory over the daunting opponent. In the semi, he defeated Pedro Machado.
For the second year running, Gabi Pessanha and Thalyta Lima will square off in the women's absolute final at Euros. Pessanha is coming into the 2023 season off of a 2022 double grand slam, winning each of the four major titles in her weight category and the absolute.
Pessanha clinched her berth this year with submissions over Elisabeth Clay and Maria Malyjasiak, while Lima earned a submission over Luiza Monteiro.
Lima had a breakout 2022, hitting the final in several major tournaments. Like Pessanha, she has an opportunity to double gold tomorrow with back to back successes.
Here are the women's finals coming tomorrow:
ROOSTERWEIGHT: Jessica Dantas vs. Thais Loureiro
LIGHT FEATHERWIEGHT: Mayssa Bastos vs Brenda Larissa
FEATHERWEIGHT: Ana Rodrigues vs Andreia Cavalcante
LIGHTWEIGHT: Nathalie Ribeiro vs Luiza Monteiro
MIDDLEWEIGHT: Vanessa Griffin vs Thalyta Lima
MEDIUM HEAVYWEIGHT: Maria Malyjasiak vs Sabatha Lais
HEAVYWEIGHT: Elizabeth Mitrovic vs Amanda de Oliveira
SUPER HEAVYWEIGHT: Gabi Pessanha vs Claire France Thevenon
These are the men's quarterfinal matches scheduled for tomorrow:
ROOSTERWEIGHT

Italo Bonfim vs Tadiyah Danforth
Thalison Soares (bye)
Frank Cespedes (bye)
Welerson Gonçalves (bye)

LIGHT FEATHERWIEGHT

Leonardo Mario Pereira Junior vs Pablo Mantovani
Diego Pato vs Marko Tapani Oikarainen
Yuta Shimada vs Tomoyuki Hashimoto
Malachi Edmond vs Sebastian Serpa

FEATHERWEIGHT

Fabricio Andrey vs Israel De Sousa Alemida
Wilhiam Mateus Marques Da Silva vs Lucas Batista Rodrigues
Alexssandro Pinto Sodre vs Matheus Rodrigues De Lima
Keito Oyanagi vs Jun Yong Cho

LIGHTWEIGHT

Max Leonard Lindblad vs. Elijah Amir Dorsey
Andy Tomas Murasaki Pereira vs. Leon Taffa Loic Larman
Natan Cheung Freitas vs. Marcelo Fausto De Abreu Montanagna
Luiz Felipe Dos Santos vs. Eduardo De Araujo Roque

MIDDLEWEIGHT

Espen Mathiesen vs. Fausto Nahuel Godoy
Jakub Najdek vs. Pavel Kalesnik
Vinicius Do Canto Martins (Alliance) vs. Lucas Andre Galvao Protasio
Tainan Dalpra Costa vs. Elder De Silveria Gomes Junior

MEDIUM HEAVYWEIGHT

Matheus Spirandelli Souza vs. Jansen Gomes Ramos
Wellington Luis Sebastiao vs. Francisco De Assis Lemos Lo
Marcos Vinicius De O. Martins vs. Pedro Hugo Cadete
Faris Dean Benlamkadem vs. Pedro Henrique Pinheiro Machado De Souza

HEAVYWEIGHT: Elizabeth Mitrovic vs Amanda de Oliveira

Devhonte M. Johnson vs. Bruno Filipe Santos Lima
Fellipe Andrew Leandro Silva vs. Leandro Carlos Da Silva Santos
Adam Wardzinski vs. Filipe Pimentel Pinheiro
Rider Zuchi Samelo Do Amaral vs. Gabriel Henrique Dos Santos Oliveira

SUPER HEAVYWEIGHT

Marcus Vinicius Ribeiro De Siqeira vs. Vinicius Liberati
Luis Fernando De Oliveira vs. Eric Jasper Bergmann
Thomas Bracher vs. Kaynan Casemiro Duarte
Steffen M. Banta vs. Harryson Santana Pereira

ULTRA HEAVYWEIGHT

Tacio Carneiro Alves vs. Seif-Eddine Houmine
Mason Edward Fowler vs. Luiz Marcos M. Da C. Bonfim Junior
Pedro Jose Pessoa De Melo Bisneto vs. Kjetil Hope Lydvo
Wallace Costa Da Silveira vs. Cleyton Rafael Flores