2023 European Jiu-Jitsu IBJJF Championship
Breakout Star Malachi Edmond Wins IBJJF Euros Gold; Targets Pans & Worlds
Breakout Star Malachi Edmond Wins IBJJF Euros Gold; Targets Pans & Worlds
The gold medal represents Edmond's first major IBJJF title since receiving his black belt in 2019.
Feb 5, 2023
by Mariana Viana
One of the breakout stars of the IBJJF 2023 European Championships is Malachi Edmond, a black belt from Team Lloyd Irvin (TLI) Jiu-Jitsu, who bested some of the most dominant grapplers in the game over the course of two days in Paris, France.
"It feels amazing to finally win a major tournament, but it's only the beginning. It was always my plan to win, but Euros isn't my only goal for this year." - Malachi Edmond
The road to gold was not an easy one.
Edmond had to defeat some other top-notch athletes along the way, making the achievement even more memorable for him. In his first fight, he beat Sebastian Serpa, a black belt from the Carlson Gracie Academy in Miami. Serpa gained recognition as one of his generation's foremost light-featherweights during his brown belt campaign in 2021, when he conquered the IBJJF World and Pan American titles.
In his second match, Edmond beat the 2018 Pans American and 2020 European champion, Tomoyuki Hashimoto of Japan. In the finals, Edmond defeated the Brazilian athlete, Diego "Pato" Oliveira, whom he had previously lost to at the IBJJF World's Championship finals in 2021.
WATCH: MALACHI EDMOND vs Diego 'Pato' Oliveira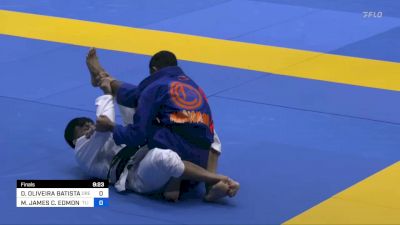 Unlock this video, live events, and more with a subscription!
Get Started
Already a subscriber? Log In
"I definitely think all my opponents were tough but the training room I have back at home prepares me for anything," said Edmond. "My first opponent was a big lasso person and I train with the best lasso player in the world, so I didn't feel uncomfortable. My second opponent was very explosive and flexible, and Pato is very strategic and does a lot of worm which reminds of my teammate Cory "Sky Walker" and my coaches Donald Achnick (Master D) and Lloyd Irvin."
Edmond believes his coaches, Achnick and Irvin, have the most strategic minds in the game. With them in his corner, he knows that no one can out smart him or his teammates.
"I want to get the gold, so it doesn't matter who steps in front of me," said a fearless Edmond. "I just have to win."
The black belt achieved his highest goal on this trip to Europe. Deemed the world silver medalist in 2021 and now IBJJF European champion, Edmond is currently aiming for a win at the Pan American and IBJJF Worlds as well as competing in some openings to stay active.
"Just keep your eyes open for Team Lloyd Irvin," said Edmond. "We come from little old Prince George's County, Maryland but we're going to be making a lot of noise. We got a lot of people coming up through the ranks and it is going to be fireworks real soon."