2023 Tezos FloGrappling IBJJF Grand Prix Series
Isaque vs Tainan Tonight: What's At Stake In The 30-Minute Superfight?
Isaque vs Tainan Tonight: What's At Stake In The 30-Minute Superfight?
Dalpra appears unstoppable, but if anyone can pump the brakes on Tainan's momentum, it's Isaque Bahiense in March 3 IBJJF FloGrappling GP superfight.
Mar 3, 2023
by Erica Zendell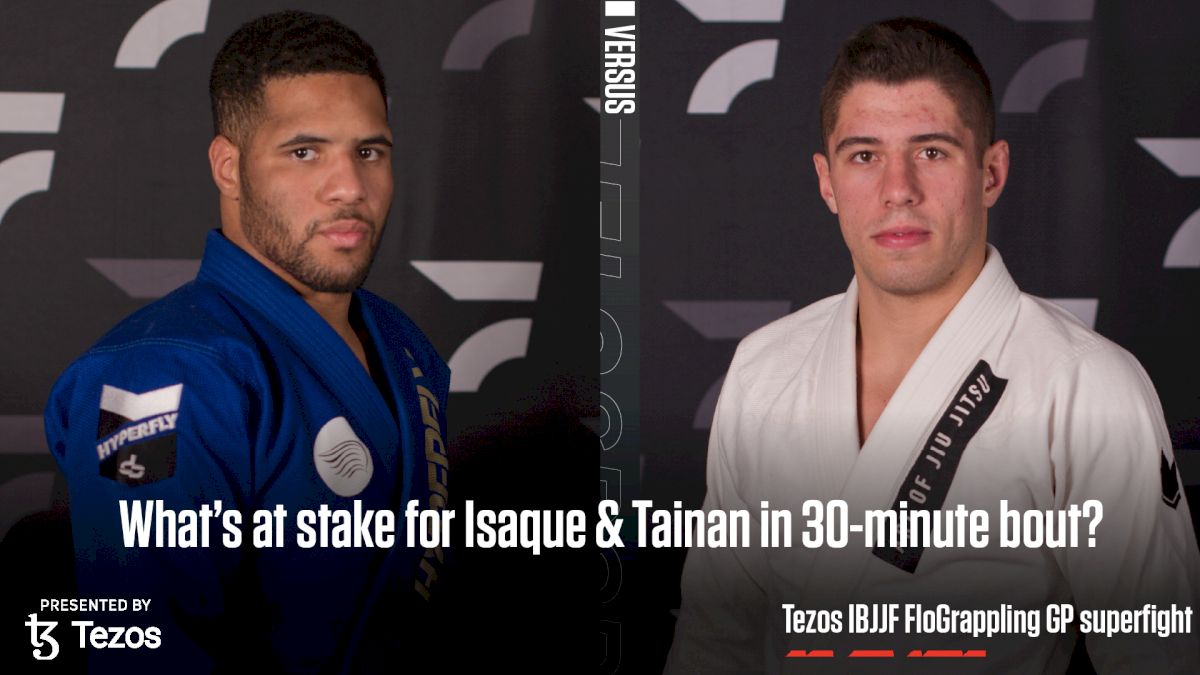 Tainan Dalpra and Isaque Bahiense's scheduled 30-minute superfight headlining tonight's Tezos IBJJF FloGrappling IBJJF Grand Prix is the perfect opportunity for the two elite competitors to uniquely challenge themselves, settle their score, and stake their claim to the black belt middleweight division.
The March 3 main event between Bahiense and Dalpra has history, dating back to December 2021's IBJJF World Championship. Dalpra and Bahiense met in the middleweight final, where Dalpra came out on top with an 8-6 victory on points and cemented his promise as one of AOJ's brightest rising stars by winning his first world title at black belt.
Dalpra's victory didn't come without a fight from Bahiense — or without underwhelmed disappointment from fans. The athletes notoriously spent nine minutes of the match in 50-50 lapel guard, and the match itself was marred by a controversial call in Dalpra's favor in the final seconds.
The referees penalized Bahiense, who went out of bounds in his attempt to defend Dalpra's final takedown attempt. They called fleeing, issuing the deciding two-points to Dalpra.
Since then, Dalpra has been an unstoppable force in the middleweight division, and has been considered the top pound-for-pound male athlete in the gi. At only 22 years old, Dalpra has collected two World titles, two Pans titles, and two European titles at black belt. His submission rate at IBJJF majors since 2022 has ranged from 50%-100%. His record in IBJJF competition is currently 55-0. His only loss at black belt so far was by decision at EUG 2 against Mica Galvao.
Tainan's record begs the question: who can possibly challenge the man who, since Worlds 2021, has been palpably dominant in every single matchup?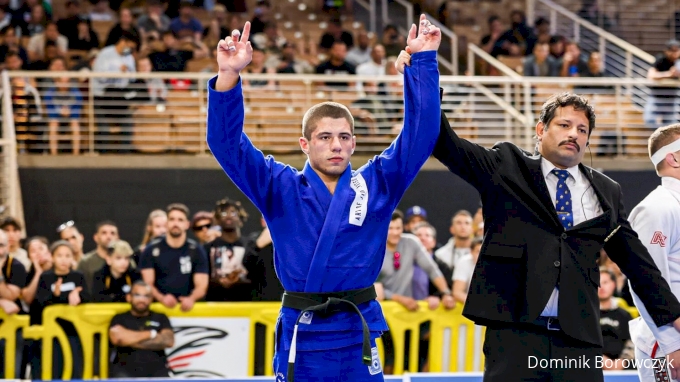 Tonight's matchup poses a two-fold challenge to Tainan's dominance, both due to the nature of his opponent and the format of the match.
Isaque Bahiense is one of the few opponents who has made the otherwise-indomitable Dalpra appear mortal. He is game for this match— he's one of very few athletes who has challenged Dalpra. While a rematch has likely been on Bahiense's mind since the Worlds final in 2021, he specifically called for it at the October 2022 Grand Prix. There, Dalpra won a superfight against Rodrigo Lopes while Bahiense conquered the medium heavyweight grand prix bracket.
Those caught in Dalpra's gold-medal glow might forget that Bahiense is an exceptionally accomplished, adaptable, and consistently-game competitor. The 2018 middleweight IBJJF world champion, Bahiense has been runner up at Worlds three times since–in 2019, 2021, and 2022.
Bahiense has more than one reason to be confident coming into his matchup against Dalpra. Dalpra has only defeated one World Champion in his black belt career (Baheinse), while Bahiense holds wins over multiple World champions, including Leandro Lo, Gustavo Batista, Renato Canuto, and even Mica Galvao.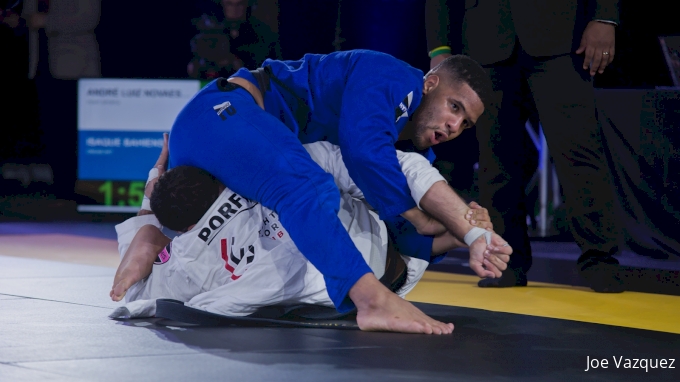 In addition to his seven-year tenure at black belt and his larger volume of experience at black belt (he has had more than three times as many matches as Tainan at Black Belt), Bahiense can find confidence against Dalpra in his greater, proven adaptability to various rule sets and formats.
Bahiense has found success in myriad competition formats at the highest level both in and outside of the gi, including Abu Dhabi World Pro and ADCC, winning the First South American Trials in 2022 to qualify for the ADCC World Championships later in the year. His deep, decorated, and diverse — not to mention consistently — track record across competition formats makes his appearance in a 30-minute superfight less of a deviation from the norm for Bahiense than does for Dalpra.
The possibility of a continuous, thirty-minute match poses a particularly noteworthy challenge for Dalpra.
Dalpra tends to win by submission in typical IBJJF competition, rarely needing the full ten-minute duration of a black belt bout. In the case of his most recent IBJJF performance, the 2023 European Championships, he spent barely 15 minutes on the mat across three matches, and earned himself plenty of rest in between them.
While that's an impressive feat, he won't be allowed the same luxuries against Bahiense.
What happens to Dalpra in a match that extends past the ten-minute mark? Can Bahiense – an athlete who is accustomed to going the distance in matches, an athlete who has already proven troublesome for Dalpra –break his opponent by forcing him to endure past the ten-minute mark?
The stakes are high for Bahiense coming into the Grand Prix; taking on Dalpra at his peak, looking to avenge a controversial loss of 2021, and doing so on the heels of a callout in a center-stage, thirty-minute superfight against a competitor with tremendous talent and popular support.
However, the stakes are higher for Tainan: squaring off against the opponent who came closest to beating him in recent memory, an athlete who can endure his pressure and whose style poses a particular challenge to his own, a competitor who has already proven he can grind and succeed in formats exceeding the standard ten-minute match.
If there's one person who can pump the brakes on Tainan's momentum and challenge Dalpra, it's Bahiense.
No matter what happens at the Grand Prix, two things are certain about the upcoming bout.
The 50-50 lapel rule change promises that their Grand Prix meeting will not be a 30-minute version of their last match in 2021.
Both men will be going looking for a decisive finish, unlikely to be satisfied with anything less than a submission.