Tezos WNO 18: Meregali vs. Marinho Presented by Fat Tire
Betting Analysis For Tezos WNO 18: Meregali vs Marinho
Betting Analysis For Tezos WNO 18: Meregali vs Marinho
Betting lines are out for the grappling superfight card. Who did the gambling experts favor? Is there money to be made?
May 16, 2023
by Joe Gilpin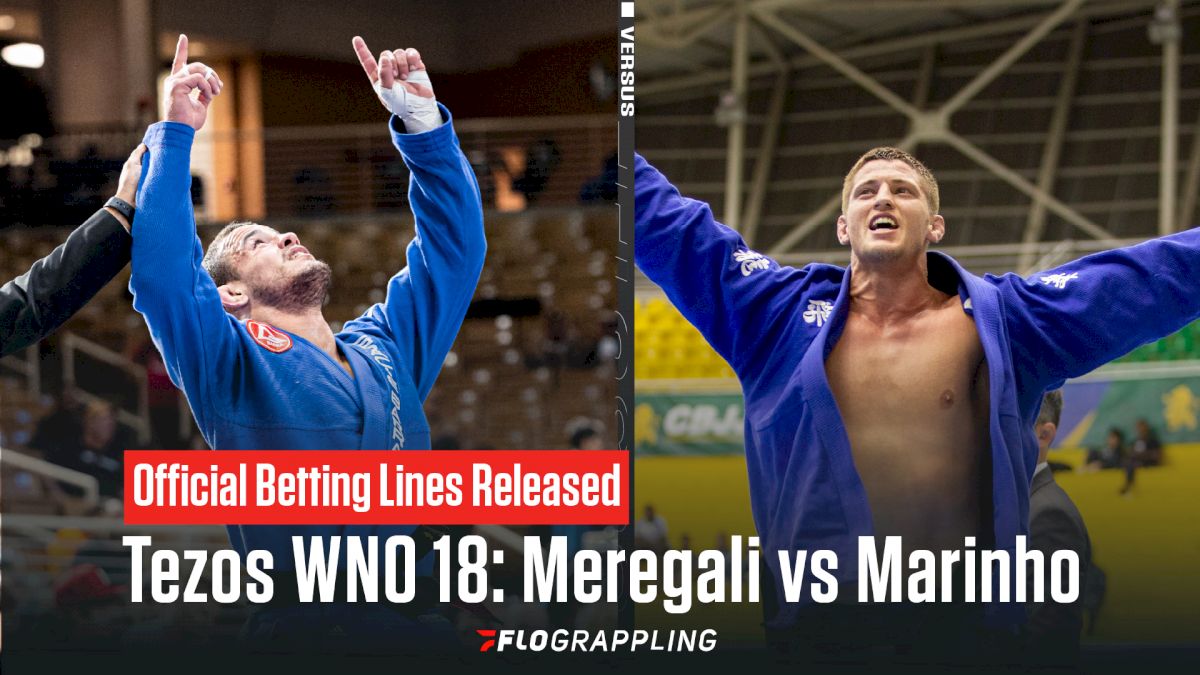 The Tezos WNO 18: Meregali vs Marinho card is approaching fast this Thursday evening in Oklahoma City and betting lines have been released for the card through BetOnline.ag. Let's take a look at those, what they mean for the matches, and detail a few lines to keep an eye on.
Tezos WNO 18: Meregali vs Marinho presented by Fat Tire
Nicholas Meregali -450 vs Pedro Marinho +325
Over 10min -155
Under 10min +120
Rafael Lovato Jr. -255 vs Elder Cruz +215
Over 10min -275
Under 10min +230
Tubby Alequin -170 vs Alex Enriquez +140
Over 10min -325
Under 10min +275
Jacob Couch +230 vs Izaak Michell -275
Over 10min -215
Under 10min +180
Dante Leon -205 vs Ruan Alvarenga +170
Over 10min -325
Under 10min +275
William Tackett -155 vs Francisco Lo + 120
Over 10min +115
Under 10min -150
Austin Oranday -130 vs Troy Russell +100
Over 10min +195
Under 10min -240
Davis Asare -350 vs Nick Heflin +275
Over 10min +200
Under 10min -245
If you are new to gambling, the numbers here are units you have to bet to win back a certain amount. A negative number is the favorite, or more likely, outcome and you will need to bet that amount to win back $100. So, if you took Nicholas Meregali to win in the main event, you'd need to bet $450 to win $100. The positive number indicates the underdog, or less favored, outcome and you win that much per $100 bet - meaning a $100 bet on Pedro Marinho would win you $325 if he gets his hand raised in any way. The over/under numbers are the same, and correspond to a match going to a decision or finish (submission, DQ, etc). You can 'parlay' bets as well, adding them together to get more reward if everything you bet comes to pass.
What you are looking for when you bet on an event isn't always what you expect to happen, and this article is not full of predictions. Instead, we will be highlighting a few areas where we think the outcome of the bet is more likely than what the odds say - giving us some value on any potential return on the gamble.
Starting in the main event, Nicholas Meregali has every right to be the reasonably heavy -450 favorite given his success on top the last few years. Pedro Marinho has scored surprising upsets against elite fighters like Craig Jones and Giancarlo Bodoni, so the +325 is appealing, but the best value in the main event is on the under 10mins. Nicholas Meregali takes finishing opponents as fundamental to his performances, which we saw in his return to form at 2023 Pan Ams, so the best bet here is to parlay a Nicholas victory with a Nicholas finish.
In the co-main event, there is heavy value in the underdog Elder Cruz. He stands at +215, but has a lot of advantages coming into the match - particularly youth and speed. Rafael Lovato is fresh off of a semifinals run at the last ADCC, a run through the masters divisions at Brasileiros, and is the right favorite here, but it's hard not to like Cruz, with an extensive wrestling base, as a better pick than what the odds currently reflect.
-155 William Tackett and +120 Francisco Lo are considered very evenly matched coming into their main card bout this Thursday, and for good reason - they both have had similar success in their young careers and we expect a back and forth fight. With that, even though both men are good finishers, the even level of the fight may end in scorecards. Parlay the +115 Over 10mins with your pick to win the match and enjoy a fun scrap.
Enjoy the matches this Thursday and as always, please remember to bet responsibly.
Tickets are on sale now to watch Tezos WNO 18: Meregali vs Marinho presented by Fat Tire live at the Criterion in Oklahoma City. Get them here.
Main Event: Nicholas Meregali vs Pedro Marinho - Heavyweight Gi
Co-Main Event: Rafael Lovato Jr.vs Elder Cruz - Light Heavyweight
Tubby Alequin vs Alex Enriquez - Women's Flyweight
Jacob Couch vs Izaak Michell - Middleweight
Dante Leon vs Ruan Alvarenga - Lightweight
William Tackett vs Francisco Lo - Middleweight