Tezos WNO 18: Meregali vs. Marinho Presented by Fat Tire
The Best Of The Hammer: Check Out All Of Jacob Couch's WNO Submission Wins
The Best Of The Hammer: Check Out All Of Jacob Couch's WNO Submission Wins
Jacob Couch comes back to the mats this week in on Tezos WNO 18. Tevisit his biggest Tezos WNO finishes to get ready for the Hillbilly Hammer's return.
May 17, 2023
by Joe Gilpin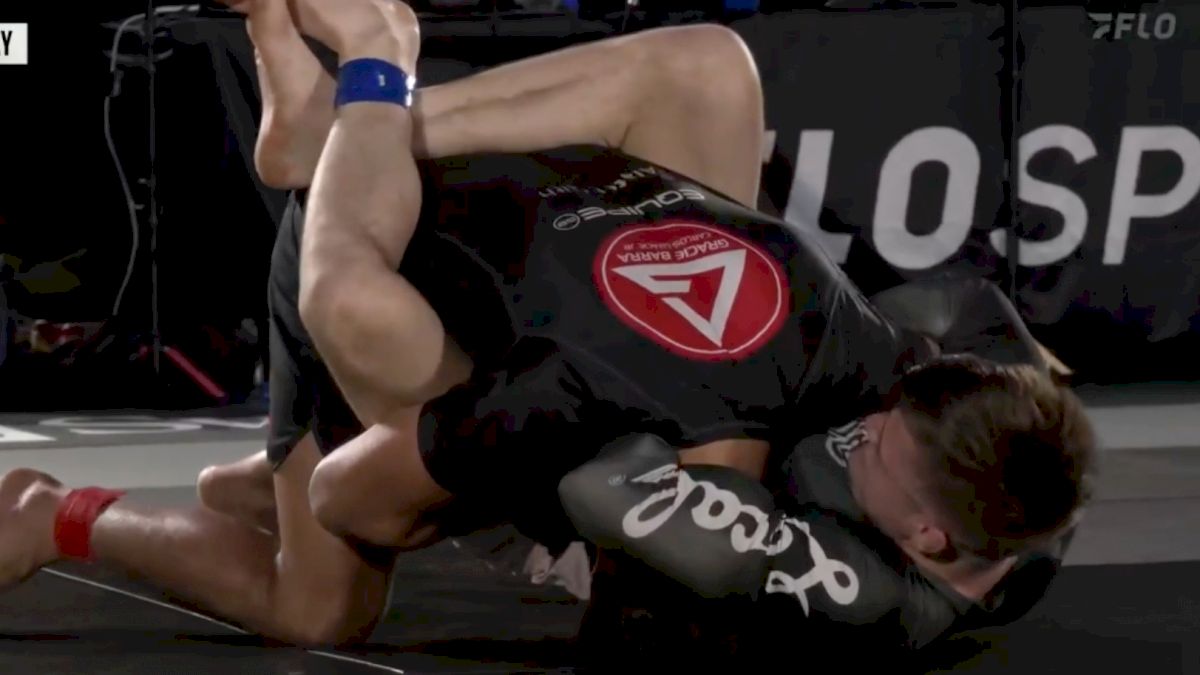 If there's an easy way to win over grappling fans, it is by scoring exciting submission wins against tough opponents. And Jacob Couch has earned his reputation as a devastating finisher with an arsenal of offense to use. Couch will take part in an interesting match this Thursday at Tezos WNO 18 against ADCC veteran and Who's Next champion Izaak Michell, so let's look back at the Hillbilly Hammer's submission victories in previous WNO appearances and break down how he got them.

Watch Tezo WNO 18: Meregali vs Marinho presented by Fat Tire on May 18, LIVE on FloGrappling

When Couch got his chance to compete against the elite in the inaugural Who's Number One Championship event on September 25th, 2021, he made good use of the opportunity. Paired against division favorite Roberto Jimenez in the first round, Couch pulled off a quick inside heel hook finish - knocking Roberto out of a bracket that many expected him to win. It was undeniably Couch's biggest win at the time and a real sign of undeniable improvement for him as a grappling competitor.
Early in, Couch pummeled into a classic single leg x-guard and quickly used his hips to bend the leg and expose the heel for an outside heel hook. Roberto rolled through to defend, trying to spin far enough past the heel hook that he could attack the back, but Couch's refusal to lose the heel exposure grip kept him from ever fully losing the position. When Roberto rolled through more to abandon the back take and clear his foot, he finally broke free the initial attempt.
When Roberto cleared the initial heel hook, he began to look for another wedging back take, trying to drive his knee into Couch's hip. Unfortunately for him, Couch used that reaction to spin the leg form outside ashi to cross ashi and exposed Roberto's heel for the inside heel hook. Roberto initially pummeled his legs, rolled, fought the near arm and built his base. But when Roberto got to his feet, Couch found the finish after the near two-minute assault on the legs he maintained.
Relive Couch's Stunning Heel Hook Victory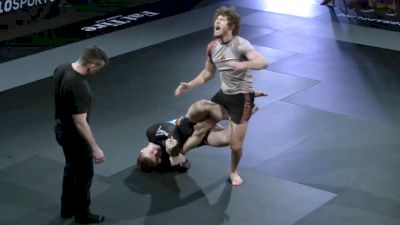 Couch went on to submit in his next match against Hunter Colvin in late 2021 via triangle armlock.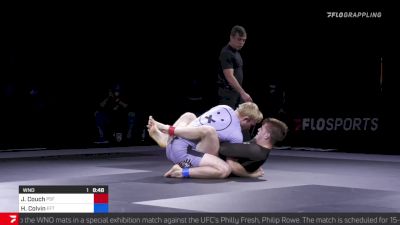 Unlock this video, live events, and more with a subscription!
Get Started
Already a subscriber? Log In
Couch's next submission win came against David Garmo at WNO: Craig Jones vs Pedro Marinho on January 21, 2022, when he secured another signature inside heel hook. Halfway through the scheduled fifteen minutes, Garmo stepped into a split squat position and Couch quickly pummeled his top leg across as a frame. He then sat up, underhooking the leg under that frame, the beginning of a false reap setup. David tried to jump to a front headlock. Couch cleared it, then they returned to the same setup sequence with Couch staying glued to the leg and using the false reap to come to invert back under, pummel into a more classic cross ashi, and expose the heel for the tap.
Will Jacob Be Able To Recreate This In His Upcoming Match?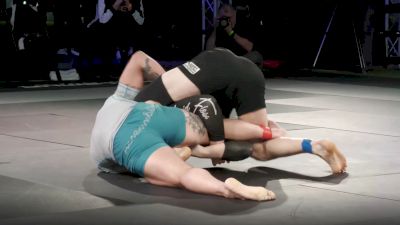 The most recent submission victory Jacob has in Tezos WNO competition came last November, when he hit an arm-in guillotine over the tough Bruno Matias for his victory. From the closed guard, Jacob pummeled an arm over the head and into a grip around the neck. Matias fought hands, resisted, but ultimately fell to the simple trap, and Couch poured on the choke for the tap.
See Some Of What Makes Couch So Dangerous Off His Back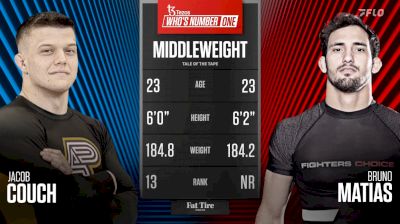 Unlock this video, live events, and more with a subscription!
Get Started
Already a subscriber? Log In
We've seen heaps of submission prowess from Couch so far in his WNO career. Will he be able to follow that up this Thursday against an oppoent as tough as WNX winner Izaak Michell?
Tickets are on sale now to watch Tezos WNO 18: Meregali vs Marinho presented by Fat Tire live at the Criterion in Oklahoma City. Get them here.
Main Event: Nicholas Meregali vs Pedro Marinho - Heavyweight Gi
Co-Main Event: Rafael Lovato Jr.vs Elder Cruz - Light Heavyweight
Tubby Alequin vs Alex Enriquez - Women's Flyweight
Jacob Couch vs Izaak Michell - Middleweight
Dante Leon vs Ruan Alvarenga - Lightweight
William Tackett vs Francisco Lo - Middleweight