2023 World Jiu-Jitsu IBJJF Championship
Top 6 European Black Belts To Watch At The 2023 IBJJF World Championships
Top 6 European Black Belts To Watch At The 2023 IBJJF World Championships
Which European black belts will be contending for gold in their IBJJF World Championship brackets?
May 31, 2023
by Joe Gilpin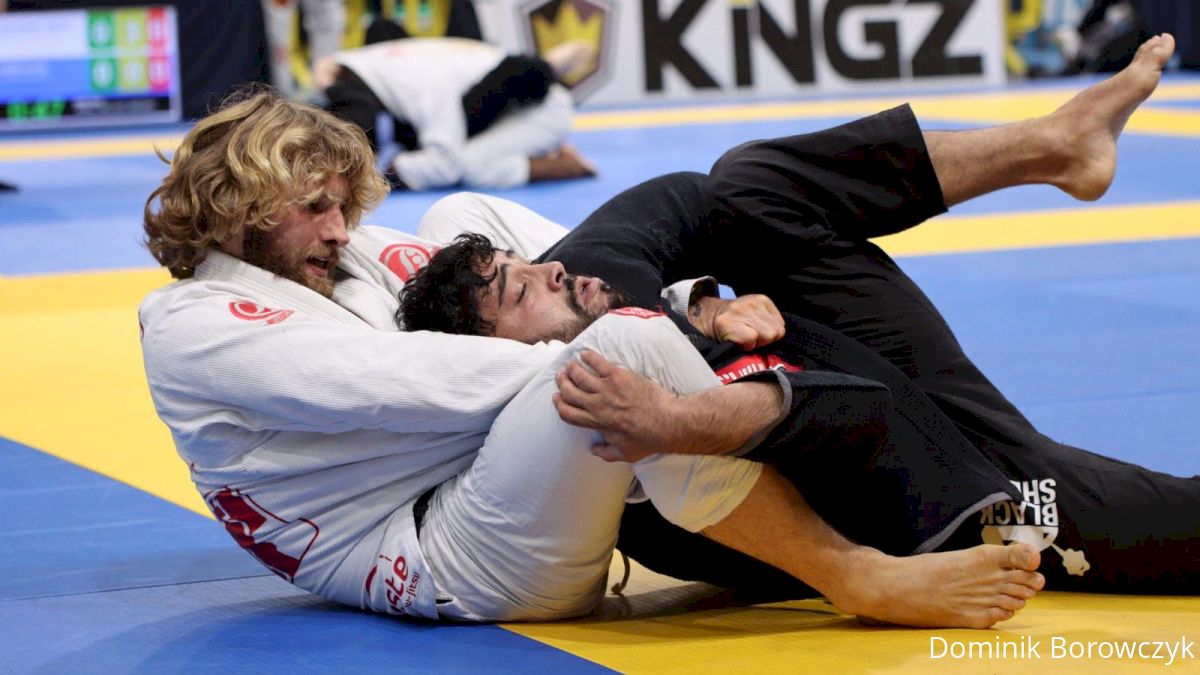 The 2023 IBJJF World Championship will bring elite grapplers from all across the globe to compete for the right to call themselves the best. Here are five of the top European black belts who are aiming to put their names in the record books with a podium finish.
Adam Wardzinski, Checkmat, Heavyweight
The Polish Adam Wardzinski is riding into this World Championship with the most momentum of his career after a thrilling gold medal performance at Pans. He's split matches with Fellipe Andrew this year, winning in the finals at Pans and dropping the finals match at Euros, and has earned the two seed for the heavyweight bracket. He will start his action with the winner of Italo Lima Costa and Vinicius Lessa.
Ffion Davies, ATOS, Lightweight
Last year Ffion Davies became the first Welsh athlete to win a black belt IBJJF world championship and now she aims to repeat her historic feat in the stacked lightweight division. Even though she is the 1-seed, her bracket is still tough from the outset - including a potential first match against 2022 brown belt world champion Larissa Martins. Ffion's biggest test looks to be against Luiza Monteiro, the veteran champion who defeated her at Pans.
Claire-France Thevenon, IFT, Super-Heavyweight
Claire-France has established herself over the last year as a threat in any tournament she enters, including winning bronze at 2022 Worlds and silver at Euros earlier this year. The French athlete will have Mayara Monteiro Custodio in the super-heavyweight semifinal, with the winner earning the opportunity to take on (most likely) talented champion Gabi Pessanha.
Espen Mathiesen, KMR BJJ Kimura, Lightweight
The Norwegian black belt is trying to get back to the podium in 2023, having earned bronze before at the event in 2018. Last year, Espen lost a disputed decision early in his bracket, and this year he comes in as the six seed. His bracket is a little unusual - he starts his day with 7th-degree coral belt Megaton Dias and may see JT Torres in the quarterfinals.
Margot Ciccarelli, Art of Jiu Jitsu, Featherweight
Margot Ciccarelli is among the first Italian black belts to medal at Worlds, and after two consecutive years taking bronze she aims to improve her finish and make more history. She earned silver at Pans, dropping the final to Ana Rodrigues, who she may see again in the semifinals. Before that though, she will fight Thauany Xavier of Gracie Barra and world medalist Nathalie Ribeiro just to get to the podium.
Maria Malyjasiak, Abmar Barbosa Association, Medium-Heavyweight
Maria is another history making athlete, becoming the first Polish black belt to medal at Worlds with her 2018 bronze before following that up with 2021 silver. She now aims to improve that to gold in 2023 in the medium-heavyweight class, where she is the 2-seed after a solid season of Euros gold (and absolute bronze), Pans absolute bronze, and Brasileiros gold. Two wins puts her into the finals at Worlds, where she may rematch rival Ana Carolina Vieira for the top spot.
You can watch these incredible European athletes as they all try to climb the mountain at the 2023 World Championships. Who will succeed and make their mark on jiu-jitsu history? Tune in June 1-4 to watch live only on FloGrappling.