2023 World Jiu-Jitsu IBJJF Championship
Rayron Gracie Secures Absolute Throne, Cole Abate Wins Big At IBJFF Worlds
Rayron Gracie Secures Absolute Throne, Cole Abate Wins Big At IBJFF Worlds
Rayron Gracie secured his first major title of 2023. Cole Abate secured his second straight world title. Alliance, Dream Art and Atos stole the show.
Jun 2, 2023
by Corey Stockton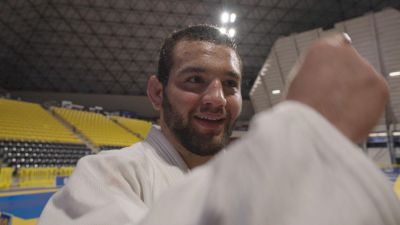 Rayron Gracie broke a season-long dry spell at the best possible time, securing the brown belt absolute title at the 2023 IBJJF World Championships in the first day of competition after securing a silver medal in the ultra heavyweight division.
Gracie had faltered at both Euros and Pans earlier in the year, collecting bronze in his division and silver in the open class.
On several occasions at Worlds, Gracie appeared to be falling behind, giving his back to his opponent early in the match before turning the tables and securing go-ahead points, and often times submission victories.
In the absolute final, Gracie fell behind against Brasileiro heavyweight champion Gabriel Brod, then secured the deciding advantage in the final moments of the match.
Atos controlled many of the brown belt divisions, collecting gold in middle, medium heavy, heavy and super heavyweight divisions. Middleweight champ Rafael Silveira was promoted to black belt on the mat after his final victory.
Cole Abate secured lightweight gold for his second consecutive world title. The 2023 purple belt world champ from Art of Jiu-Jitsu also earned a brown belt Pans title this year, as well as a purple belt European title.
European roosterweight Shay Montague won a world title at brown belt for ECJJA, while Dream Art athletes owned the featherweight and light featherweight categories. Kevin Alencar won the light featherweight title, while Marco Mendes and Guilherme Fernandes closed out the featherwieght division. All three Dream Art representatives were promoted to black belt on the podium.
Helder Junior of Fratres defeated Rayron Gracie in the ultra heavyweight division to win his brown belt world title.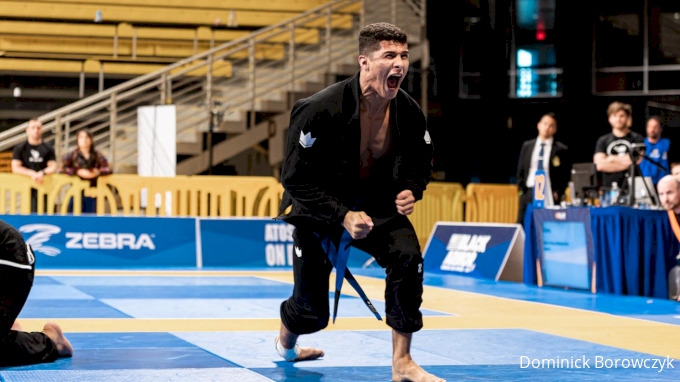 The blue belts men also took the mats at Worlds on Thursday, and Alliance took control of half of the division.
Alliance athletes won in the roosterweight, light featherweight, featherweight, lightweight and middleweight finals.
Alliance middleweight Eduardo Alves defeated Dream Art super heavyweight Joao Nascimento in the open class final to secure double gold. Alves earned his purple belt on the podium to conclude a stellar 2023 season. He also synched double gold at Euros and Pans.
Dream Art's surge in the brown belt divisions and its consistent silver medal performances in the blue belts put the team at the lead in the teams race after the first day with 61 points. Alliance is close behind with 58 points. Atos is third in the standings with 39 points.
The action continues on Friday. The female brown and blue belts will take the mats, as will the male purple belts between rooster and medium heavyweight. See the Friday watch guide for key names, mats and start times. And watch all of the action live on FloGrappling.
The 2023 IBJJF Brown Belt World Champions
Roosterweight: Victor Almeida (Alliance)
Light Featherweight: Gabriel Nágera (Alliance)
Featherweight: Bernardo Gatti (Alliance)
Lightweight: Marcio Italo (Alliance)
Middleweight: Eduardo Alves (Alliance)
Medium Heavyweight: Seth Kiefer (Heroes Martial Arts)
Heavyweight: Cayo Clement (GFTeam)
Super Heavyweight: José Victor (Dream Art)
Ultra Heavyweight: João Victor Nascimento (DreamArt)
Absolute: Eduardo Alves (Alliance)
The 2023 IBJJF Blue Belt World Champions
Roosterweight: Shay Montague (ECJJA)
Light Featherweight: Kevin Gabriel (Dream Art)
Featherweight: Marco Mendes (Dream Art)
Lightweight: Cole Abate (AOJ)
Middleweight: Rafael Silveira (Atos)
Medium Heavyweight: Alehander Mariano (Atos)
Heavyweight: Luccas Lira (Atos)
Super Heavyweight: Nicholas Maglicic (Atos)
Ultra Heavyweight: Helder Junior (Fratres)
Absolute: Rayron Gracie (Renzo Gracie Academy)